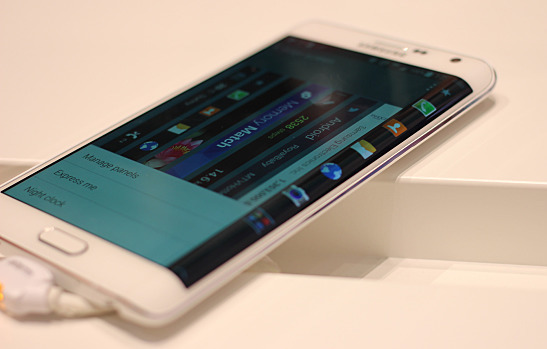 ­­­Samsung will be hosting its annual launch event, "Samsung Unpacked," on March 1, and CNET speculates that a new, curvy Samsung Galaxy flagship device will be unveiled. Last February's event featured the unveiling of the Samsung Galaxy S5, which makes the chance that the S6 will be unveiled pretty high.
The Unpacked Event
The timing of the event this year puts the unveiling a day before the Mobile World Congress (MWC) trade show, which is set to kick off in Barcelona from March 2 until March 5. This means the Unpacked event will act as an appetizer for the Samsung showcase at MWC, where tech enthusiasts, journalists and industry insiders will be able to glean additional information on the company's latest devices. Because attendance at the actual event is by invitation only, the average consumer won't be able to watch in person. Samsung has already planned a work-around for this: The Unpacked event will be streamed live, so anyone interested in getting a first look at some of the most powerful tech of the year should plan to watch.
What to Expect
If the Unpacked events from previous years are any indication, it's reasonable to guess that there will be at least one Samsung Galaxy flagship phone revealed in addition to a handful of wearable gadgets. Last February saw the unveiling of the Samsung Galaxy S5, the Gear 2 and the Gear Fit, while the Unpacked event in September revealed the Galaxy Note 4, the Note Edge and a virtual-reality headset. Since the teaser image for the event shows light reflecting off of a curved edge, many are assuming that the upcoming phone will feature sleek, smooth design elements. Right now there is one big phone in the Samsung development pipeline that fits the bill, and "seeing as how Samsung isn't about to re-unveil a phone, our money's on the teaser alluding to a Galaxy S6 with an Edge-like screen," according to Engadget.
What gadgets do you hope to see unveiled at the Unpacked Event?
Image courtesy of Flickr
[cf]skyword_tracking_tag[/cf]
Comments
comments