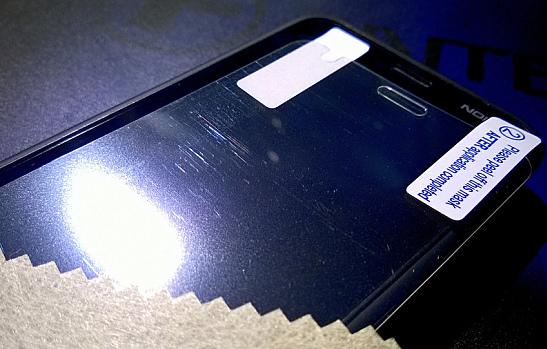 It's tough choosing the right kind of screen protector for your smartphone, especially when there are so many on the market. But when you look past the branding, you're really only left with two choices when it comes to screen protectors for phones: glass or plastic.
It Doesn't Get Simpler Than Plastic
There are two different types of plastic screen protectors: PET film and TPU. If you've ever seen a thin plastic film covering a phone, it was likely a PET film cover. These types of protectors generally cost less than their glass equivalents, ranging from a few dollars to upwards of $10. This screen protector is a good choice if you have a cheaper or older phone and want the most basic protection for the lowest possible cost. While it'll keep your screen safe from being scratched and scraped by the keys in your pocket, it won't protect from impact damage or more severe scrapes.
TPU, on the other hand, is a great option for people who would like affordable smudge- and scratch-resistance and light impact protection at a price point of around $20. The screen protector is made up of elastic material that not only absorbs some of the impact when it is dropped, but can actually "heal" minor dents because of its elastic nature; not only does it protect your screen from scrapes and cuts, it even protects itself.
This protector is a great option for people who are looking to spend a little more on screen protectors for phones and who would also like some impact-protection, as devices are notorious for slipping out of hands.
When It Comes to Protection, Glass Is King
"A glass protector is superior to its alternatives in every way," says Phone Arena—and they're absolutely right. If you want the highest quality protection in your corner, then look no further than multi-layered, shock-absorbing tempered glass.
The biggest con of tempered glass is that it is the most expensive option. The pros? It reduces fingerprints and provides better glare-reduction and scratch-resistance compared to plastics. In the event of a devastating drop, the tempered glass protector will shatter, leaving the actual screen of the phone intact.
This is an ideal option for phones that you want to keep in mint condition or are thinking about selling in the future. While tempered glass will give you the best protection for your phone, many used phone owners may find this option to be too expensive, especially since shopping used is typically cheaper than buying new.
What kind of screen protector would you choose for your mobile device? Share your thoughts with us.
Image courtesy of Flickr
[cf]skyword_tracking_tag[/cf]
Comments
comments