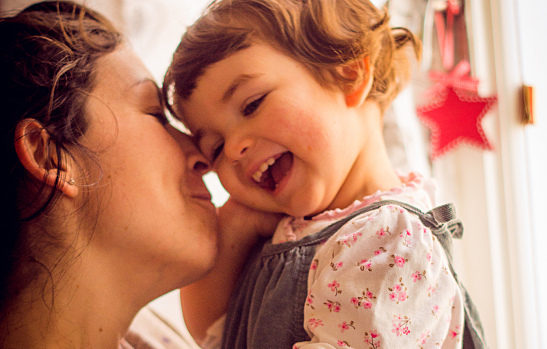 Head spinning from lack of sleep? Not sure how to keep track of feedings, diaper changes and daily schedules? These top five apps for new moms are not only fun to use, but extremely helpful in keeping your new busy life in order and under control.
WebMD Baby App (Free, iOS and Android)
So, it's the middle of the night and you're not sure if your baby has diaper rash or something else. Maybe you're wondering if those sniffles are signaling the beginning of your baby's first cold? Whatever your concern, you can get some quick relief from WebMD Baby before making an appointment with your own pediatrician. It's not exclusively about medical advice; you can also access hundreds of videos and articles from WebMD-approved doctors and experts while also tracking your child's sleep and feeding schedules, growth charts and more.
Eat, Sleep App (Free, iOS)

Newborns do just three things: eat, sleep and fill their diapers. This app is simplest way to track all three. No more messing with timers, alarms or typing. All the important stuff can be entered with a one-finger tap. You can view all eat/sleep/diaper events for each day, or view the combined history of any activity. As you continue using the app, you'll be able to view trends on a day-to-day, week-to-week or month-to-month basis. Moms will love that the app is not bloated with a ton of different features—it only has what you need to keep track of the essentials.
Amazon App (Free, iOS and Android)

If you have a little one on the way, the Amazon app will become your bread and butter in the days to come. It's the easiest way to shop for all of your household needs, whether cleaning supplies or baby food. You can set up automatic deliveries of essentials like diapers, wipes, water bottles and formula. The Amazon Mom's club offers discounts for these subscription services as well as money-saving coupons, and it is free with a subscription to Amazon Prime.
GrubHub (Free, iOS and Android)
New parents work up a major appetite, and the last thing anyone wants to do after a long day of diaper changing and feeding is spend hours in the kitchen. Check out GrubHub for fast delivery from some of your favorite local restaurants. Currently, GrubHub offers delivery in over 800 cities, and they're adding more all the time. You can search by type of food or budget. Allergic to peanuts or soy? Let them know and they'll find just the right restaurant for you. You'll also get coupons every week to ensure your new delivery habit stays affordable.
Ace Budget ($0.99, iOS)

Adding a member to your family means there's an extra head to be accounted for in your monthly budget. The Ace Budget app for iPhones will help you keep your spending in check. Tracking all of your purchases via the app will turn your monthly spending history into a handy graph or pie chart so you can see exactly where your money is going. You can also schedule reoccurring transactions, print reports and set reminders. If you're looking for guidance beyond just a monthly budget, there are also options for weekly and daily budgets that you can share with your entire household. If you need to save for a specific goal, this app will help you make necessary cuts by formulating a budgeting strategy.
What are some apps for new moms that you would recommend?
Image courtesy of Flickr
[cf]skyword_tracking_tag[/cf]
Comments
comments