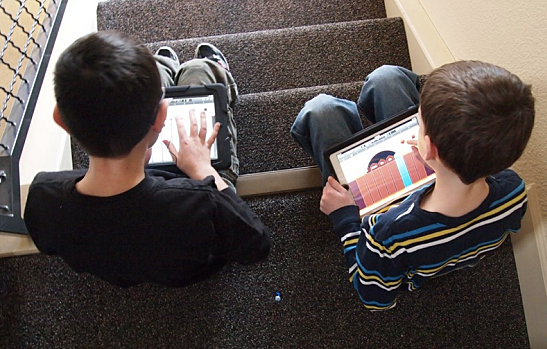 These days, it's not uncommon for every member of the household to have at least one "smart" device. Parents spend time on tablets, teens and kids text away on their smartphones and even grandparents now jump into the digital world. Digitally connected families are a commonplace occurrence today.
It has been argued that even though family members have more opportunities to connect than ever, they still seem to be drifting apart. In fact, researchers from Boston Medical Center found that parents with smartphones often paid less attention to their children during mealtimes, ABC News reports. According to Dr. Gene Beresin, executive director of the MGH Clay Center for Young Healthy Minds, this can be extremely detrimental to familial bonds.
Digitally connected families don't have to be strained, though. In fact, there are a number of ways that families that enjoy using their gadgets can connect in both traditional and technological ways.
Set "Gadget-Free" Times
Though teens may be eager to check their social networks every second of the day, and parents may be compelled to refresh their email when awaiting an important message, it is important to set clear boundaries respected by every member of the family. Mealtimes are an obvious choice for "gadget-free" hour, but if that isn't possible, try establishing a family game night or dinner out once a week during which gadgets are left in a drawer. This temporary technological truce will allow families to enjoy time together free of distraction.
Use Family Chat Apps to Stay Connected
One of the byproducts of living in an always-on world is feeling pressured to constantly stay in touch with friends and coworkers via SMS, social media and email. Since kids and parents are often bombarded with messages from others, making time to communicate with family members can fall off the to-do list. However, family messaging apps, like Life360 (available on the Apple iOS and Android platforms), offer a way for family members to interact in one digital space that prioritizes communicating while also allowing family members to keep tabs on one another's whereabouts.
Share Online Experiences
Downloaded a fun game app? Found a funny video online? Try sharing it with your family members for instant conversation starters and small bits of family bonding. Games like Words With Friends and Draw Something (both of which are available on Apple iOS and Android platforms) allow family members to play against one another—whether they are in the same room or miles away.
Though the idea of digitally connected families may offend traditional sensibilities, it is entirely possible for families to flourish in the digital age. With a little help from family-oriented apps and creative scheduling, you may find your family more connected than ever.
Do you have any tips for staying connected with your family in the digital age?
Image courtesy of Flickr
[cf]skyword_tracking_tag[/cf]
Comments
comments