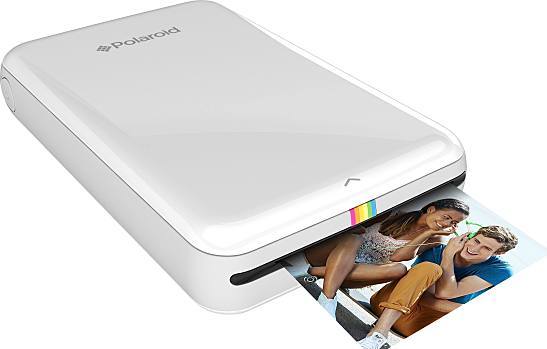 If you're anything like me, it's always a last minute scramble to pull a gift together for Mother's Day (sorry mom!) This year was no different. Over the weekend, I sat down and researched what my mom would want and use the most, outside of the typical massage and flower gifts.
Here are my top three gift ideas for Mom this Mother's Day:
Polaroid's Instant Mobile Printer (Starts at $129.99)
If your mom is anything like mine, she LOVES pictures. So much so that Facebook has become her new photo center. Well, here's the solution to decluttering the newsfeed – and I think it's awesome! This amazingly cool instant printer from Polaroid lets you print photos directly from your smartphone. It's nothing like the Polaroid your mom used as a kid. This compact, mobile gadget is "designed to print vibrant, colorful instant photos." Polaroid is carrying photo printing into the digital age, and your mom is sure to love it.

Gazelle Certified iPhone (Starts at $119)
My mom thought she was being a trendsetter when she purchased her Samsung Galaxy S4. Turns out, it's not so cool. With everything she does on a daily basis, she's ready for a newer, faster and much-improved smartphone. Think a smartphone is too expensive for mom? Think again. Gazelle Certified has a variety of iPhones, newer Samsung models and iPads too, even if she's not due for an upgrade.

And if you're worried about quality, don't be. I recently purchased an iPhone 6 from our store last month and could not tell the difference between new and used.

Runing Cool with a FitBit (Starts at $79.95)
Like mother like son, 2015 is the year for running. Want to get your mom something practical for Mother's Day? I don't think there's anything cooler than the FitBit, which tracks your steps and miles ran, in addition to tons of other health features and cool fitness stats. The all-in-one wristband also helps your mom stay active, sleep well and eat better. According to FitBit's website, its compatible with 150+ mobile devices, and starting at just $79.99, it's much cheaper than the Apple Watch. If you really want to go uber-fashion, spring for the latest Tory Burch model.
With Mother's Day now just a few days away, get on the hunt and start shopping!
Kevin Walther is a communications specialist at Gazelle and editor for The Horn. Reach him at kwalther@gazelle.com and follow him at @waltherkevin. Connect with Gazelle on Twitter and Facebook.
[cf]skyword_tracking_tag[/cf]
Comments
comments