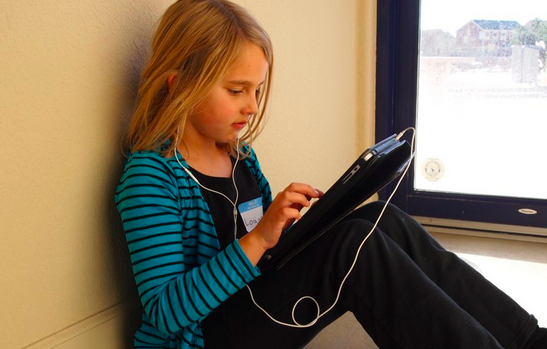 It's the same every year: Summer rolls around and your kids are out of school, filled with excitement and ready to have fun and relax. But after a few days of catching up on some sleep, many start feeling restless as summer boredom kicks in. However, if your child has access to their own smartphone or tablet, there are several summer apps for kids that can help pass the time in a fun and educational way. Here are three of the best:
1. Scribblenauts Remix ($0.99, Android and iOS)
Is your child a regular Van Gogh? Scribblenauts Remix is a fun twist on the classic puzzle game that allows kids to solve various brain teasing puzzles. Users can summon almost any item in the universe by simply typing it in. The game might be a little tough for younger children, especially since its central mechanic involves being able to type and spell correctly. But for advanced elementary school or middle school students, this game will provide hours of brain-teasing fun. Scribblenauts Remix also has a sandbox mode where kids can create their own levels and puzzles. Frequent updates with new characters and puzzles will keep the fun going all summer long. Recommended for kids ages 6–12.
2. Hopscotch HD (Free, iOS)
Has your older child teen or tween expressed an interest in technology? Hopscotch HD is an educational app that uses games to teach kids about the basics of computer programming. Though this app doesn't get into advanced programming languages, it provides a solid foundation that kids will spend hours tinkering with in order to complete challenges and create their own games. When they've programmed their game, they can even share the results on Instagram to show off their budding programming skills to the world. Recommended for kids ages 11–15.
3. Tinkerbox HD (Free, iOS)
Who says the physical sciences have to be boring? Tinkerbox HD is a physics-based puzzle game that uses puzzles of increasing levels of difficulty to teach basic engineering concepts. Though the app doesn't offer up any easy answers, which could lead to frustration in younger kids, it gives creative players full license to create their own inventions with an easy-to-use set of tools and materials that can be combined to create complex "Rube Goldberg" machines. Recommended for kids ages 12–16.
Though no summer should be spent exclusively in front of a smartphone or tablet screen, these summer apps for kids are the perfect thing for long days on the road traveling or when parents are looking for a bit of rest and relaxation during long summer days.
Is your child equipped with an iPad? If not, Gazelle has you covered with certified pre-owned devices.
Image courtesy of Flickr
[cf]skyword_tracking_tag[/cf]
Comments
comments