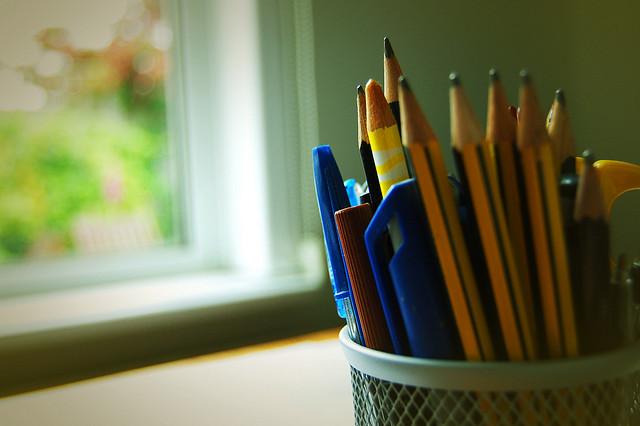 Back-to-school is an exciting time of year for both kids and parents. Who doesn't love new teachers, new friends, and most importantly, new things?
But this year, say goodbye to fresh books and shiny backpacks. Back-to-school spending is down 20 percent, with the average family with children in kindergarten through high school spending $434, according to a survey by the National Retail Federation.
Avoid back-to-school markups with these six great money-saving tips.
1.  Use What You Already Own
How many times have you bought a packet of notebooks or a case of pens, only to find you already purchased them three months prior? Save yourself a couple bucks and sweep through the supply drawer and see what you bought during past seasons.
2.  Set a Budget
Heading to the supply store without a dollar figure in mind is a recipe for disaster. Budget what you plan to spend for each child and make sure they know the limit, too, to set an expectation. If it's not in the budget, it's not going home.
3.  Download Money-Saving Apps
Today's technology can save you money tomorrow. There are numerous apps to help you find coupons, discover loyalty programs and manage textbooks rentals. The best part? We compiled the best back-to-school shopping apps here.
4.  Buy Used
How many times have you rebought a skirt or sweater for your children when it went missing? Try this next time: Head to the nearest consignment shop and see what you can buy used. If you're buying your child a phone or tablet, you can also purchase certified pre-owned at Gazelle and save up to 40 percent.
5.  Shop Tax-Free
Shopping season also means special perks. Many U.S. states offer a tax-free weekend right around the start of the school year. School supplies, electronics and other items are tax-exempt. See if your state is on the list.
6.  Find the Sale
With costly back-to-school expenses, don't miss out on special sales. Amazon, Walmart and Target regularly feature school-only sales on all essentials. Check your weekend circular and email newsletters to see what's happening in your area.
Comments
comments