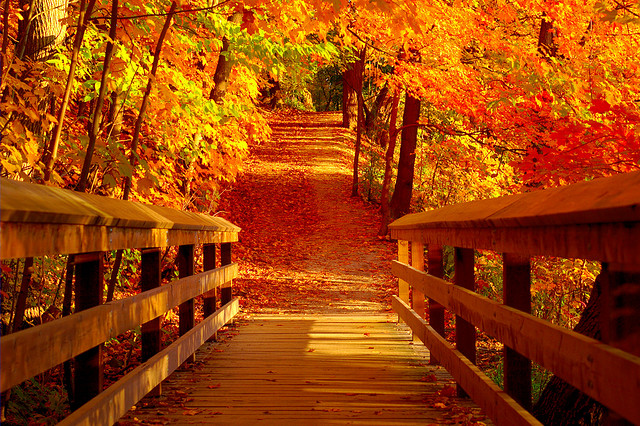 My father-in-law introduced me to geocaching a few years ago, a GPS-enabled activity that provides clues to join what's termed "the world's greatest treasure hunt."
Geocaching is a fun way to get outside and explore (we've searched for "caches" in forests, graveyards, etc.)—and its game-like aspects make it especially great for family outings. And it's available on your smartphone.
If you're looking for new ways to experience nature this fall, let your phone be your tour guide. Partner your favorite autumn activities with these fall apps to enjoy them even more.
Take a Hike
Fall is the perfect time of year to see all that nature has to offer. Find trails near you with AllTrails (Free, iOS and Android). The app boasts guides for 50,000 trails across North America. Find a place for a quick hike or run, or explore new mountain biking or fly-fishing areas.
Pick-Your-Own Apples
There's no better fall activity, at least where I live in the Northeast, than visiting an apple orchard or two. I haven't yet discovered an app that lets you know the picking conditions at different orchards, but that doesn't mean your phone can't improve the experience.
When you head home with a peck of apple, bring Apple recipes (Free, Android) with you. This app offers recipes from apple biscuits to apple cake and everything in between. Use these and ensure your food and money don't go to waste.
Check Out the Foliage
There may be no better fall activity than watching the leaves change. It's now easier with your smartphone to find those quintessential trees with Leaf Peepr (Free, iOS and Android). From Yankee Magazine, Leaf Peepr crowd-sources foliage reports, complete with photos, comments and a slider to rate the color of the leaves.
If you want to enjoy more than just the color of the leaves, check out LeafSnap (Free, iOS), which will identify those trees and plants for you. You can do the same with Rocks & Gems ($0.99, iOS) for rocks, gems and minerals. Just make sure you take the time to actually enjoy this nature, and not just through your phone.
Watch Wildlife
Like to look at something a little more active than leaves and rocks? There's tons of apps to help you identify the wildlife, from birds (Merlin Bird ID App; Free, iOS and Android) all the way down to insects (Insect Orders; Free, Android). You can even download an app like Pocket Tracker (Free, iOS and Android), which will help you find animal tracks by your location—and determine if it's time for you to find a new trail.
If you're late to the smartphone bandwagon and want to download these apps, check out Gazelle's selection of certified pre-owned devices. You'll not only save money, but also get to spend your time enjoying the nice weather instead of waiting in line to buy your phone.
Image courtesy of Flickr. 
Comments
comments