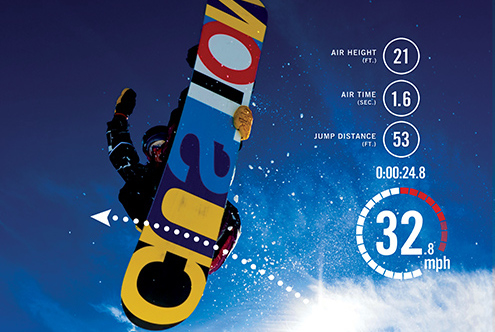 For most of the country, the skiing and snowboarding season seems to come and go in a flash. With little opportunity to make the trek to your local ski mountain, you may only get the chance to go once or twice every year. That's why it's critical to make the most of your trips. With the help of these five ski apps, you can take your slope adventure to the next level.
1.  Ski Tracks (Android and iOS, $0.99)
Measure and record your ski data with this all-in-one GPS tracking app. Ever wanted to know how fast you were bombing that hill? How about your total distance? Get all that data and much more with Ski Tracks.
Battery efficient technology allows the GPS to run in the background throughout the day and doesn't require data or phone signal. The app separates your stats by each run, allowing you to compare progress over time. Plus, Ski Tracks is compatible with Apple Watch, Pebble Watch and Echo Fit, so you can use your wearable instead of carrying your phone.
Given all of the features and the easy-to-use navigation, we think this app is well worth the $0.99 investment.
2.  Trace Snow (Android and iOS, Free)
Trace Snow is another comprehensive app for tracking your ski data. Distance, speed, routes, and elevation are the basics. But Trace Snow also tracks calories burned, verticals, and airtime, as well as how much of your day you spent on the chairlift. Access your stats on the slope or go to snow.traceup.com to see your progress throughout the season and share your stats on Facebook.
3.  OnTheSnow Ski & Snow Report (Android and iOS, Free)
This snow report app brings you current conditions with snow reports from more than 2,000 ski areas around the world. The app also highlights deals and discounts on lift tickets from ski resorts in your area. Plus, opt-in to get notifications when your favorite resorts receive fresh powder – every skier/snowboarder's dream.
4.  Ski Trailmaps (Android, Free)
The top of a ski mountain isn't exactly the best place for great cell service, making it nearly impossible to rely on your phone for GPS services. Storing maps on your phone ahead of time can really come in handy. Ski Trailmaps has more than 1,000 trail maps available for download. The app also features weather forecasts, snow reports and ski resort info.
5.  Waze (Android and iOS, Free)
Every skier and snowboarder knows the struggle of traveling to the mountain. After all, ski mountains aren't the most accessible locations for a reason. Luckily, travel companion app Waze can help you avoid a headache with real-time updates on the best driving routes. Waze depends on its community of users to report accidents, police traps and other road hazards. It can even help you find the cheapest gas along the way.
Image courtesy of TraceUp.
Comments
comments