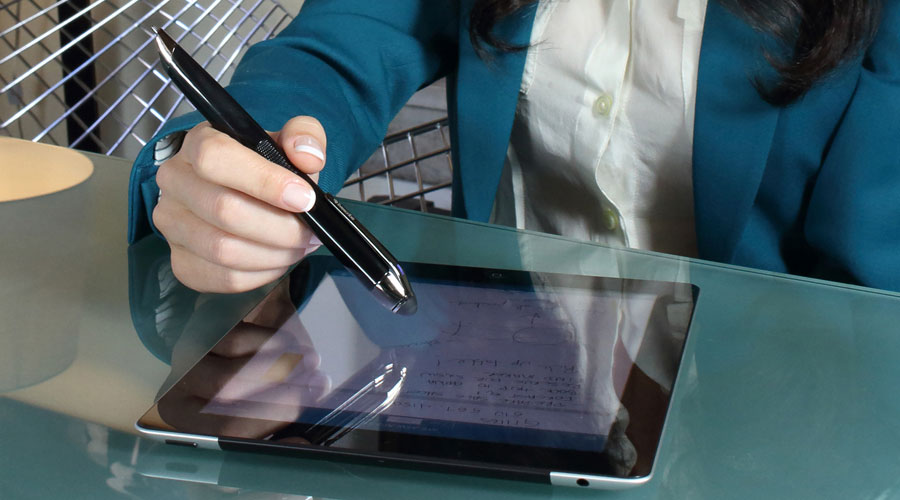 Tech isn't just a job for us – it's a passion. We always keep our eyes out for all the awesome products out there that work with Apple (and other) devices. Now that the holiday season is upon us, it's time to share some of our top recommendations with you. Here's our 2016 holiday gift guide for Apple users on the go.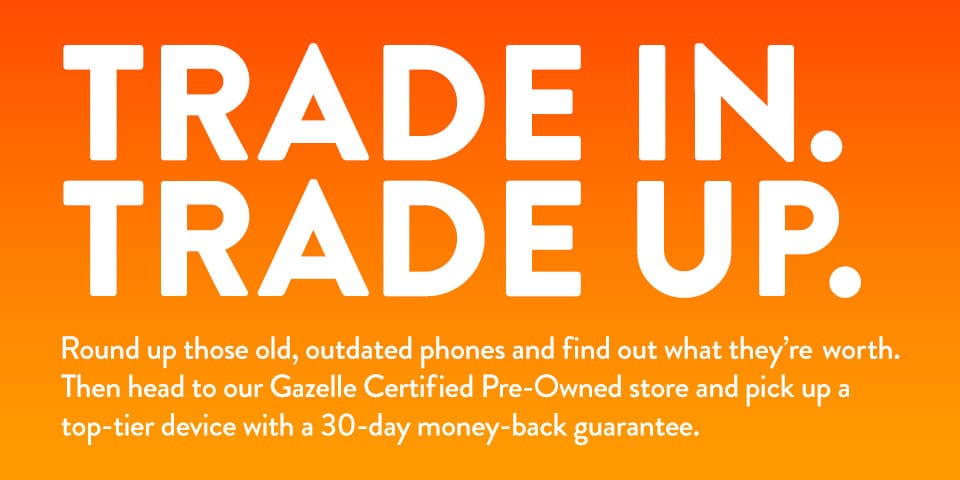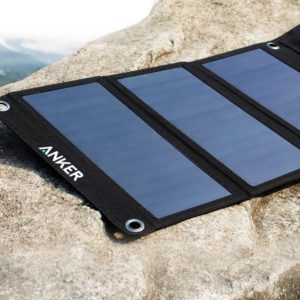 Seeking holiday gift ideas for men? You're at the right place! What differentiates the Anker solar charger is its Power IQ technology, which charges a device at an extremely fast speed and delivers enough power to charge two devices at once! It's also very durable and, with its ultra-light design, perfectly suited for backpacking and camping treks.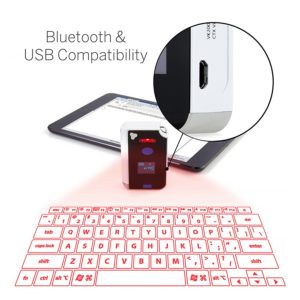 A virtual keyboard…is it possible? It's not only possible, but this one-of-a-kind holiday gift is available now, through Brookstone. Essentially, the Laser Projection Virtual Keyboard turns any flat surface into a productive work station. The keychain-sized device, the brainchild of CTX Technologies, is small enough to fit into the palm of your hand and perfect for on-the-go work.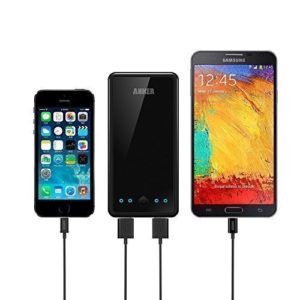 This external battery, brought to you by Anker, features PowerIQ, a fast-charging, high-capacity technology for people who don't like to wait around for eternity while their devices charge. Its compact, sophisticated and sleek design includes a 4-LED power meter. What's not to like?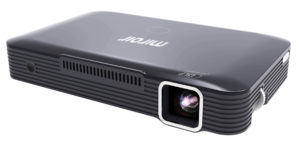 Seeking holiday gift ideas for women? If the woman you have in mind travels for business, then a mobile projector will come in handy. The Miroir HD Projector MP150 is small enough to fit in her (or his) hand, provides top-level projection quality for presentations, and works with most Apple products. It uses an LED light, includes a special Texas Instruments technology that re-adjusts the brightness of an image based on the amount of light in a given room. With built-in speakers and a modern, compact design that weights under a pound, it's perfect on-the-go projector for sharing images, presentations, video, or streaming media.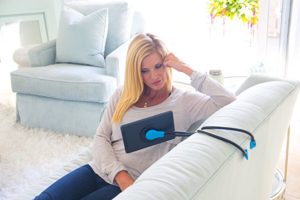 You may love your tablet, but have you ever noticed that after a couple hours of bingeing, that your hand or back starts to hurt? For a more relaxing, hand-free viewing experience, try Tab-Legs, the flexible stands for tablets and phones. Based on extensive research and testing, they are designed to enhance your posture while decreasing the pain that results from sitting in the same position for a long time. They are intended to be enjoyed wherever you or your kids use a tablet – on the sofa, in the car, or on the airplane (just connect it to the tray table.)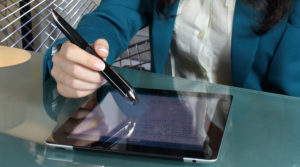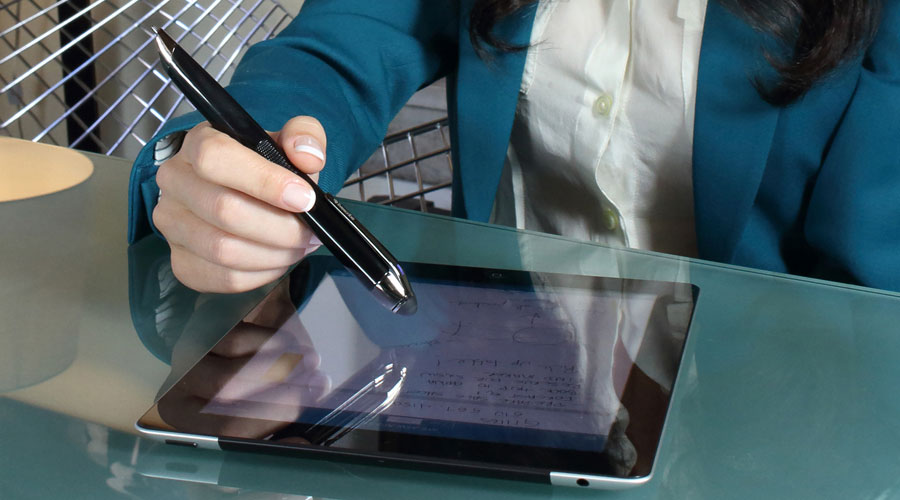 If you have a friend or colleague who is always taking notes on their tablet or phone, they are going to love the LiveScribe 3, one of the smartest pens on the market. Featuring a Swiss-made ballpoint ink cartridge, this is a premium writing instrument like no other. It should be no surprise that its sophisticated, sleek design has earned the LiveScribe an industry award. The technology behind this innovative smartpen includes an ARM processor, Bluetooth Smart chipset, infrared camera, and flash memory. Regardless of the device you use, whether it's the latest iPad or an Android smartphone, your notes can be synced to whatever device you are using at any given time. Meanwhile, the lithium ion battery provides over 14 hours of use between charges.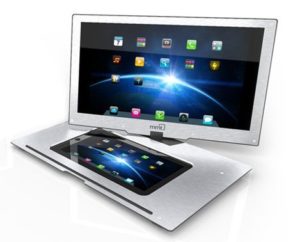 If an iPad is your go-to device, then check out Monitor2Go. It's a portable monitor with HD display and built-in speakers, and best of all, it's compatible with most iPads. Once you lock in your iPad, the monitor mirrors your device. When you're on the road, Monitor2Go helps you maintain your productivity, as well as your "entertainmentivity."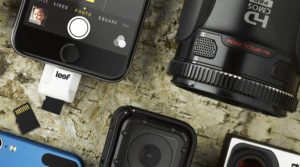 Imagine that your iPhone or iPad had unlimited memory. Seriously. In this world, you'd never be limited by the quantity of footage on your device, or the quality either. Well, that world has arrived. If you are seeking infinite memory for your iPhone or iPad, then it's time you discovered the Leef iAccess iOS microSD Reader. Tell us it's not the perfect holiday gift idea!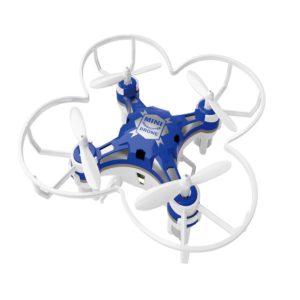 Whether you're a beginner or a more experienced flyer, this Pocket Drone may be the one for you. It's not only small and portable, but it's also well-built, fast and has great range. Oh, and the price is definitely right! Customers seem happy with it, some noting that their drone crashed into 8 feet of water and survived without a scratch. The Pocket Drone is great for flying indoors or outside, and is relatively easy to control. But crashes are inevitable, so it's nice that extra blades are included!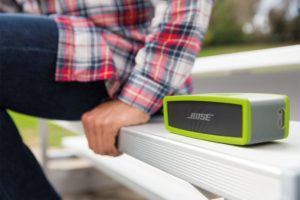 Bose's Soundlink Mini Bluetooth speaker II delivers full, resonant sound via a sleek and compact speaker the size of your hand. Under two pounds, this wireless speaker works with your smartphone, tablet or other Bluetooth device, providing a nuanced, full-range listening experience wherever and whenever you want for up to 10 hours per charge.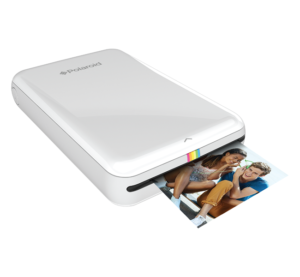 This pocket-sized printer enables you to print 2×3" full-color photos anywhere, anytime. It works with any tablet or smartphone, relying on Bluetooth 4.0 or NFC, and requires a mobile app that's available for iOS or Android. Now you can enjoy the instant gratification of printing photos directly from your mobile phone in under a minute. And the best part? You don't need messy ink cartridges, toner, or ribbons. Welcome to the New World!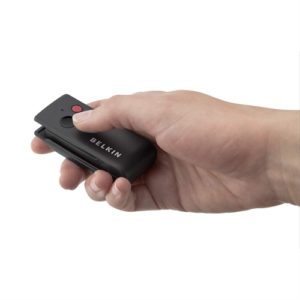 The holiday group pic – it's the one thing that never goes out of fashion. But what if you're MIA, because you're behind the camera. With the LiveAction Camera Remote, you will never be left out of a group shot again. This sleek remote enables you to activate your iPhone or iPod Touch from up to 30 feet away. The best part is how easy it is alternate between still shots and video – wirelessly! Once you've captured your special moments, it's super-easy to email the pics to friends and family, or to post them on Facebook without opening another program.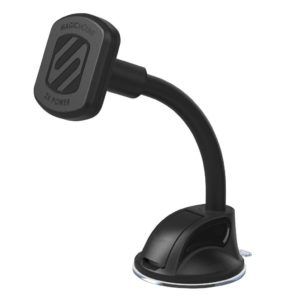 MagicMount is a clever way to mount smartphones, tablets and other devices to different surfaces, so you can enjoy them hands-free. With MagicMount's built-in, high-powered magnets, it is a piece of cake to lock your devices so that they're securely in place. And not to worry – the magnets do no harm to your device. The gadget's sleek, sophisticated design and compact size enables it to be mounted at any location and at any angle or perspective you desire. Now it's easier than ever before to use your device hands-free whether you're at home, on the road, or at the office, and for a price that won't break the bank.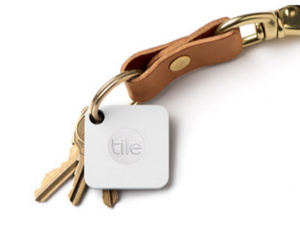 Billing itself as "The world's largest lost and found community," the Tile Mate & the Tile Mate app essentially enables you to keep track of everything that matters to you, all in the palm of your hand. Next time you lose your keys, don't fret. Use your phone to ring it – and if it's within 100 feet, you'll hear a loud sound until your keys, or any other object, appears. But what if you lose your phone? Always keep the app running in the background, and Tile will tell you the last place you put the item, so you can start hunting it down. And when you find it, you'll receive a notification.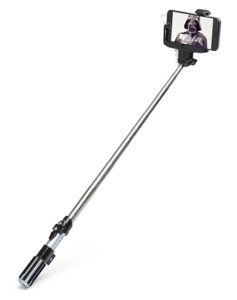 Brought to you by ThinkGeek, this has to be one of the coolest – and most elegant – selfie sticks ever created. The Star Wars Lightsaber Selfie Stick expands to over 40 inches, and is easy to adjust for different angles and perspectives.  This one-of-a-kind selfie stick holds your phone securely in place and even enables you to take photos remotely!
**
We hope you liked Gazelle's 2016 Holiday Gift Guide. Now that you have done your research, let the shopping begin. And for the best prices on iPads, iPhones, MacBooks, and plenty more, be sure to check out our latest 2016 holiday deals!
Comments
comments