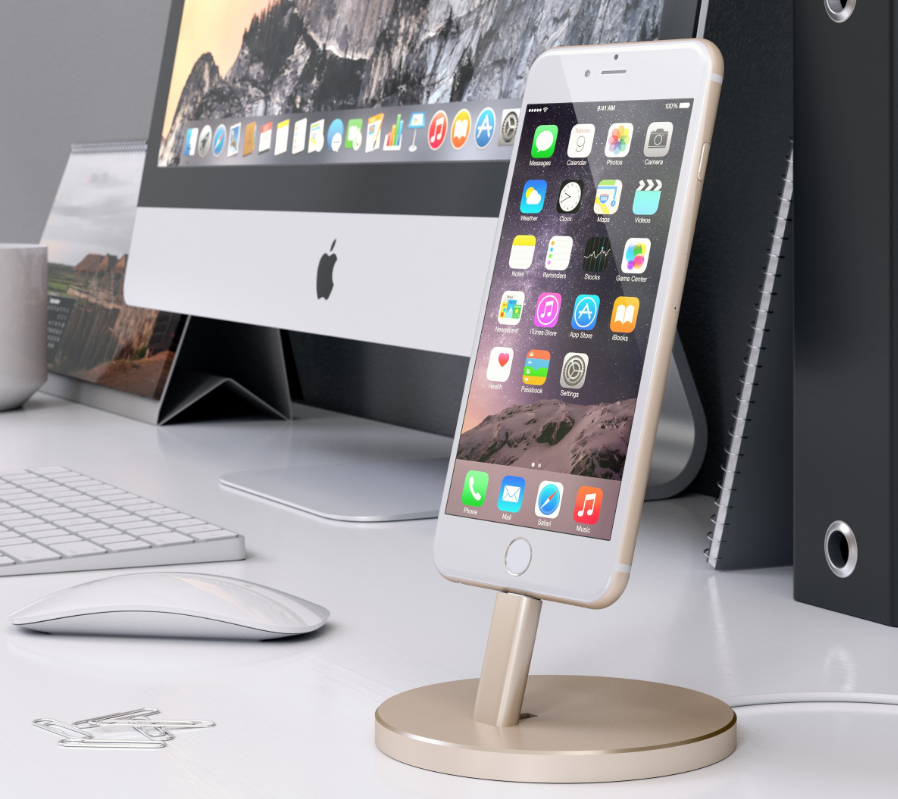 Researching the perfect Valentine's Day gift for your special someone takes time, and the possibilities are endless. The good news? We've done the research for you.
What's different in 2017? The devices we're seeing this year are still productivity and communication tools, but now they are fashion statements too. The latest crop of smartphones, wearables and other wireless gadgets are elegant, sexy, fashionable and fun – and, therefore, ideal gifts for Valentine's Day.
So without further delay, here's Cupid's best picks:

1. Lofree
Old school meets new in this elegant mechanical keyboard by Lofree, which features round keycaps like traditional typewriters had, providing a look and feel that is both traditional and contemporary. But don't let the retro design fool you – this keyboard comes in multiple colors and is packed with a high-tech punch that includes wired or wireless capabilities, backlit settings, and compatibility with Mac, iOS, Windows and Android systems.

2. Braven Lux
Does your special someone have an iPhone 7? Since it comes without headphones jacks, why not get them this elegant wireless Bluetooth speaker, which fits in the palm of their hand. Weighing in at less than 12 ounces and water-resistant, this stylish speaker – brought to you by Braven – can be taken just about anywhere, and provides about 12 hours of listening pleasure before it needs to be recharged.

3. Yeti Hopper Flip 12
With water-resistant speakers, phones, and watches, you have everything you could possibly need for an awesome day at the beach or pool. Well, one thing's missing – a cooler. Not just any cooler, but the Yeti Hopper Flip 12, a leak-proof, water-resistant cooler that is so tough it can't be punctured. This one-of-a-kind cooler is compact, extremely portable, and can easily tolerate scorching heat and winter rain. If your special someone enjoys hiking, boating, or surfing, the Yeti Hopper Flip could be the ideal Valentine's Day gift.

4. Ringly Smart Jewelry
Ringly makes "smart jewelry" for men and women that actually resemble items that you would wear. Their rings and bracelets, in other words, don't look and feel like gadgets (for starters, there's no screen), and clearly this is part of their appeal.
With Ringly, you connect to your smartphone via Bluetooth and receive subtle color-coded notifications or vibrations when you receive an email or text, or your social media post gets liked. You can turn off text notifications and just let emails through, or vice-versa. It's all very quiet, not intrusive or disruptive, and makes for an awesome Valentine's Day gift because it's practical and fashionable. It's also good for your relationship, because now you can tuck your phone away and put your special someone first, where they belong.

5. Q Bracelet
A bracelet that also charges a cell phone battery may sound ridiculous, not to mention uncomfortable, but you haven't see the Q Bracelet, an ultra thin fashion item that weighs only 80 grams – so lightweight that your special someone may forget they're even wearing it. Simply open the bracelet to display how much juice the battery has left. The Q Bracelet, which works with iOS and Android devices, makes an ideal Valentine's Day gift. Never again will the love of your life be left stranded with a dead phone.

6. iPad 4
Show your love with an iPad4 and save $$ in the process! Our pre-owned certified iPads are a fraction of what a brand-new device costs AND they're guaranteed to work like brand-new. Right now we're running a special Valentine's Day promotion — $20 off any order of $200 or more. Check it out!
Act soon as the offer expires Feb. 10th.

7. Satechi Charging Stand
Charging your phone with the Satechi charging stand turns a cluttered office into a clean and orderly work space. You can dock your iPhone in a convenient, easy-to-access place while it charges, without removing the phone case. And the best part? While your phone is charging, use it hands-free to Skype, make calls, or listen to your favorite tunes. Offered in three colors: space grey, silver, and gold.

8. Sense Sleep Device
A great way to show your special someone that you care about them is to help them get a better night's sleep, so they wake up feeling refreshed. Poor air quality, high concentrations of carbon dioxide (CO2), humidity, and light can all affect the quality of our sleep. The Sense sleep device works with sensors that monitor the conditions in your bedroom and make adjustments, so that you and your special someone can get an optimal night's sleep.

9. His & Her Wearables
Q Wander is the latest smart watch from Fossil that connects to your phone. A thing of beauty, we recommend the rose gold tone for her and stainless steel for him. The Q Wander is a perfect fusion of technology and fashion, enabling you to glance at your watch's 1.4" display to see who's calling, texting or emailing. It also tracks everything from daily steps to calories. Charge your Q Wander simply by placing it on the charging magnet – no cables required. Q Wander is compatible with phones running Android OS 4.3+ or iPhone 5/iOS 8.2+.

10. Echo Dot
Amazon's Echo Dot is a hands-free, voice-controlled device that uses Alexa to essentially run your life. You can play music (it connects to speakers or headphones via Bluetooth), read the news, get sports scores, set their alarm and thermostat – heck, even operate the sprinklers. The voice-control hears you from across the room, even with high noise levels. Amazon says the Echo Dot is constantly getting smarter and adding new features. What else? You don't have to have Amazon Echo in order to use Echo Dot.

11. Mu System International charger
You booked your plane tickets, got your passports in hand, and of course your iPhones. You and your partner are finally ready for your trip abroad!
Or um maybe you're not. Did you know that your cell phone charger might not work in Europe? You need to know what type of voltage they use in the country you're visiting and the type of adapter or plug that fits their outlets.
Or just get a Mu System International charger, which can be used around the world. It comes with a USB power unit and interchangeable plug-heads that can be used in international sockets.
Whether you make dinner for your special someone, or get them a killer gadget from our gift guide, just do something! And whatever you do, don't show up empty-handed. That's just not going to end well.
Happy V-Day! Spread the Love!
Comments
comments