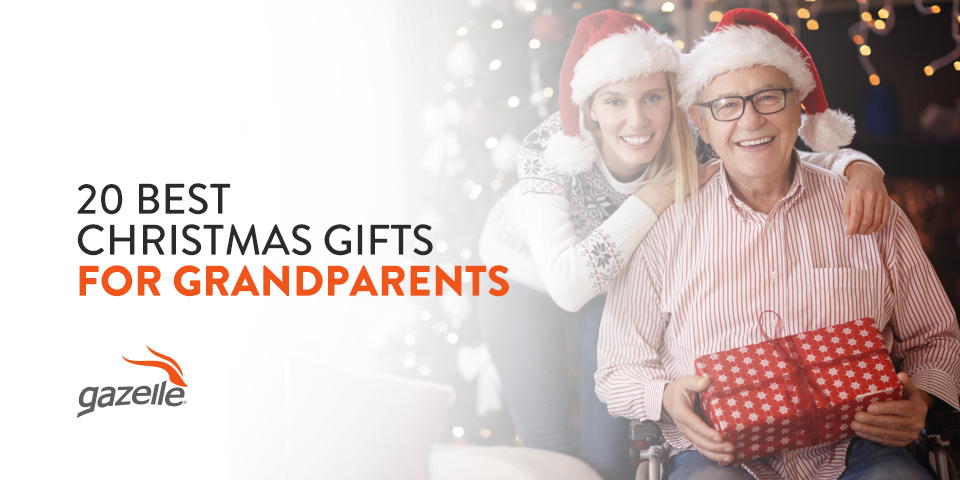 The holiday shopping season is here, and it's time to find the perfect gift for the loved ones in your life. Grandparents play an important role in our lives and deserve the best at the holidays — check out these 20 top Christmas gifts for grandparents for the 2021 gift-giving season.
Christmas Gifts for Grandparents From Baby
Whether it's baby's first holiday or you're planning a surprise announcement at the family gathering, these are some of the best gifts for grandparents from babies and parents-to-be.
1. Keepsake Ornaments
Ornaments are a special keepsake from baby to grandparents that they can look back at each year while decorating the tree. Ornaments commemorate a special date, occasion, event or new addition to the family, including a newborn. Some ideas for keepsake ornaments include:
Baby footprints with washable skin-safe ink.
Baby fingerprints molded onto clay ornaments.
"First grandchild" or "First Christmas as Grandma and Grandpa."
Custom ornaments with baby pictures printed or painted on.
Metal ornaments or bells with the baby's birthdate engraved on the side.
2. Framed Maternity or Welcome Pictures
Gift grandparents a copy of their favorite maternity or newborn photo and put it in a vintage or hand-painted frame. You can also have special holiday portraits taken of your new little family and collage photos from the photoshoot in a large, multisection picture frame.
3. Surprise Baby Announcement Gifts
If you're keeping the new baby a surprise until the holidays, get creative with your grandparents' gifts. Wrap matching grandparent shirts and a baby onesie for a surprise reaction on Christmas morning, or gift the new grandparents a "Grandparent's First Christmas" ornament so they'll always remember their holiday surprise.
You could also frame your first ultrasound photo and let the baby's grandparents unwrap it for a special keepsake.
Christmas Gifts for Grandparents From Toddlers
Toddlers are at a fun age where they're starting to express their creativity and learning the value of spending time together. Your grandparents' favorite little helper can help you choose and wrap the following giftable ideas.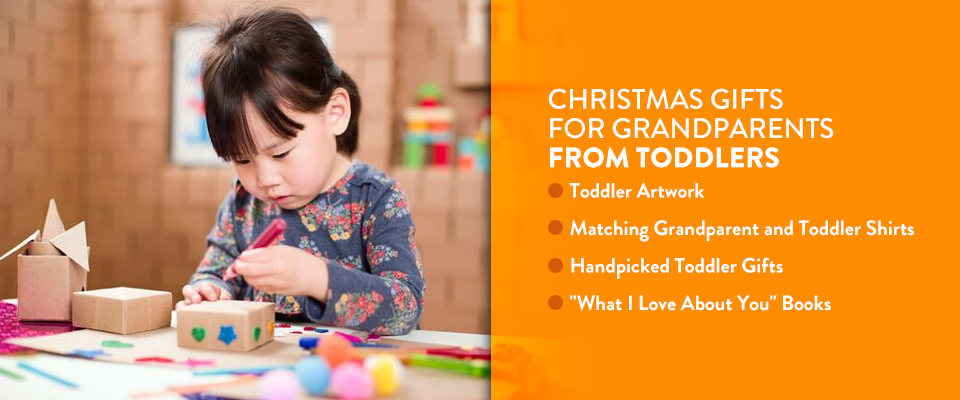 4. Toddler Artwork
Few things are as precious as a toddler's artwork, and their grandparents likely agree. Have your child draw or paint a scene that reminds them of their grandparents, like an activity they do together, a picture of the three of them together or whatever your child feels inspired to create.
Immortalize their artwork on giftable home decor or keepsakes, such as:
Magnets.
Blankets.
Decorative plates.
Framed pictures.
Canvas or poster prints.
Tote bags.
Pillowcases.
T-shirts.
Coffee mugs or travel cups.
Journals or notebooks.
Phone cases.
5. Matching Grandparent and Toddler Shirts
Gift Grandma and Grandpa shirts that match your toddlers' for a fun photoshoot on Christmas morning. As a bonus, you can keep the photo and use it to create personalized photo gifts for birthdays or next year's holiday surprise! T-shirt alternatives include jackets, hoodies or matching socks.
6. Handpicked Toddler Gifts
The most meaningful holiday gifts are the ones picked out with love and care. Take your toddler shopping and give them one objective — find Grandma and Grandpa the perfect Christmas present. Depending on your child's age, this could range from traditional gifts like toolsets and fresh flowers or your toddler's favorite toy that they're certain their grandparents will also love.
Use this as a learning opportunity to teach your toddler how to choose gifts for others. Spark ideas in the store aisles by asking about their grandparents' favorite color, snacks or things to do together. Your toddler will be excited to share their handpicked gift, and their grandparents will love seeing what their grandchild considers the perfect Christmas gift.
7. "What I Love About You" Books
"What I Love About You" books are guided blank books you help your toddler fill out. The book might have a different title, like "What I Love About Grandma" or "What I Love About Grandpa," but the idea is the same. Work together with your toddler to answer the questions in the book for a one-of-a-kind keepsake their grandparents will love.
Example prompts might be something like, "Describe a favorite memory with your grandparents," or "Why do you love your Grandma and Grandpa?" Keep the answers as close to your toddler's words as possible. If they're at an age where they're learning how to write for themselves, help them fill out different parts on their own or sign their name on the inside cover.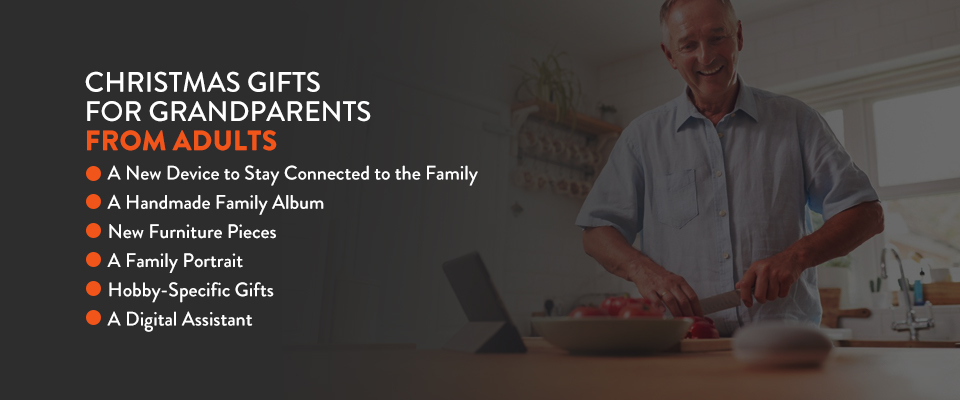 Christmas Gifts for Grandparents From Adults
Grandparents mean just as much to us in adulthood as they did when we were younger, if not more — express your love and appreciation for them with a gift you know they'll love.
8. A New Device to Stay Connected to the Family
If your grandparents live away from you, their friends or other family members, the gift of connection is priceless. FaceTime and group video calls can help your grandparents stay an active part of their loved ones' lives, even from a distance.
Tech ideas to consider include:
Smartphones: Apple iPhones, Google Pixels and Samsung Galaxy phones are among the most popular smartphone options for long-distance relationships. They have built-in apps, like FaceTime and Google Hangouts, that make it easier than ever to say hello with the click of a button.
Tablets: Tablets and two-in-one devices give grandparents a larger screen for video calls, so it's easier to see all of their loved one's smiling faces and milestone moments.
Some tech is also explicitly designed for long-distance bonding, like the Facebook Portal.
9. A Handmade Family Album
Bring out the storage boxes and old pictures and make an album featuring the whole family over the decades. You can glue-and-stick each photo by hand with scrapbook paper and stickers or use an online service to create a digital-to-print album with text and graphics.
Your grandparents are sure to love whichever option you choose. Consider these tips for design inspiration:
Stick to a specific theme throughout the album, like "favorite memories" or "best family vacations."
Use a cohesive color palette throughout the album, like pastels, classic neutrals or bold pops of color.
Consider a chronological timeline album documenting your grandparents' life together from marriage through today.
Position the album like a storybook, telling the story of your grandparents' life or family's adventures together.
Add sentimental pieces, like old playbooks from the theater or dried flowers from a family wedding, to accentuate or frame photos.
Have each family member design a single page, then compile them into a single unique book.
10. New Furniture Pieces
Brand new or handcrafted furniture pieces are a great addition to any grandparent's household. Consider the pieces they're missing and the rooms they spend most of their time to choose comfortable furniture they'll get plenty of use out of, such as:
Rocking chairs.
A porch swing.
A yard hammock.
Outdoor patio furniture.
A recliner.
An ottoman with built-in storage.
11. A Family Portrait
A portrait of the entire family is one way to preserve the memory of each person and how they look at this stage in their lives. Many families take portraits year after year to document the changing and aging family and pass them on to younger generations.
Your portrait can be as serious or fun as you'd like it to be. Some families wear matching neutral colors and pose together with a scenic location in the background. Others wear funny holiday sweaters for a casual photo in the yard. You could even hire a professional photographer to come with your family to a special family spot and take candid pictures of everyone enjoying one another's company.
12. Hobby-Specific Gifts
What do your grandparents enjoy doing in their spare time? Are they jet-setters who travel to interesting places or cozy home bakers with the best fresh bread on the block? Invest in quality gear or supplies that support their hobbies. If they already have the equipment, see what needs updating. For example, you could replace your grandpa's worn electric mixer with a fancy stand mixer for an easier time in the kitchen.
Some hobbies your grandparents might enjoy engaging in include:
Woodworking tools.
Knitting or cross-stitching supplies.
Cooking or baking ingredients.
Painting supplies.
Fitness or sports equipment.
Traveling tickets, luggage or passport holders.
Hiking or walking gear.
Bird-watching books and binoculars.
13. A Digital Assistant
Digital assistants, like Amazon's Alexa and Google Home devices, can be incredibly useful tools for cooking, planning and staying organized. Your grandparents can rely on them for everything from the morning weather update to setting timers to take the holiday meal out of the oven.
Choose a model that syncs with any existing electronics, like smart appliances or smartphones. Be sure to install the device and connect it to their cell phone before leaving their house. If they aren't familiar with how digital assistants work, walk them through some highlight features, like adding dates and reminders to the calendar, asking to hear a fun fact or hands-free calling from the couch.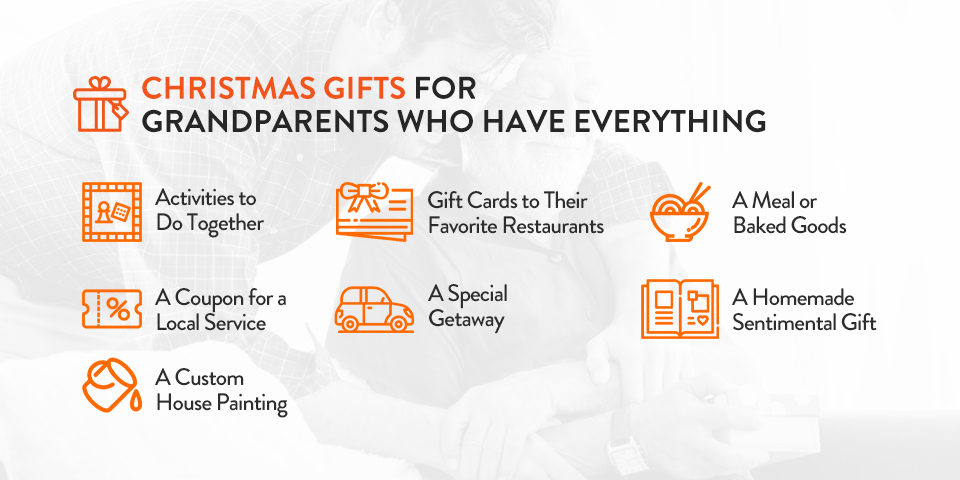 Christmas Gifts for Grandparents Who Have Everything
Whether your grandparents are collectors with a house full of treasures or a simple couple who doesn't want anything beyond time with family, these are some of the top present gifts for grandparents who have everything.
14. Activities to Do Together
Sure, your grandparents may have everything they need, but bonding time is irreplaceable and always in demand. Give them the thoughtful Christmas gift of time spent together with a fun activity, such as:
Board or card games.
Organized outings to special places or events.
Travel tickets for special, meaningful locations.
Custom portrait puzzles of a family photo.
A DIY or craft project.
15. Gift Cards to Their Favorite Restaurants
Everyone needs to eat! A gift card to your grandparents' favorite restaurant is the ideal gift if you're not sure what they need this year. Choose a large gift card for a few months of date night visits or an all-out one-time dinner extravaganza. You could also get them a few gift cards to several different places, like their favorite ice cream parlor, steak restaurant and downtown breakfast spot.
If your grandparents would be more comfortable dining in their own home, consider delivery gift certificates to their favorite pizza place or a mobile food delivery service in their area.
16. A Meal or Baked Goods
Indulge your grandparents' savory side or sweet tooth with these edible gift ideas:
Home-cooked meal: Make your version of your grandparents' favorite home-cooked meal and deliver it to them for a stress-free, after-holiday dinner to enjoy when the leftovers run out. If you're not confident in your own cooking abilities, get a copy of the recipe and create a bundle of all the ingredients they'll need to prepare it their own way.
Favorite treats: Cookies, muffins, candies, brittle, breads — whatever your grandparents enjoy snacking on at the kitchen counter or indulging in around the holidays, make sure they have plenty of it. Choose their favorite brands from the store or handmake your own treats for an extra special Christmas gift.
Handmade ingredients: Handmake custom pantry staples, like vanilla extra, flavored sugar or compound butter, and gift them to your grandparents to add a touch of something special to their next recipe.
Giftable goods: Locally-made honeys, jams, preserves, chocolates or candies are some of the best gifts for grandparents who love one-of-a-kind finds or supporting small artisans. Visit farmers markets, local shops and holiday gift events to find the perfect delicious gift.
17. A Coupon for a Local Service
Even the grandparent with everything could use a little help or motivation to tackle some projects around the house or take time for self-care at a local salon. Gift them a gift certificate for a local service that will help them complete an upcoming project, like a new flower bed, a fresh paint job on the house or lawn care for those hot summer days they'd rather spend indoors.
Local services to consider include:
Home improvement.
Lawn care or landscaping.
Spa services.
Hair or nail salons.
Household repair services.
Window washers.
18. A Special Getaway
Gift your grandparents the gift of a getaway to their favorite vacation spot, to visit distant friends or family or to that place they've always wanted to cross off their bucket list. The getaway can be for the whole family as a summer retreat or a special anniversary gift for just the two of them.
If you're not sure what their calendar looks like for the upcoming year, gift them parts of a getaway they can easily adapt to any day of the year, like accommodations at a cozy lodge that don't expire or gas gift cards to cover road trip travel expenses.
19. A Homemade Sentimental Gift
Homemade sentimental gifts are especially meaningful and really fun to make. Consider what your grandparents value or any special skills you have that could take the project over-the-top. Consider the following:
Video messages from family and friends
A handmade scrapbook
A surprise family portrait of all the kids and grandkids
Handwritten letters from loved ones
A memory book of everyone's favorite memories with them
20.  A Custom House Painting
Home is where the heart is, and that's never as true as it is at Grandma and Grandpa's house. Give them the sweet gift of a custom painted portrait of their own house, or another special place, such as:
Their childhood homes or the home you lived in with them as a child.
Their first home together, complete with visible house numbers.
Their favorite place, like a local boardwalk on the shore or pond in the park.
Their wedding venue or honeymoon location.
A favorite family vacation spot, like a lodge, lake or beach house.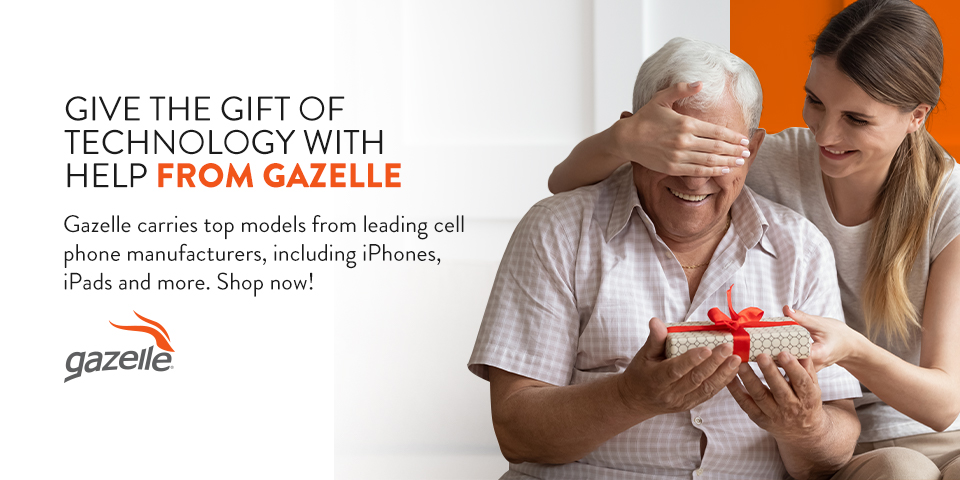 Give the Gift of Technology With Help From Gazelle
Get contract-free, quality-inspected smartphones and devices from Gazelle and give your grandparents the gift of technology this Christmas season. Gazelle carries top models from leading cell phone manufacturers, including iPhones, iPads and more. Shop now!
Comments
comments