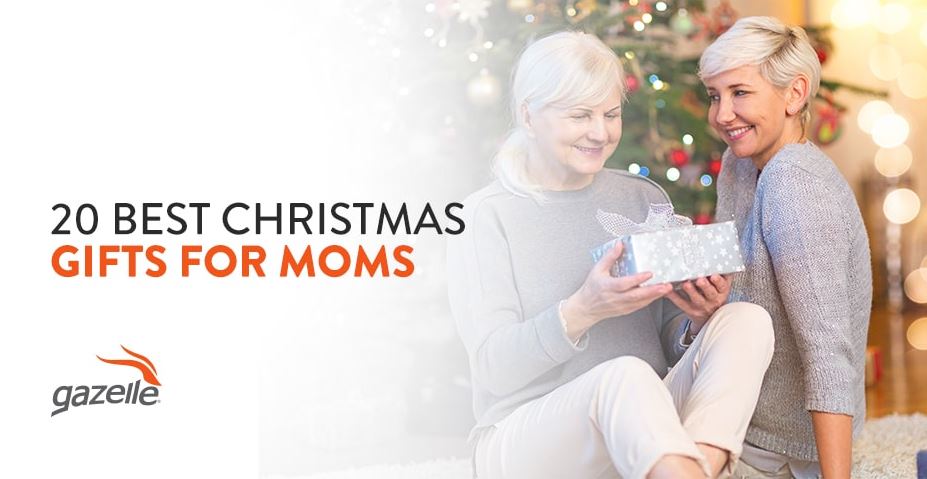 As you begin holiday shopping, it might be difficult to find Christmas gifts for the mom who doesn't want anything. Still, you'll likely want to find a thoughtful present for your mother this holiday. When searching for Christmas gifts from mom to daughter or useful Christmas presents, consider the things your mom enjoys most for a good place to start.

Gift Ideas for Moms Who Love to Cook
Maybe your mom's idea of the best Christmas is baking cookies and preparing Christmas dinner for the whole family. If your mom loves cooking in her kitchen and exploring new recipes, consider one of these ideas to gift her the best present this Christmas:
1. Philips XXL Twin TurboStar Airfryer
Air fryers are the newest cooking trend, so keep your mom up to date with the best appliances. An air fryer allows your mom to enjoy the taste and texture of fried food with a healthier alternative by swapping oil with air. Available in black or white, this air fryer can fit seamlessly into your mom's kitchen with her other appliances. Additionally, this model is dishwasher safe, allowing for easy cleanup, and even comes with a recipe book with ideas for moms who are new to air fryers.
2. Pocono Modern's Vintage Pyrex Design
Help your mom complete her kitchen with decor options from Pocono Modern's Vintage Pyrex collection. This art collection features plate and dish designs in various patterns and hues that will add a pop of color and intrigue to your mom's kitchen. Additionally, the collection is available in various formats, including prints, towels and notepads, so you can find the best fit for your mom and her kitchen.
3. MasterClass Cooking Courses
For the mom who loves to cook and learn new things, buy her cooking courses on MasterClass. As you continue your holiday shopping, you can explore course options taught by well-known celebrity chefs like Gordon Ramsay, making this gift perfect for moms who love watching cooking channels.
These courses offer subjects covering various techniques and cuisines, meaning you can find the best class for your mom no matter her skill level or interests.
4. KitchenAid Attachments
For the mom who loves her KitchenAid mixer, enhance her experience by gifting her KitchenAid attachments. These attachments cover a range of slicing and shredding options so your mom can easily prepare everything from cheese to vegetables to nuts. Because they are removable and stainless steel, these KitchenAid attachments are easy to clean and store, ensuring long-lasting use for your mom.
5. Always Pan
If your mom loves to cook, she is always searching for the perfect cookware to improve her kitchen. The Always Pan combines the functions of eight different pots and pans into one pan, allowing for more efficient use of kitchen space and equipment.
The Always Pan comes with several features, including a spoon rest, a steamer basket and a pour spout to enhance its function. This nonstick ceramic pan works on all stovetops and comes in 10 different colors, so it will fit perfectly into your mom's kitchen.
6. Cocktail Grow Kit
For the mom who loves making drinks, think about getting her a kit she can use to grow her own herbs for her next cocktail hour. This kit comes with six common cocktail herbs, including lavender and mint, making it perfect for moms who love cooking and gardening. If her plants do well, she can even use them for other recipes requiring those herbs.
The grow kit comes with all the necessities for starting a little garden, from soil and containers to plant stakes and growth-tracking materials. Your mom will love watching her plants grow and adding them to her cocktails.
Gift the Next Best Thing for Your Relaxed Mom
If the best part of your mom's day is settling down and having some time to herself, you'll want to gift her something to enhance her relaxation. These ideas can also be great for a new mom in your life who needs some time to relax.
7. Graf Lantz Cozy Wine Tote Set
For the moms who love winding down with a nice glass of wine, consider investing in this wine tote bag that allows your mom to bring her favorite bottles of wine anywhere she wants to relax. This tote can carry two bottles of wine and comes four with absorbent coasters and 12 wineglass rings, so she always knows which one is hers.
With this wine tote bag, your mom can safely and easily bring her wine to any event, including girls' nights with friends, picnics at the park and outings on the beach — or even when watching her favorite show by herself.
8. Solution Stash Pocket Leggings
These yoga leggings from Athleta are the perfect option for the relaxed, yoga-obsessed mom. With 10 different colors available, you can find the perfect pair for your mom that fits her style and current athletic wear. Athleta offers a range of nine sizes and fits for tall and petite women. Your mom will feel comfortable and confident in these leggings at her next yoga class.
What makes these leggings special is the carefully designed fabric that's comfortable, breathable and functional. The fabric pulls sweat away from the skin and has top-quality quick-drying technology for a comfortable and light feel. The leggings come with pockets on both legs so your mom can store her phone, keys or other essentials while working out.
9. Kindle Paperwhite
For the mom who loves relaxing with a good book, get her the newest Kindle model — the Paperwhite. This Kindle is perfect for anyone who reads through books quickly, with double the storage and book, audiobook and magazine compatibility. Your mom can comfortably enjoy reading at the beach or pool with Paperwhite's waterproof technology.
This model comes in four unique colors and is the thinnest Kindle model yet, with a glare-free screen. Your mom will enjoy her latest reads with this thoughtful present.
10. Galaxy Fleece Weighted Robe
The Galaxy Fleece Weighted Robe provides portable comfort and stress relief for your mom. The robe incorporates glass beads to distribute weight throughout its weighted lining, as well as a 3-pound weight around the neck for optimal comfort. The weighted lining and neck weight are both removable for easy washing and flexibility when wearing.
11. Washable Silk PJ Set
If your mom loves to relax and treat herself, look no further than this silk pajama set. This set comes in 10 different colors that you can mix and match to find the best combination for your mom's style and aesthetic. It is available in seven sizes, and the online guide can help you find the right size.
This silk sleep set is easy to wash and maintain for a long life span and optimal comfort. Your mom will relax well in these pajamas.

Perfect Gifts for the Mom Who Loves Making Memories
Sentimental moms will love something unique and personable that they can cherish forever. Gift your mother a thoughtful present this Christmas with one of these ideas:
12. Personalized Family Birth Flower Print
When searching for gifts for the sentimental mom, this custom print is the perfect option. This beautiful piece of art lets you transform your family into a garden by representing each member as a different flower depending on their birth month. Your mom will certainly love this unique and thoughtful work of art.
The artist offers many customizable features for potential buyers so you can find the best fit for your mom. On one print, you can include up to 12 names and flowers. You can choose the frame's size, color and wood stain to ensure your gift fits perfectly into your mom's aesthetic. You can even add a personalized message at the bottom of the print to match the occasion.
Don't know your family members' birth flowers? No problem. The artist includes a flower index in the item details so you can accurately match flowers to each family member. Each month has two flowers, so you can choose the best fit for every relative or include some variety for people born in the same month.
13. Custom Heart Necklace
If you want to get something meaningful for your mom, look no further than these interlocked heart pendants. These customizable necklaces allow you to engrave heartfelt words into each heart so your mom can carry that message around with her everywhere she goes.
These necklaces have many customization options. You can include up to four hearts on each necklace, each with its own message. Choose from gold, rose gold and sterling silver, and mix and match metals for a unique look your mom will love.
14. Photo Frame Musical Jewelry Box
If you want something that captures a specific memory for your mom, good news — you can gift her this musical jewelry box. You can choose a 6-by-4-inch photo to decorate the box's exterior lid, allowing your mom to reminisce on the chosen memory whenever she looks at her gift. For further customization, choose the song that plays when she opens her box from a list of hundreds of songs to find the perfect piece. Everything about this box promises a memorable and sentimental gift for your mom.
The box has a dark, sleek finish with velvet interior lining. You can pay extra to add an engraving to the bottom of the lid and deliver a special message to your mom each time she opens her gift.
15. iPad
With an iPad, your mom can easily take and view pictures and videos to capture new memories during the holiday season. Further, the larger screen and high-functioning operating system allow her to connect with family and friends all over the globe with just the click of a button through her selection of apps. An iPad can be a great gift for the mom who wants to contact the people she loves, even after the holidays are over.

Thoughtful Presents for the Moms Who Are Complete Bosses
Moms are strong, and they can do it all! For the mom who is always reaching for new goals, try one of these ideas to find the perfect gift this Christmas:
16. Ember Temperature Control Smart Mug 2
Enhance your mom's morning routine with this smart mug that allows her to keep her coffee warmer for longer. This mug comes with a custom coaster that maintains the mug's temperature to ensure the perfect coffee. Additionally, your mom can control and customize her heating settings with the Ember app.
This ceramic mug is available in black and white, so you can find an option that fits into your mom's current mug collection. This mug can hold up to 10 fluid ounces and comes with many features for optimal functionality, like automatically turning off after two hours without liquid to save power.
17. Classic Leather Tote
Made in Turkey from authentic Italian leather, this gorgeous handbag is perfect for the mom who is always on the move. Whether she's hustling between work meetings, shopping the latest trends, talking with friends or frequently traveling, this bag's simple, sleek design paired with its durability and spacious interior will make it the perfect fit, no matter where your mom is going.
With nine different colors to choose from, you can find the perfect fit for your mom's style. This bag is durable and stylish, allowing it to withstand virtually any environment.
18. Google Nest Hub Max
The Google Nest Hub Max is the smart assistant your mom needs to juggle and organize her daily life. For the busy moms who are always on the move, the Nest Cam's features help her check on the house, kids and pets while she's out running errands, visiting friends or working. If she needs to talk with someone at home, she can make video messages or calls to the Hub from wherever she is. The assistant can help everyone in the house organize their schedules, to-do lists and reminders, creating a more structured home environment.
This smart assistant is so much more than an at-home organizer. The screen allows your mom to stream her favorite shows from platforms like Netflix and YouTube. She can also set her favorite pictures as screen savers to save power and reminisce on good memories.
19. Revlon One-Step Hair Dryer and Volumizer
For the mom who's all about hair care and looking her best from head to toe, this hot air brush safely dries and styles hair without damaging follicles. The brush offers three heat settings for optimal care with an additional cooling option so that your mom can best style her hair.
20. iPhone
When your mom is always on the move, it is important for her to stay connected with colleagues, family and friends. Investing in a new iPhone for your mom can be a great way to provide her with a functional and portable device she can use no matter where her busy life takes her. Your mom can use her Apple device to connect with her loved ones and celebrate with them, especially around the holiday season.

Find the Best Christmas Gift for Mom at Gazelle
Your mom deserves a sentimental gift from her children this holiday season. Keep your mind open to what your mother might want or need so that you can find a special item that's ideal for her this year.
When searching for the perfect gift ideas for mom, consider giving her a phone or tablet she can use to connect with family and friends around the globe. With a diverse selection of device makes and models, honest pricing and free shipping, Gazelle can help you find an excellent gift for your mom. Explore our collections of smartphones and tablets today!
Comments
comments