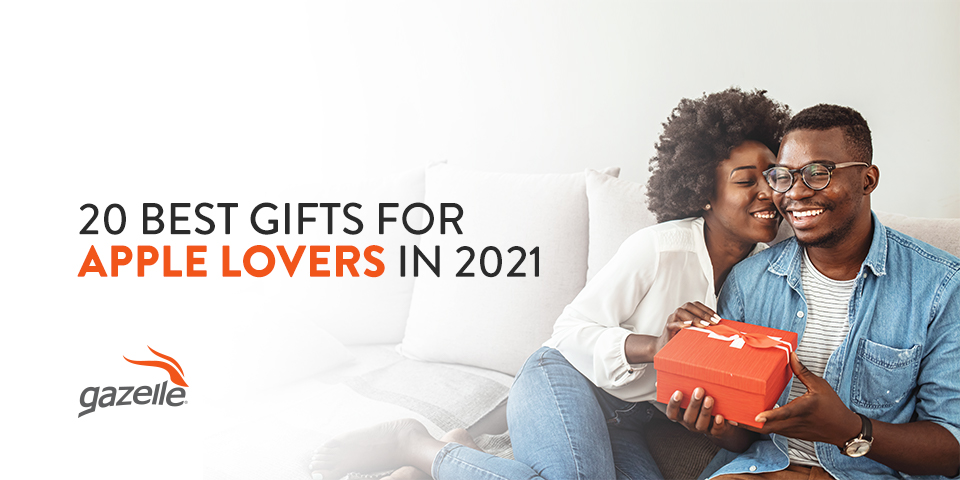 Anyone who uses Apple products knows they sometimes come with a hefty price tag. However, getting a gift for the Apple lovers in your life doesn't have to break the bank. Buying your friend or family member a used iPhone, iPad or MacBook can save you significant amounts of money — without sacrificing quality. 
Beyond devices, there are many other accessories Apple product users can use to enrich their digital experience. For a more unconventional gift, you can even get your friend Apple-themed presents or the gift of commercial-free television with an Apple TV+ subscription. Keep reading to discover the best gifts for Apple lovers in 2021!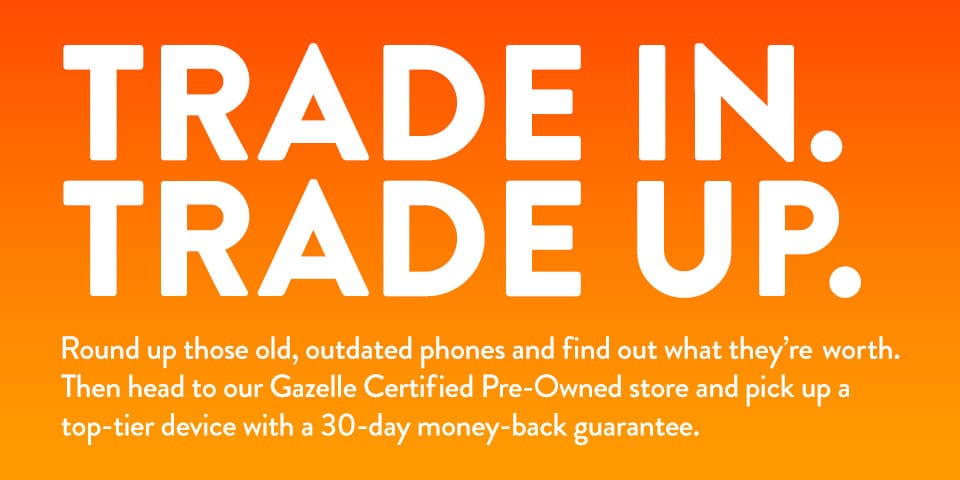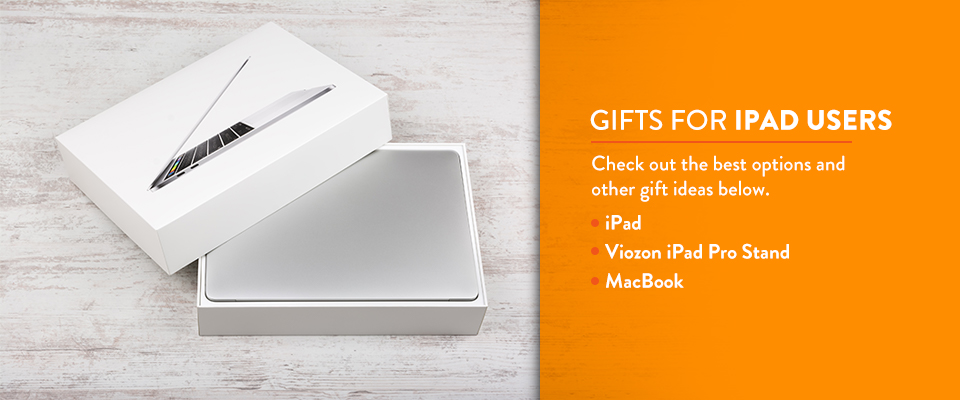 Gifts for iPad Users
If your friend or family member regularly uses an iPad, you can make their life easier with an iPad Pro stand. Check out the best options and other gift ideas below.
1. iPad
An iPad Air is the perfect choice for someone who wants to watch movies and shows or play games. It also has two high-performing cameras with live photo capabilities to capture special moments. The 10.5-inch retina display, LED backlight and sensors that adjust to ambient light allow for an optimal viewing experience. 
For friends and family who need advanced capabilities for their iPad, consider the iPad Pro. While the iPad Air uses the same chip as the iPhone 12, the Pro runs on a desktop-class processor. The iPad Pro comes with a mini-LED display for better image quality, a larger screen and greater processing capabilities. 
2. Viozon iPad Pro Stand 
The Viozon iPad Pro Stand is the perfect gift for someone who regularly uses their iPad to watch movies or follow recipes in the kitchen. This stand costs $36.89 and you can use it for devices between 7 and 13 inches. It allows for 360-degree rotation, -45 to 180-degree tilt and an adjustable height for any purpose. It's also lightweight — just under two pounds — so it's portable and easy to carry around the house or out and about. 
3. MacBook 
If your friend or family member needs a bit more power than an iPad offers, consider getting them a MacBook. However, any Apple lover knows that MacBooks can come at a hefty cost. You can buy used MacBooks for lower prices with many advantages. Before used device dealers sell used MacBooks, they thoroughly inspect the device to ensure it still delivers high-quality performance. Buying used is also more eco-friendly, as you're upcycling a device instead of using the resources required for manufacturing a new appliance. 
The 15-inch MacBook Pro allows for fast speeds and ultimate storage to get any job done. For those who need a standard, reliable laptop, the 12-inch MacBook is a great choice. The smaller model has optimal storage and a stunning display. Plus, this model is less expensive and allows for a seamless transition between work and entertainment purposes.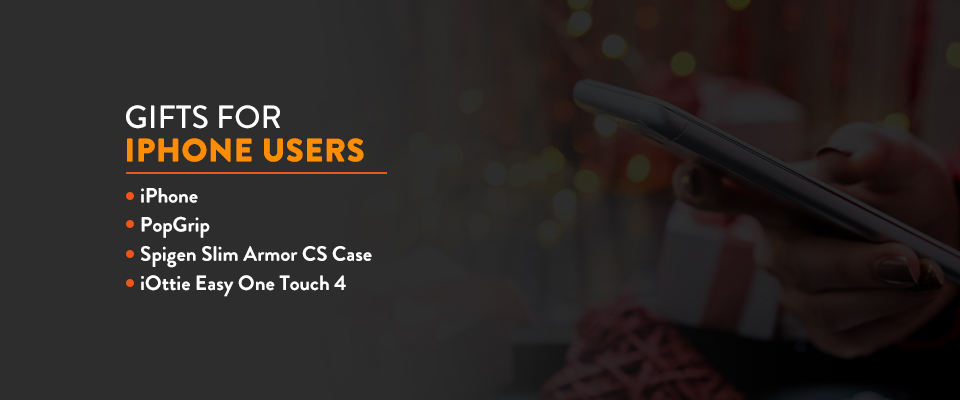 Gifts for iPhone Users 
While you can get your friend or family member a used iPhone for the holidays, you can also opt to purchase accessories like the PopGrip PopSocket or a new case for their device. 
4. iPhone 
Gifting an iPhone will definitely put you on a friend's "nice" list! A used iPhone 12 Pro Max or an iPhone 11 Pro provides optimal operations at a fraction of the cost of a new device. The iPhone Pro Max comes with a significantly larger screen — 6.7 inches — and a Super Retina XDR display. The iPhone 12 is fast and comes with optimal camera quality. 
The iPhone Pro and iPhone Pro Max models are the premier choices if you're on a strict budget. Both models include an advanced camera system and an A13 Bionic processor for maximum capabilities. They're also water- and dust-resistant to help extend your devices' lifespans.
5. PopGrip
A PopGrip is one of the best gifts for iPhone users. These affordable PopSockets — costing between $14.99 and $22.25 — also double as a stand to watch videos on the go. You can easily interchange PopSockets if you desire another design or for wireless charging, and you can reposition them as necessary. 
PopGrip will help you text with one hand, take better photos and avoid dropping your phone. These PopGrips stick to most devices and their cases, attaching best to smooth, hard plastic cases.
6. Spigen Slim Armor CS Case
Most people don't like to carry around a large wallet. That's where the Spigen Slim Armor CS Case comes in. This gift is affordable — only $15.99 — and protects iPhone X and XS models. However, the key benefit of this case is a discreet compartment for money, an ID and two credit cards. 
While this case serves as a wallet, it also protects your phone. The case is dual-layered for drop-protection with Air Cushion technology while maintaining a slim and lightweight design to fit in a pocket easily. 
7. iOttie Easy One Touch 4
The iOttie Easy One Touch 4 is one of the best Apple gifts for friends and family on the go. This device is only $29.95 and allows you to mount and remove your iPhone quickly. Your friend or family member will be able to remove their smartphone with one hand and the telescopic arm quickly adjusts to the device. The iOttie Easy One Touch 4 solution is also compatible with all car models. 
Gifts for AirPod Users 
AirPods are great for the Apple product lover who likes to listen to music or podcasts, watch videos or take calls on the go.
8. PodSkinz AirPod Case
The PodSkinz AirPod case will help your AirPods stand out with a pop of color. It protects your AirPods from scratches, dents and other damages and comes in seven colors to customize your AirPod case depending on your tastes. This gift is also affordable — only $4.95 — making it a great stocking stuffer or a gift for several friends or family members.
9. AirPods Pro 
AirPods Pro are a great gift for music lovers. While slightly more expensive at $249, these headphones come with both outward and inward-facing microphones and active noise canceling technology. When you want to converse with those around you, you can activate conversation boost so you can easily hear other people — even in loud environments. The pro model also features a customizable fit with internal tapers and 24-hour battery life. Plus, you can customize the case with engraving for free!
If you're on a tighter budget, you should consider second or third-generation AirPods. While they lack the same technology AirPods Pro afford, they wirelessly connect to all Apple devices, have motion technology to detect when you're listening, are Siri-capable and allow for audio sharing between two sets of AirPods. Your friend or family member will be able to listen to music distraction-free on an iPad, iPhone or MacBook. 
Chargers 
We all have that friend or family member who is always asking to borrow a charger. Give the Apple enthusiasts in your life the gift of a full battery with wireless chargers and charging stations to charge several devices at once. 
10. MagSafe Charger 
The MagSafe Wireless Charger is another exceptional gift for Apple lovers. MagSafe devices charge your Apple products much faster than other wireless chargers on the market. It's also affordable at $39. Simply clip the charger on the back of an iPhone 8 or later model. The charger is Qi certified and aligns with the most recent iPhone models. 
MagSafe chargers also come with compatible accessories, like MagSafe wireless charging silicone cases. However, the magnetic alignment is only accessible for iPhone 13, 13 Pro, 12 and 12 Pro. You can purchase MagSafe leather wallets for friends' iPhones, ranging from $49 to $59. 
11. Lexon Oblio Wireless Charging Station 
The Lexon Oblio Wireless Charging Station, which costs $79.90, both charges and sanitizes your phone. This wireless charging solution is much faster than its counterparts, completely charging iPhones in 3 hours and disinfecting each side of your phone in 20 minutes. It kills the DNA from viruses, bacterias, mold and germs. This charging station comes in four colors and is the winner of the CES® 2021 Innovation Awards in the Health & Wellness category.
12. Twelve South PlugBug Duo Supercharger 
Recent Mac models only have two type-C chargers. However, the Twelve South PlugBug Duo Supercharger expands your charging capabilities for just $59.99. You'll be able to use two USB ports to charge up to three devices from one outlet. With the Twelve South PlugBug Duo Supercharger, you can charge your MacBook in more than 150 countries. 
Because 2020 MacBook models only have two type-C charging ports, the Duo Charger will allow you to charge multiple devices simultaneously, like a battery pack, AirPods or the Apple Magic Mouse or Keyboard. This charging port is handy for places where outlets are scarce, like airports. 
13. Riggad LED Work Lamp
If you're looking for a unique charger, the Riggad LED Work Lamp is a fully functional lamp, reading light and charger. It's also affordable at $29.50 and available at IKEA. This discreet, sleek charger allows you to charge one device via USB and another wirelessly. 
The Riggard LED lamp is energy-saving, using 85% less energy than incandescent bulbs while lasting about 20 times longer. However, it's still high-quality — it won the International iF Design Award in 2016.
Smart Home Products 
You can make your friend or family member's life easier with smart home products. They'll be able to play loud music from a small device with the HomePod Mini or change the color of their lighting with voice commands. 
14. HomePod Mini
Apple's HomePod Mini is the ultimate smart speaker system. This speaker is one of the best gifts for Apple lovers, as it connects to other HomePod Mini speakers throughout your house. You can play individual songs in each room or synch the devices to play the same song throughout your home. The speaker also has Siri capabilities, which can recognize up to six different family member voices. 
The device is also only 3.3 inches tall, fitting into any room's aesthetic. Despite its small size, the HomePod Mini also offers room-filling audio quality, 360-degree audio and a backlit surface for touch control. You can also connect two speakers via stereo pair for a fully immersive, left and right audio experience. The HomePod Mini also seamlessly integrates with your iPhone when you bring your phone close to the speaker.
15. Nanoleaf Smart Lighting 
The Nanoleaf Smart Lighting system includes unique light configurations like hexagon lights, smart bulbs and light strip expansions. Nanoleaf designs are sleek and sophisticated for the modern home. They come in white lighting or playful colors and automatically include adaptive lighting. You can also customize your lighting with the Nanoleaf app or commands via voice or a controller.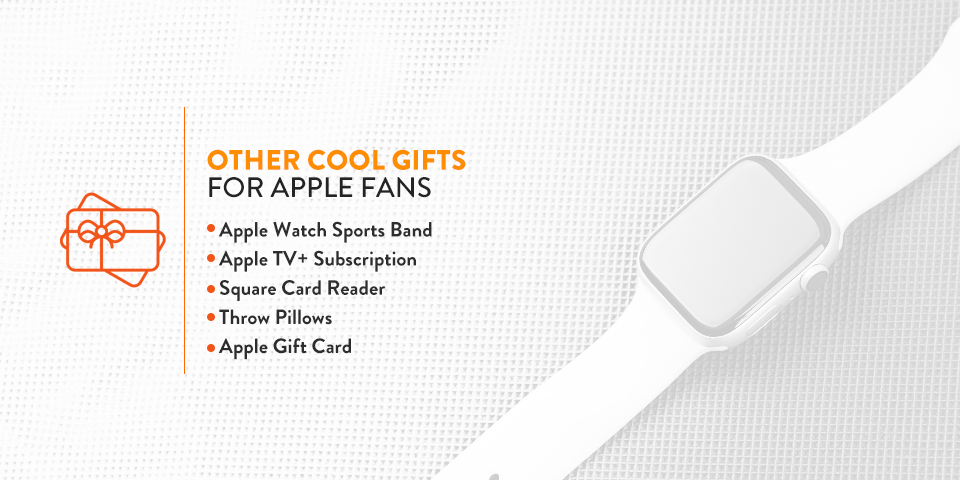 Other Cool Gifts for Apple Fans 
If you're still not sure what to get the Apple lovers in your life, you can select Apple-themed presents, accessories that can be used with their Apple products, an Apple TV+ subscription or let them choose their own gift with a gift card. 
16. Apple Watch Sports Band 
Apple Watch Sports Bands are perfect for the active friends and family members in your life. These smooth, durable watch bands are made of fluoroelastomer to feel comfortable against your wrist. They come in 41 and 45 millimeters options for a comfortable fit and cost $49. You can fully customize the sports band according to your tastes with more than 10 available colors. 
17. Apple TV+ Subscription 
An Apple TV Plus subscription is the gift that keeps on giving, as your friends or family members will enjoy original shows and movies long after the holidays. You can also save with a membership, as plans come free with student plans until you or your friend is no longer a student. Further, Apple TV is free for three months after you or a friend purchases a new Apple device. After a seven-day free trial, Apple TV costs only $4.99 a month. 
You can enjoy this service either through the Apple TV app or by watching online. You can also share this gift with up to five friends or family members, making it the ultimate gift to spread good cheer. 
18. Square Card Reader 
The Square Card Reader is the ultimate gift for business owners or fundraisers in your life. This card reader easily connects to iPhones and iPads and eliminates the fees of using a payment transfer app. Plus, customers will see that your business is legitimate and well-organized. 
19. Throw Pillows
Great gifts for Apple fans that aren't technology-based are the Throwboy Apple pillows and blankets. Purchase the Spinning Wheel (of Death) Pillow or buy a 1984 Mac Throw Blanket. These pillow and blanket designs are familiar and nostalgic, mirroring classic game controller and Apple product designs. 
20. Apple Gift Card 
If you're still not sure what gift to get an Apple fan, you can't go wrong with an Apple gift card. Your friend or family member will be able to pick out what they need, whether it be an iPhone or MacBook case, a charger, an Apple TV+ Subscription or a HomePod Mini. Choose to send the physical card through the mail or gift it virtually via email.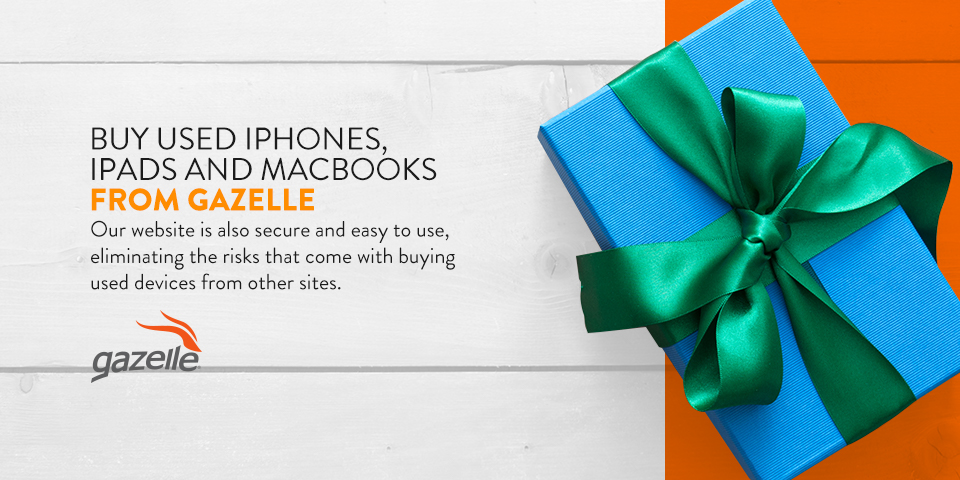 Buy Used iPhones, iPads and MacBooks From Gazelle 
When you buy used Apple devices from Gazelle, you know you're getting quality products. All of the devices we sell are Gazelle Certified. We thoroughly inspect our products to ensure:
High camera and audio quality.
The microphone records clear audio.
They connect to WiFi and can access cellular networks.
The volume and home buttons work.
Phones make calls.
The screen is free of damage and adequately backlit. 
The device is cleaned thoroughly.
If you're looking for the best gifts for Apple lovers in 2021, shop with Gazelle. We offer a 30-day return policy, and you can cover your devices for a year by purchasing a warranty. Our website is also secure and easy to use, eliminating the risks that come with buying used devices from other sites. Contact our team today to learn more about buying used iPhones, iPads and MacBooks from Gazelle! 
Comments
comments