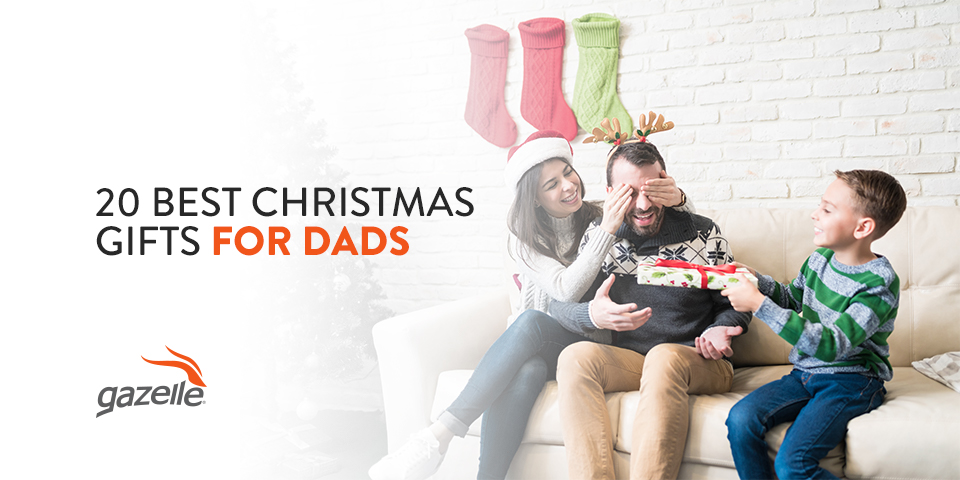 As the holiday season rolls around, it can be challenging to think of what to buy Dad for Christmas. Especially when looking for gifts for the dad who wants nothing or seemingly has everything already, it might be hard to think of ideas.
This Christmas, you can find the best Christmas gift for Dad by exploring his interests and the items that might give him better experiences with those hobbies. Check out this guide broken down by interests and lifestyles to find the best gifts for your dad!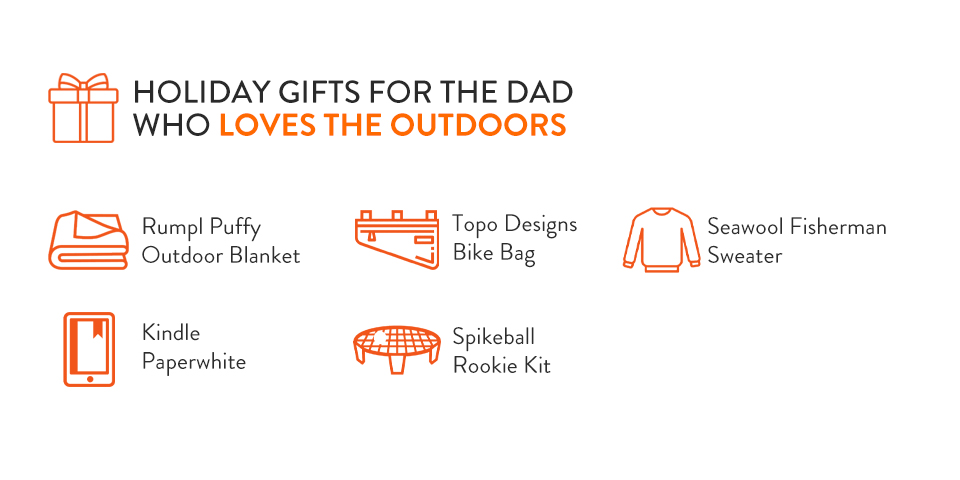 Holiday Gifts for the Dad Who Loves the Outdoors 
If your dad loves the outdoors, you can find plenty of gifts to explore the wilderness, from camping and hiking equipment to outdoor games. Explore your options to find the best Christmas gift for your dad.
1. Rumpl Puffy Outdoor Blanket 
Marketed as a cross between a duvet and a sleeping bag, a thick outdoor blanket is perfect for the dad who loves to spend his time outdoors. Whether he enjoys long hunting trips, camping in the mountains or sipping his coffee in the fresh morning air, your dad will enjoy the warmth provided by an easy-to-transport blanket.
If your dad loves supporting environmentally friendly products, he will appreciate how this blanket incorporates recycled materials into the insulation.
2. Topo Designs Bike Bag
For the dad that loves biking, this bike bag will allow your dad to carry everything he needs on his next bike ride. The bag comes in three colors, so you can match the bag to your dad's bike. With a waterproof lining, your dad can easily clean his bag after a ride.
The straps allow your dad to attach the bag to his handlebars to easily access everything inside throughout the ride. The front has webbing for attaching a light for the dad who likes to bike at night.
3. Seawool Fisherman Sweater 
If your dad loves spending his time outdoors, gift this sweater to him this holiday season for the perfect junction between style, comfort and functionality. This sweater comes in four different colors and six different sizes, so you can find the best fit for your dad's aesthetic.
The knit design of this sweater helps keep in heat while incorporating quick-drying technology to prevent overheating and ensure long-lasting comfort. The sweater's materials are from recycled items, making it perfect for the environmentally conscious dad.
4. Kindle Paperwhite
On your next outdoor excursion, let your dad enjoy the wilderness with a nice book that he can read on the Kindle Paperwhite. A thin, waterproof model allows your dad to easily and safely bring all of his books, audiobooks and more wherever he goes. The newer version has double the storage of older models, so he will always have space for his newest read.
5. Spikeball Rookie Kit
When searching for Christmas gifts for Dad, the Spikeball Rookie Kit might be perfect for the dad who loves spending quality time with family and friends outdoors. Spikeball is a group game that families and friends can play together, and the portable equipment lets you bring it wherever you want, whether that's your next family camping trip, a neighborhood barbeque or even in the backyard.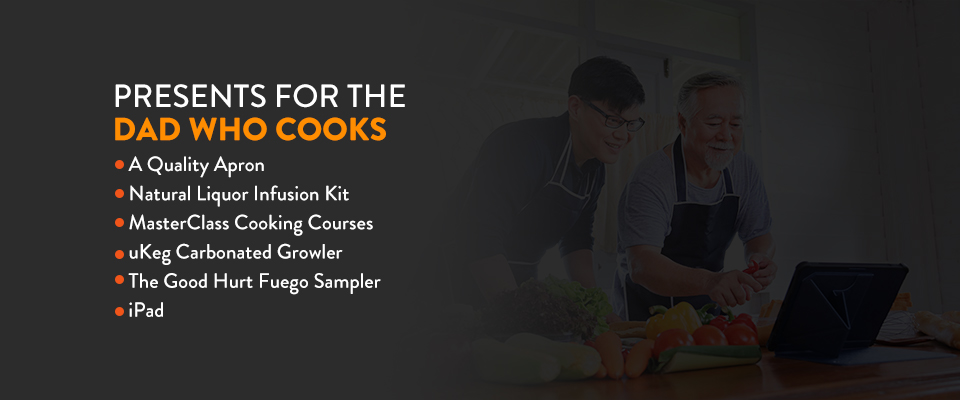 Presents for the Dad Who Cooks
Some dads love cooking, creating new dishes or serving up old family favorites. If you are looking for Christmas gifts for the dad who seems to have everything already, explore some unique kitchenware.
6. A Quality Apron 
If your dad loves working in the kitchen or at his grill, a durable apron might be the perfect holiday gift for your dad. Pick a style that uses sturdy materials to create a highly durable and heavy-duty apron, so you know it will withstand all of your dad's cooking adventures. You can even check out waterproof options so your dad can use his apron in the kitchen or bring it outside to the grill.
Want to really impress Dad? Look for an apron with a chest pocket that lets him safely store his phone or other essentials while he's working, and opt for loops that let him hang tongs or towels for easy access.
7. Natural Liquor Infusion Kit
While some dads love cooking or grilling, others love creating signature cocktails and mixed drinks. Help him plan and wow his next happy hour guests with a Natural Liquor Infusion Kit. The kit includes two glass jars and two packs of ingredients premeasured already for easy usage. Your dad can enjoy his unique drinks in no time.
Each jar has a filtering spout that makes it easy to pour and serve drinks without mixing raw ingredients into the glasses. You can also buy seasonal ingredient packets or refills to continue to supply your dad's love of infusing drinks.
8. MasterClass Cooking Courses 
When shopping for the dad who has everything, it can be hard to find something new that he will like, especially if he already has every kitchen or cooking device. Instead, help him grow his culinary skills with cooking classes through MasterClass. These classes can teach everything from basic to technical cooking skills he can use in the kitchen every day or with a new cuisine he wants to try. With MasterClass, you can find the perfect Christmas gift for Dad.
Consider going in on a class together as a great gift for Dad from his daughter for some nice father-daughter quality time.
9. uKeg Carbonated Growler
For the dad that loves brewing his own beer, consider getting him a uKeg Carbonated Growler to keep his beer fresher for weeks with top-notch insulation. With this keg, your dad can better store and share his favorite beers, microbeers and his creations. The barrel is small and portable, making it easy to bring anywhere, and the tap lets you pour drinks with ease.
The growler comes in stainless steel, giving it a sleek look to impress guests and friends while promising a durable and long-lasting product. It also features various additional functions that make this growler unique, like a carbonation cap and a pressure gauge.
10. The Good Hurt Fuego Sampler
If your dad wants to expand his palate or loves hot sauce, a hot sauce sampler with seven sauces will be perfect for him. Each sauce uses different peppers from around the world for a unique and exciting taste your dad can add to any meal. The packaging looks like sticks of dynamite, making tasting seem dangerous and exciting for Dad.
11. iPad
Make searching recipes and following videos easier in the kitchen for your dad by gifting him an iPad this Christmas. With larger screens, he can better see what he needs to practice his cooking skills. Apple's operating system, iOS, offers compatibility with many apps, allowing your dad to explore all his options to help him be a better cook.
Because he can use his new iPad to connect with family and friends, your dad can show off his amazing kitchen skills through video calls or recordings he can send to everyone. He may even call up another good cook in his life to help walk him through new recipes he's trying.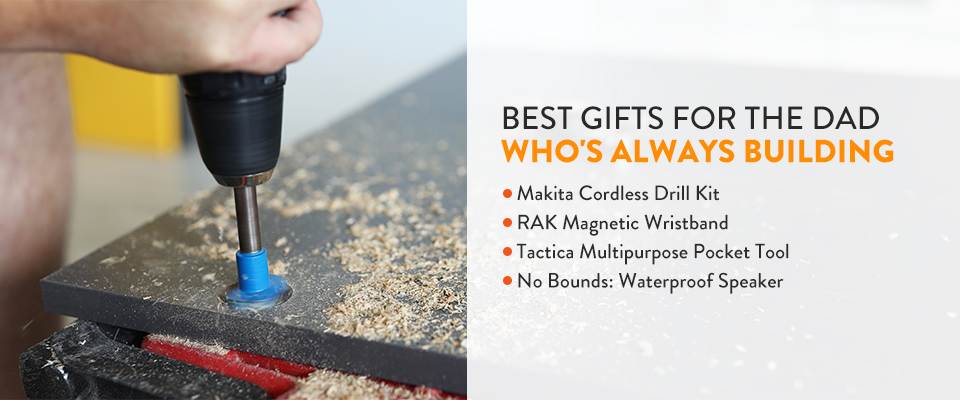 Best Gifts for the Dad Who's Always Building
Dads love their power tools and DIY projects. As he begins to plan his building projects for the new year, surprise him with something he can use as he works.
12. Makita Cordless Drill Kit
If your dad is always starting a new project, then the Makita Cordless Drill Kit will be perfect for him. Using a rechargeable battery to power the device, your dad can increase his range when working on his projects. The lightweight design of the drill helps reduce strain and fatigue while working, so your dad can keep doing what he loves most with quality tools.
The kit includes everything your dad will need to maintain his new drill, including batteries, a battery charger and a case for easy transport and storage when he isn't building.
13. RAK Magnetic Wristband 
A magnetic tool bracelet is perfect for the dad that always requires assistance when working on his latest projects. With 10 strong magnets sewn into the fabric, your dad can use this band to hold any extraneous screws, nuts, bolts, nails or other materials he might need. He will have everything where he can easily access it and won't need to call for extra assistance.
This band uses durable materials, so it's a tool your dad can depend on. Your dad can adjust the fit to make it work for his needs by wrapping it around his wrist, attaching it to his belt or hanging it from his workstation.
14. Tactica Multipurpose Pocket Tool 
Finding the perfect tool for your dad can be tricky, especially when there are so many great tools out there. The Tactica small and lightweight tool combines five tools into a compact and portable one that your dad can store on him and bring with him wherever his projects take him.
A small compartment safely stores the screwdriver heads, so your dad can easily transport and change them as needed. This tool even meets TSA standards, so your dad can truly bring his tools anywhere.
15. No Bounds: Waterproof Speaker 
For the dad that's always in the zone when working on his next project, consider gifting him this waterproof Bluetooth outdoor speaker that he can use to listen to his favorite music as he works. This is a great Christmas gift for the dad who has everything already when it comes to tools and his building projects.
The speaker comes with a hook and a carabiner, so Dad can hang or attach his new speaker wherever's convenient while he works. It even comes equipped with a built-in microphone so he doesn't have to disconnect to make calls.
Gift Ideas for the Working Dads 
When exploring Christmas gifts for the dad who wants nothing, you can find meaningful items he can incorporate into his daily routine, including his work. Offer him some home away from home as he works hard at the office or with clients.
16. Personal Concrete Fireplace
Whether your dad works from home or in the office, gift him something that he can take with him to work to warm up his workspace. This personal tabletop fireplace will add a calm, relaxing ambiance to any space while keeping it warm during the colder months. Since it's small and compact, it's easy to transport from place to place, so your dad can easily bring it home with him after work for continued relaxation.
17. Durand Sunglasses 
Your dad can make a good impression at the golf course or company picnics with the sharp and sleep look of these Durand sunglasses. Available in six colors, you can find the perfect fit for your dad's style, so he can impress all of his clients, coworkers and friends at his next work social event.
You can choose four different frame sizes to ensure the sunglasses fit your dad's face, and you can even add prescription lenses. The lens design allows for a scratch-resistant pair of sunglasses, and each pair comes with a case and a lens cloth for optimal care.
18. Bigelow Premium Mach3 Razor 
For the best gift for Dad from his son, consider getting your dad a high-quality razor for a clean and refined shave. Especially for the dad that obsessively cares about beard maintenance, investing in a good razor that will last and provide quality results will be perfect. This razor uses materials from England from experts in the steel industry to craft the best razor for your dad. Your dad will look professional and be ready to tackle the day with a clean shave from this razor.
19. Custom Cuff Links 
These square cuff links are the perfect gift for the dad who spends most of his days in suits and meetings. Available in beautiful stainless steel, these cuff links provide a sleek look for the everyday businessman to impress his clients and coworkers. You can add your dad's initials to the cuff links for something personal and meaningful this Christmas season.
To give an even more thoughtful gift, you can add a wooden box for the cuff links so your dad can store them somewhere safe at the end of each day. Customize the box's lid with a personalized message so your dad can think of you each time he gets ready in the morning.
20. A New iPhone
If your dad loves his job, help him stay connected with his colleagues and connections with a new iPhone for Christmas. With frequent operating system and model updates, you can find the perfect phone for your dad that will meet his every need.
Your dad can also use his new iPhone to stay in contact with his family and friends during the holiday season. Your dad can choose from various apps to allow him to video call the people he loves this Christmas so he can stay connected with the people he cares about most.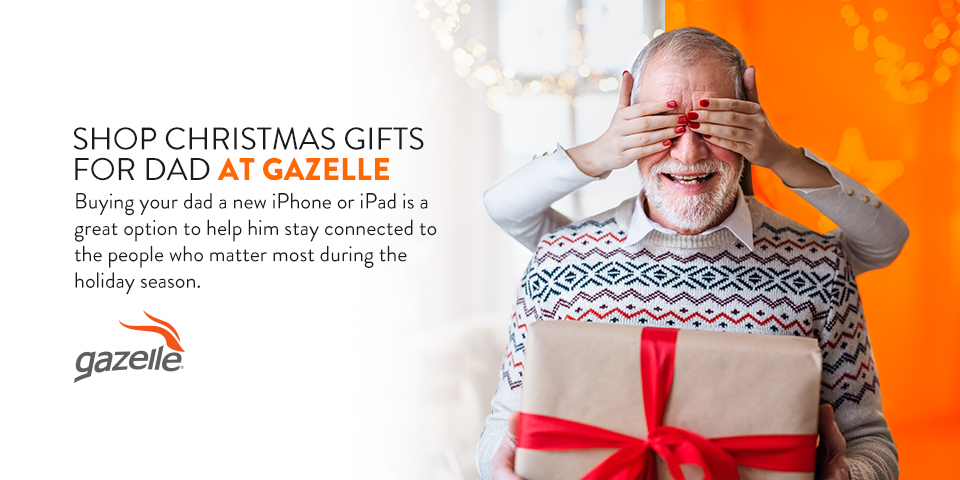 Shop Christmas Gifts for Dad at Gazelle 
When searching for a Christmas gift for Dad, there's a lot out there that can become the perfect item he will cherish and use every day. Considering his hobbies and passions can be a good place to start if you're stuck on ideas.
Buying your dad a new iPhone or iPad is a great option to help him stay connected to the people who matter most during the holiday season. At Gazelle, we offer a wide selection of Apple devices you can choose from to find the option that best fits your dad and his needs. Buy refurbished devices fast with no contracts or strings attached, getting you the perfect device to give as a gift.
Find the perfect gift for Dad today with Gazelle!
Comments
comments