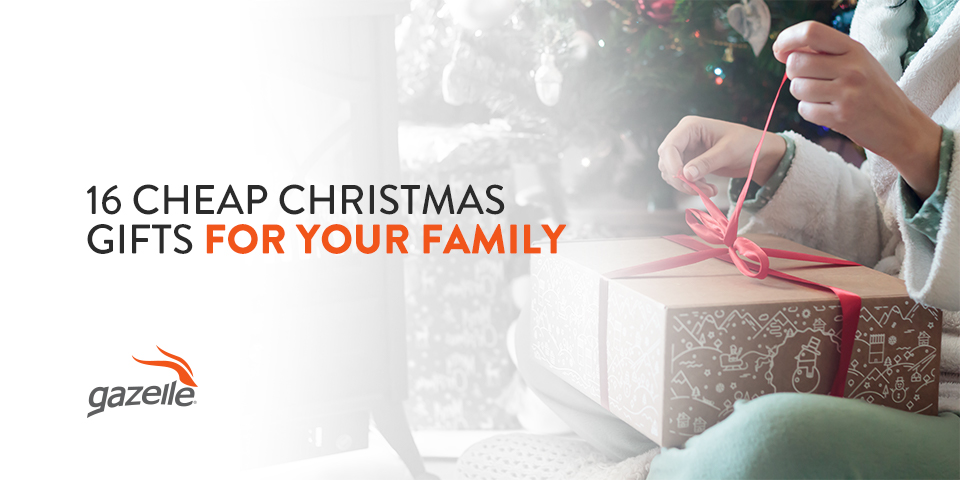 The winter holidays are a magical time of the year where many families travel or host to reconnect and celebrate family traditions with relatives. Whether it is hosting a large Christmas or New Years' dinner with aunts, uncles and cousins or a small get-together with siblings who were away at college most of the year, many people look forward to the Christmas season to visit their loved ones and create happy holiday memories.
With the winter holidays comes gift giving. Gifting presents to your loved ones is a great way to represent how much you care and appreciate them, but it can also get expensive. On average, Americans spend around $650 on gifts for family, friends and coworkers each Christmas. Costs continue to rise when you factor in meals, party decor, holiday decorations and other expenses.
You don't have to drain your wallet to give meaningful and significant gifts that your family will cherish. This holiday season, explore these affordable Christmas gifts for family members under $50 to discover the perfect holiday gift ideas without breaking the bank.
1. Soundbot Shower Speaker 
The Soundbot Shower Speaker is the perfect gift idea for family members who love to sing in the shower. This water-resistant Bluetooth speaker is safe to use in the shower while still providing high-quality sound. With a strong suction cup located on its underside, your family member can stick their speaker anywhere they want and the buttons located on the surface allow them to easily control their music settings.
This speaker is compatible with Apple and Android devices and smart tablets, ensuring that your loved ones can connect it to any device they want. Its small and portable size makes it perfect for college kids who can easily toss it into their shower totes with the rest of their things. You can even gift it to more than one family member, with more than six colors to distinguish each speaker from one another.
2. Mini Waffle Maker 
This cute four-inch waffle maker is the perfect Christmas gift for family members who already seem to have it all. Available in nine different colors, you can gift them something that fits seamlessly with their kitchen and their personality.
This waffle maker is perfect for all skill levels — you can easily set it up and use it by plugging it in and monitoring the light on the surface. The non-stick pan and small size make it easy to clean and store when you're finished.
You have plenty of options when using this mini waffle maker. You can use it to make a large batch of waffles or individual servings. Further, expand your options beyond the traditional waffles by experimenting with brownie mix, cookie dough or hash browns.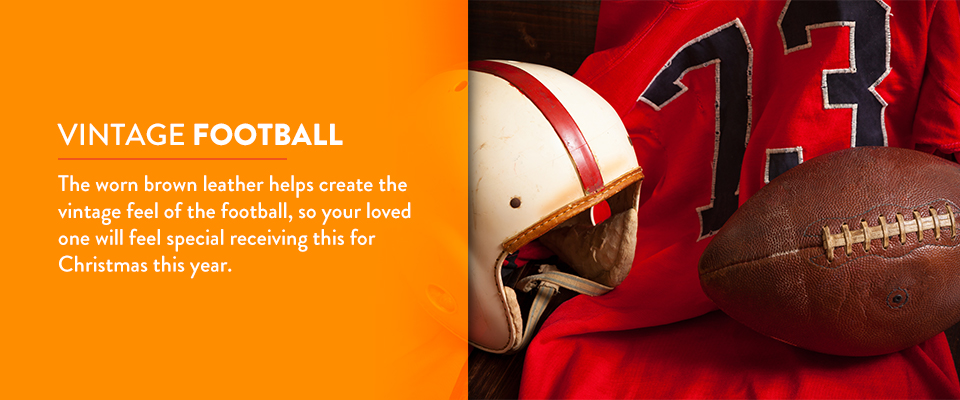 3. Vintage Football
For the NFL fanatic, gift them this Vintage Football that you can customize to display the official logo of their favorite NFL team. The worn brown leather helps create the vintage feel of the football, so your loved one will feel special receiving this for Christmas this year. The ball is smaller than average footballs, so you can give it to young kids interested in football or add a small display holder for older family members to show it off in their office or bedroom.
4. 14-Piece Cocktail Kit 
If you are searching for holiday gift ideas for that one family member, consider gifting them this 14-piece stainless steel cocktail kit. Whether they already know how to mix cocktails perfectly or are just beginning, this kit includes everything they will need the next time they want to mix up a drink, including shaker tins, a bottle opener, six pour spouts, a filter and more.
The kit includes a velvet bag for storing the equipment, adding a high-quality feel to any party or event. The stainless steel has a matt finish for a sleek look and includes anti-smudge, fingerprint resistance, leak and scratch protection to add to the kit's durability and lifespan.
5. Savvy Infusion Water Bottle
For the active family member who is always looking for something refreshing and healthy after their gym routine, hike or yoga class, you can gift them this Infusion Water Bottle this Christmas for a healthier alternative to soda. It is easy to use, so all your family member has to do is fill the infuser with their favorite fruits and they can enjoy naturally flavored water.
The design of this bottle includes shatterproof plastic and a leak-resistant handle for a durable and long-lasting water bottle that your loved one can use for years to come. It is lightweight and small enough to fit perfectly into cupholders, so your family members can take it with them everywhere they go.
6. Radio Lunchbox 
If you are looking for holiday gift ideas for your younger siblings, cousins, nieces and nephews, look no further than this Vintage Radio or TV Lunchbox. The vintage design creates a unique and durable design that will make your loved one the center of attention at lunch this year. You can choose between two vintage designs — an old-fashioned radio and an old TV model. It even includes a lock on the handle to help protect your loved one's lunch from others.
Don't have a young kid in your life? No worries. The vintage lunchbox will be the perfect inexpensive Christmas gift for the office worker in your family. Their new lunchbox is sure to make them the talk of the lunch hour and grab their coworkers' attention.
7. The Vintage Baker 
For the expert or novice baker, gift them the Vintage Baker — a cookbook collection that pulls together more than 50 recipes from the 1920s through the 1960s. Whether you are looking for something for the expert baker that already has everything or someone looking to grow their kitchen skills, you can give them something meaningful that they will enjoy with the Vintage Baker.
Each recipe has a short snippet explaining the origins of the recipe, so your family member can learn a bit about the history of their new favorite dessert as they learn to master it. The book includes beautiful vintage-inspired designs and graphics so each page feels like something your grandmother might own, making it perfect for the nostalgic baker.
8. Crossbody Cell Phone Purse 
This small and lightweight crossbody cell phone purse is a great cheap Christmas gift for a family member who is searching for the perfect bag for their necessities. Made from high-quality synthetic leather, this purse will provide a sleek, stylish and professional look, making it a good choice for any occasion. You can find this bag in 18 colors, letting you pick the perfect bag to fit your family member's unique style.
Even though this messenger bag is smaller, it can hold everything your loved one needs for their day. With a built-in wallet and credit card slots, they can safely bring all necessary cards they need for the day with them, while the three zipper pockets allow them to carry other necessities, like their phone, keys and more.
9. Screen Magnifier 
This Christmas, if you want to gift something helpful to your grandparents or older parents, you can give them this 12-inch magnifying smartphone projector. The screen delivers HD quality viewing while protecting the eyes from harmful blue light, making it great for people who spend a lot of time on their phones watching videos or playing games to help reduce eye strain.
It is compatible with iPhone and Android smartphones, so you can rest easy knowing your family member can use it, regardless of what phone brand they prefer. You can adjust the screen's height on the stand to fit every situation and allow for the best viewing, and the screen easily folds down into a thin slab, making it easy to store. It is available in black, white and red, so you can find the best fit for your family members and their style.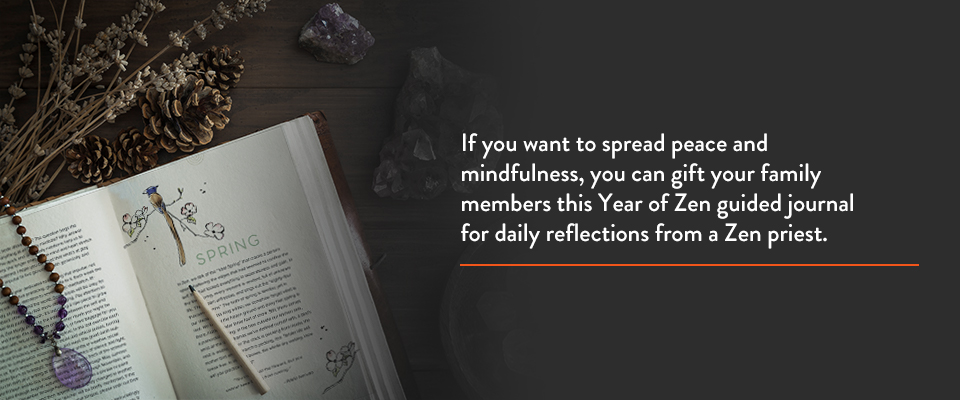 10. A Year of Zen Meditation Journal 
If you want to spread peace and mindfulness, you can gift your family members this Year of Zen guided journal for daily reflections from a Zen priest. Split into the 52 weeks of the year, each day has a unique and thought-provoking prompt covering various topics to guide your loved ones towards inner peace and a calm demeanor.
The prompts are perfect for Zen and meditation beginners or experts looking for the newest way to maintain their found peace.
11. Urban Map Glass
The Urban Map Glass is a perfect Christmas gift for that family member who has everything. You can gift it to your parents or grandparents who have lived in the same city their entire lives and are proud of their hometown, or turn it into a housewarming gift for the relative who has just moved to a new city. The retailer sells them individually, so you can gift them one glass, or a collection to represent all the places they've called home.
You can choose from a long list of major cities across the U.S., ensuring you will find your family member's city. The glasses are even dishwasher safe, so cleaning up after using their gift will be easy and straightforward.
12. Terrarium Candle
For the candle and plant lover, gift your family members these delicate handmade terrarium candles. They are available in two designs with two unique and relaxing scents — a cactus candle that smells like pine and vanilla and a poppy design scented with jasmine and white tea. Each candle is handmade and hand-poured by the artist, promising a unique and beautiful design that your family members will love.
13. Upcycled Record Coasters 
If you are searching for Christmas gifts for family members, these recycled handmade coasters are the perfect idea for the relative searching for something functional and environmentally friendly. Made from the labels from vinyl records and sealed to lock out moisture, these little coasters are great for music lovers or people into vintage designs.
The coasters come in a pack of six, and because they are recycled and handmade, each six-pack is unique. You can buy one pack or ten, and each coaster you receive will likely be one of a kind, making it something your family members will treasure forever — and help them keep track of their drinks.
14. Sushi Making Kit
This Do-It-Yourself sushi kit is a great inexpensive Christmas gift for the sushi enthusiast in your family or the family member who loves to cook and is always learning new skills to practice in the kitchen. The kit includes a roll cutter, rice paddle, pre-measured rice frames and a sushi rolling mat to help beginners learn how to make sushi at home.
The sushi kit is dishwasher safe, allowing for easy clean-up. Further, the manufacturer includes video guides and recipes for their customers, and they update them frequently to include new things for people to try.
15. MagBand Magnetic Wristband
For the person in your family who loves completing construction projects, gift them the MagBand Magnetic Wristband this holiday season. The wristband contains 10 magnets to easily store and access screws, nails and bolts as they work — with the wristband, they can save time and energy searching their toolbox or shed for supplies by bringing everything they need with them everywhere they work.
The MagBand wristband is lightweight and compact, making it the preferred option to bulky, heavy toolbelts. Further, the smaller size will allow your loved one to fit into tighter spaces with all the tools they need while they're working on projects.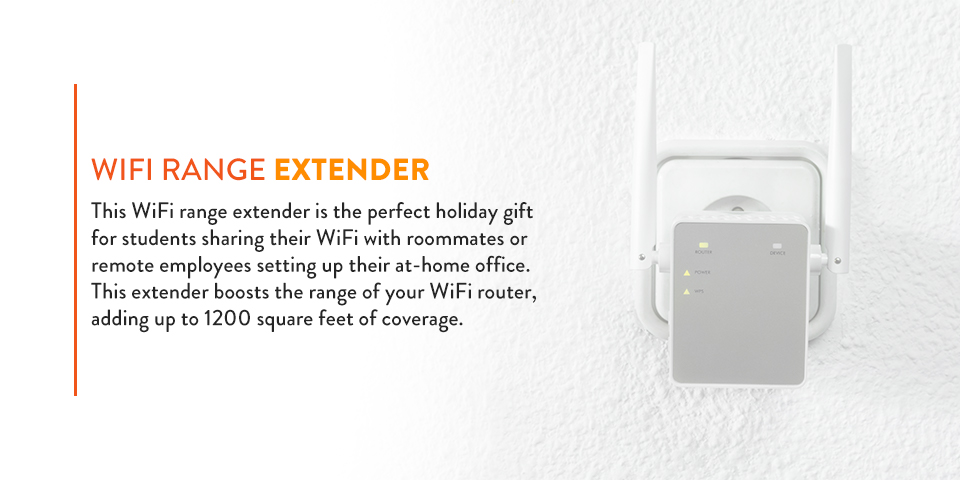 16. WiFi Range Extender 
This WiFi range extender is the perfect holiday gift for students sharing their WiFi with roommates or remote employees setting up their at-home office. This extender boosts the range of your WiFi router, adding up to 1200 square feet of coverage. The router is compatible with all routers, gateways and access points and can connect 20 devices. It even contains an Ethernet port, so you can connect your devices to the Internet through an Ethernet cord.
The WiFi Range Extender is simple and easy to set up. Manufacturers developed an app to walk customers through the set-up and installation process to help users. The app is compatible with Apple and Android operating systems, so your family member can set up their new extender right from their device.
16. A Quality Pre-Owned Phone
Do you have a family member who has been walking around with an ancient cell phone for as long as you can remember? Does your sibling struggle with their smartphone because it has a cracked screen? Be their hero this holiday season by gifting them a new-to-them used phone. Gazelle offers both Apple and Android products, so you can find the perfect phone to update your loved one's old device. You can choose a model from a previous year for a modest price, but we also offer phones from the most recent generations.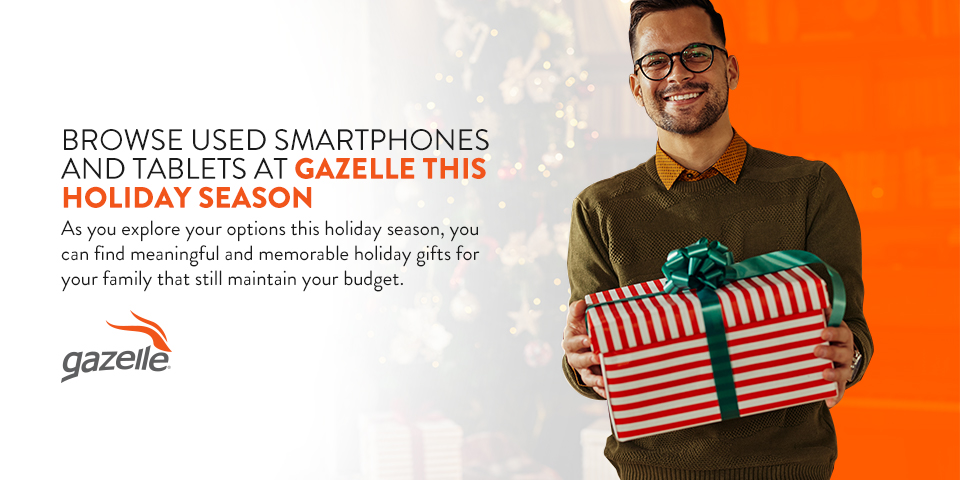 Browse Used Smartphones and Tablets at Gazelle This Holiday Season 
As you explore your options this holiday season, you can find meaningful and memorable holiday gifts for your family that still maintain your budget. Your family will love that you took the time to find them something personal and thoughtful this Christmas.
Many families use the winter holidays as the time to update their devices and gift their family members with new smartphones and tablets. At Gazelle, you can explore a wide variety of pre-owned smartphone models and manufacturers, including common flagship devices like Apple and Samsung.
Our quick and easy shopping and check-out experience can guide you through your holiday shopping to ensure quality smart devices for every member of your family, and our honest pricing will help you stay on budget as you search our selection. Explore Gazelle's smartphone and tablet selection today and find the perfect Christmas gift for everyone in your family.
Comments
comments