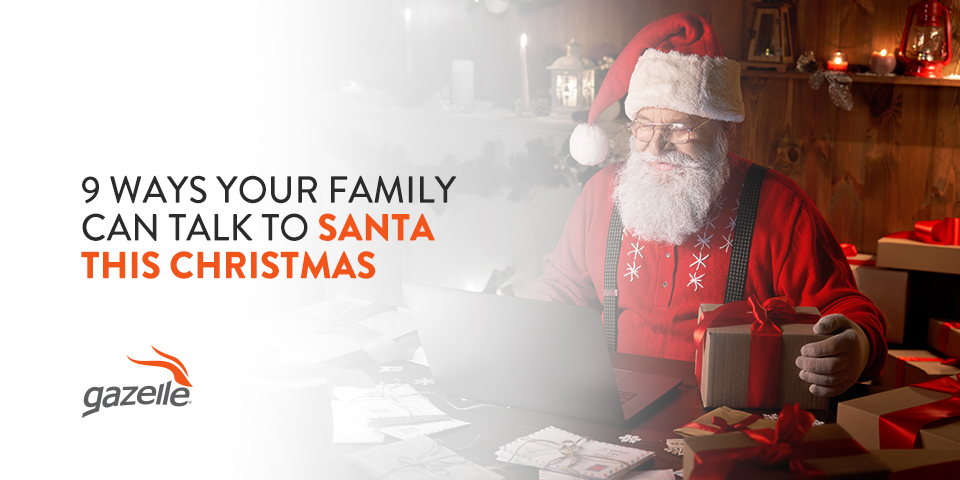 Christmas can be a fun and magical time of the year. People of all ages can enjoy caroling, seeing Christmas lights and baking holiday treats. For many kids, Santa Claus and the North Pole are the most exciting part of the holiday. Kids love to write their Christmas letters to Santa and put out milk and cookies for Santa on Christmas Eve. Many kids also dream about Santa's reindeer, the North Pole and the elves.
With Christmas quickly approaching, you might be looking for more ways to create a magical holiday for your kids. If your kids love Santa Claus, getting in touch with him could be the thing to get them extra excited for the Christmas season. With these ideas for talking to Santa, you can make Christmas extra fun for the whole family.
9 Ways to Talk With Santa 
Classic Christmas letters to the North Pole are always a kid-favorite. Sometimes, though, you might want to give your kids extra interaction with the jolly old elf. Many malls and other locations offer events for kids to sit on Santa's lap and tell him their Christmas wishes. Yet, the long lines and mall traffic usually give kids little time with Father Christmas. Social distancing has also made visiting a mall Santa more difficult.
Luckily, there are alternatives. Technology now gives you several options for letting your kids talk to Santa. A simple internet connection can connect you to the North Pole right away. You can use your smartphone, computer or home assistant to speak with old Kris Kringle. Check out the nine best ways to get in touch with Santa this Christmas.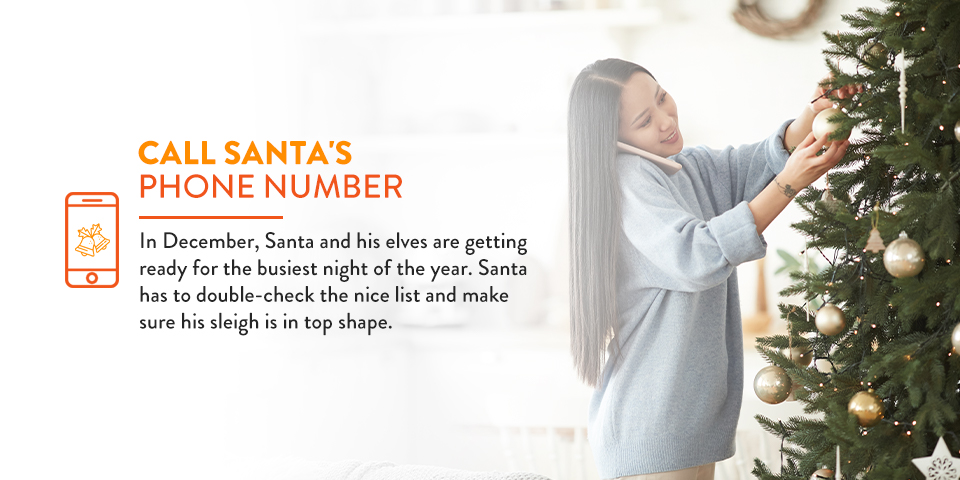 1. Call Santa's Phone Number 
In December, Santa and his elves are getting ready for the busiest night of the year. Santa has to double-check the nice list and make sure his sleigh is in top shape. With so much to do, you might think that he's too busy to take phone calls.
Yet Santa always has time to talk to kids about their wishlists! You can give him a ring any time, day or night, at the Santa Hotline. When you call Santa on his personal phone number, you'll get a prompt greeting. Then you'll receive a cue to leave a message. Your child can tell Santa their wishlist or any other news they have for him.
If you use your cell phone, you can also get a text from Santa after the call. The message will let you listen back to your child's message and share it with family. Your call is free, though standard messaging and calling charges may apply.
2. FaceTime Santa 
Over the years, Santa has gotten pretty tech-savvy. Now your child can even FaceTime Santa from your smartphone. The Video Call Santa app allows kids to send and receive video messages from Santa. These videos let kids seemingly interact with Santa. Each call seems like a real FaceTime calls. Your child's face will light up when they see an incoming video message from Santa at the North Pole!
The app is free to download and available for Apple and Android devices. Some features, however, require an in-app purchase. The pre-recorded videos of Santa use a series of questions to engage with kids. Santa asks if your kid has been good and what they want for Christmas. You can also choose from a selection of names so Santa can greet your child.
Parents will also love the "Parents Only" feature. With this button, parents can use their direct line to Santa to keep him updated on their kid's behavior. Reporting to Santa can be a great way to encourage good actions. They can also have Santa respond with some friendly advice for making it on the nice list. The app records videos so parents can watch them later. The app lets you play videos back to cherish the memory and find out what your child wants for Christmas.
3. Get a Call From Santa or the Elf 
Hearing a phone message from Santa can add an extra helping of magic to a child's holiday. The Christmas Dialer website allows you to receive a phone message for your child right away. First, you input your phone number, and then the recorded message comes through. You can have your child pick up the phone and watch them listening to Santa's voice mail!
With Christmas Dialer, you can choose to get a ring from either Old Saint Nick or one of his elves. Each character has a selection of pre-written messages you can choose from. You can have Santa tell your child goodnight or remind them to be good. Or you can have the playful elf tell your child that Santa knows if they've been naughty or nice. You can also type your own message for your child to hear. A unique message can add a special touch that will wow your little one.
With Christmas Dialer, the first call from Santa or his elf is free. A premium call requires an additional purchase. These calls are unlimited, and you can schedule them to arrive at a certain time. Have Santa call your child on Christmas Eve or their birthday. Each premium call also comes with a recording of the phone call so you and your child can relive the magic.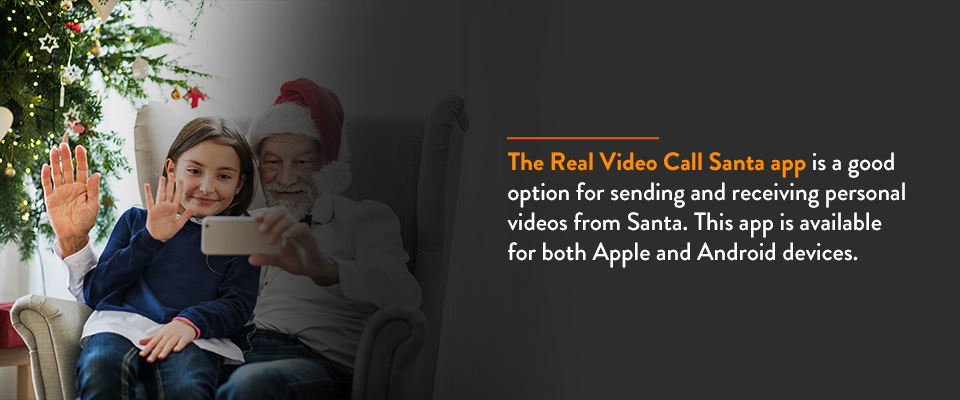 4. Send Santa a Video Call 
If you'd like a video call that is as unique as your child, you can also get a custom call from Santa. The Real Video Call Santa app is a good option for sending and receiving personal videos from Santa. This app is available for both Apple and Android devices. Through Real Video Call Santa, it's free for your kid to send a video message for Santa to watch. Kids will have fun leaving messages to keep Mr. Clause updated on their wish lists.
You can also purchase a reply, which Santa will send within 24 hours of your kid's call. Santa customizes each response to the sent message. Your child can use the chat feature to ask Santa questions through text. Replies come back in real-time, though Santa may need time to respond.
This app can help encourage kids to be good until Christmastime. Parents can record a video for Santa telling him if their child has been naughty or nice. Santa can then send a response reminding your kid about the naughty list or praising them for good deeds.
5. Visit With Santa Online 
Seeing and talking with Santa in real-time might make it your kids' favorite Christmas yet. Visit With Santa is the online equal of a visit to the mall Santa, without the lines and with a little extra magic. A mall visit can feel rushed and impersonal, especially if your child feels shy. Visit With Santa lets children share their interests with Santa on-screen. They can experience his jolly warmth from the comfort of their parent's lap.
Head to Visit With Santa to book a video visit with Mr. Claus. When you schedule an appointment, include personal information for Santa to discuss. Your child will be surprised to see that Santa knows their pet's name or favorite holiday food. You will then receive a link to follow for your visit. A video visit can last from five to 15 minutes, depending on which package you purchase. After your call, you get a keepsake video to share with grandparents and loved ones.
Visit With Santa works best with a strong internet connection. It is also helpful to have a device with a good camera. An upgraded phone can help your kids see every detail in Santa's suit and beard. Gazelle provides affordable used cell phones that are high-quality and carrier compatible. With a phone from Gazelle, you can create high-definition memories for years to come.
6. Get a Message From Santa
Messaging Santa is easier than ever with Message From Santa. There are a lot of unique features rolled into this app. Pick from three standard messages for Santa to send your child. You can then receive an unlimited number of calls for free. To wow your child, you can type in their name and interests. That way, Santa can greet them in his call and give some tailored advice. This feature can be great for encouraging children to behave well before the big night.
The app includes a Santa Tracker so your child can see where Santa is and what he's doing. Curious about the weather at the North Pole? Kids can also check the forecast up at Santa's workshop. There is also a Christmas countdown, so you can keep the excitement high all month long.
Message From Santa will let your kids send texts through the app. Santa will respond immediately, and you can keep the conversation going. Kids can also leave a note for Santa on his voicemail and tell him their wishlist. Although some features only come with an in-app purchase, this app is free for use. You can download it from the Apple and Android app stores.
7. Ask Google Home to Call Santa 
Your kid can get messages from Santa even without a cell phone. With Google Assistant software or a Google Home device, kids can interact with Santa and one of his elves using voice recognition.
Before calling Santa on Google Home, make sure to enable your kid's voice as a recognized user. Then your kid can give the voice command, "Hey Google, call Santa." A funny elf will answer the call because, after all, Santa is a busy man. The elf will tell your child that Santa is in the middle of rehearsals for a holiday show, so they have to be on hold.
When the call goes through to Mr. Claus, your child can answer a series of questions to help Santa choose which songs to include in his concert. After the call, Google Home will play music by Santa's elf band. Kids can ask Google to view popular Christmas song lyrics as they sing along. Google Home can also read them a Christmas story for more holiday fun. 
8. Send Santa an Email 
Santa Claus checks his phone and answers emails too. The Email Santa website lets kids send digital letters to Santa. Kids can first choose which stamp to use on their notes. Then they fill in the provided blanks to tell Santa their first name and where they live. The rest of the letter asks the child if they've been good and what they want for Christmas. There is also a separate section for your child to ask Santa any question they want.
After your child presses send, a reply from Santa comes back on the website right away. Answers are always personal and subject to change. Kids can send as many letters as they like. The site is free to use. It also doesn't require an email address, last name or phone number.
Email Santa has various other special features that kids will love to explore. They can visit the Christmas countdown to get excited as the day draws near. The Santa tracker offers live updates. There is a game section and Christmas-themed jokes to enjoy. Children can even listen to the elves read "Twas the Night Before Christmas." The site is interactive and can provide hours of Christmas fun. 
9. Get a Video Letter
A special video straight from the North Pole can really wow your child. The Portable North Pole website lets you create a video of Santa talking right to your kid. You can input your child's information on the website to make the experience personal. The more you tell Santa, the more impressive his knowledge will be to your little one!
To show that Santa knows his stuff, you can upload an image of your child for Santa to use in his video. You can also tell him their age and interests. The website lets you choose from hobbies like dancing, sports and writing. There is also the option to include how your kid is doing in school and their accomplishments. When your child opens Santa's video letter, the Reaction Recorder creates a keepsake video you can enjoy for years.
The Portable North Pole is free to use. You can create as many video letters to as many people as you want. The site also offers a paid Magic Pass with dozens of personalized message options. The Magic Pass lets you address a video to a corporate team, a child on their birthday, or the entire family. It also allows you to send videos at specific times and encourage good behavior. A video from the Portable North Pole can brighten your child's Christmas.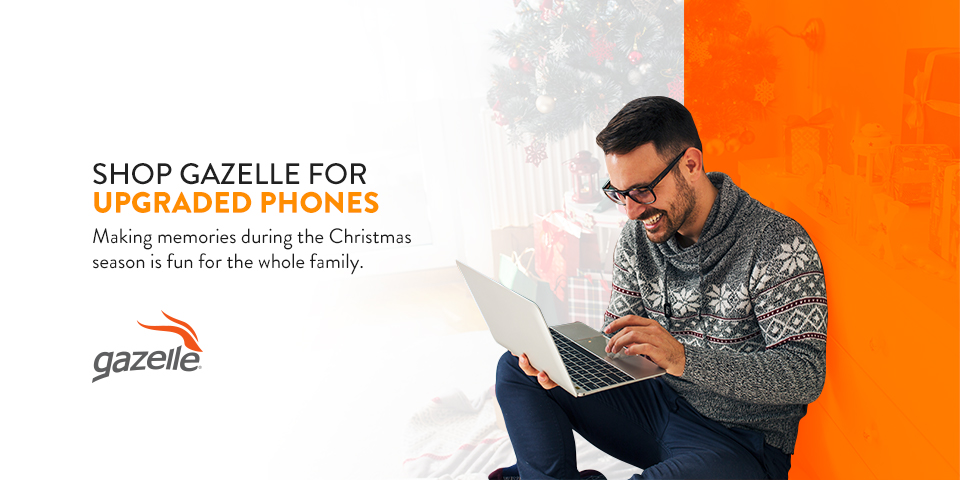 Shop Gazelle for Upgraded Phones 
Making memories during the Christmas season is fun for the whole family. There are so many activities for making memories with your kids. With the wonder of technology, you can give your kids an interaction with Santa Claus they'll remember forever.
Whether you call, text, or speak with Santa face-to-face, you need a device that can keep up. An affordable upgraded phone from Gazelle can keep the connection strong this Christmas. Gazelle offers a wide range of iPhones, Android devices and more to help you stay connected. With our Gazelle Certified Guarantee, you can be confident in your new device. Browse our online selection today!
Comments
comments