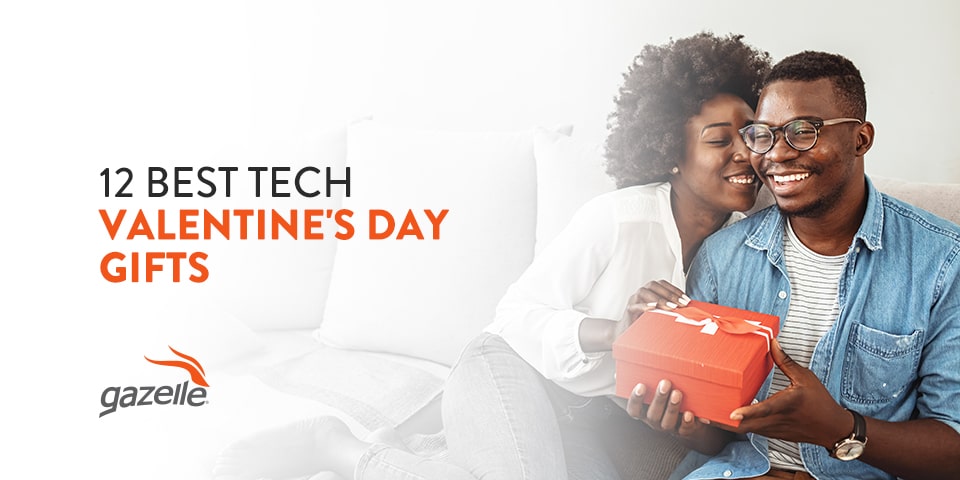 As chocolate boxes and candy hearts fill the grocery store aisles, you might be wondering what to get for your tech-loving significant other for Valentine's Day. Whether you want to go all-out on cutting-edge electronics or stay within a more modest budget and still surprise them with a tech gift, we've got you covered. We've put together a techy Valentine's Day gift guide packed with ideas for your significant other.
The 12 Best Valentine's Day Gifts for Tech Lovers
Here are some of the top Valentine's Day gadgets you can buy for this year's holiday.


1. Smartwatch
You have tons of options for these versatile wearables, which can help your partner track their activity, take calls and texts, follow wellness exercises, control their music and much more. Some are available with cellular connectivity — so you don't need to be within range of your phone — and they come in various styles to fit your SO's taste.
Popular models include the following.
Apple Watches: Apple Watches are capable smartwatches with exceptional durability, a sleek appearance and top-of-the-line features. They work beautifully with iPhones and are available in an array of attractive colors and band styles. The latest version is the Series 7, but the Apple Watch SE is a more cost-effective choice that lacks some of the 7's bells and whistles.

Samsung Galaxy Watches: The Galaxy Watch 4 is slightly more affordable than either Apple Watch but best suited to Android users. With black, silver and pink-gold colors and a range of bands, Galaxy Watches can be a stylish option with features like sleep tracking, ECG monitoring and much more.

Fitbits: Fitbit is another well-known player in the activity-tracking game. They offer large-faced smartwatch styles and sleeker, fashion-forward versions. Their battery lives tend to be much longer than other brands, with many lasting five or more days. If you're not looking for anything too flashy, this is the most affordable option on the list.
If you have a smartwatch, getting one for your partner can help you link up more often. For instance, with the Apple Watch, you can hold your fingers to the screen and send your partner a snippet of your heartbeat or a hand-drawn smiley face to let them know you're thinking of them.
2. Instant Cameras and Other Cameras
Does your partner like printed photos or photography in general? Instant cameras have made quite the comeback and are a creative way to add a little something special to your photos. Another option is photo printers, which offer easy, high-quality prints in just a few seconds. The biggest brands for both are Polaroid and Fujifilm. Both cameras and printers can be a great Valentine's gift under $100, but you can also spend a little more.
Polaroid has stayed in the game for decades and brings us the Polaroid Now+ and the Polaroid Go, instant cameras that bring vintage vibes to your photos. These cameras print on Polaroid's characteristic white-margined film and have modern features like Bluetooth connectivity and new shooting modes. Polaroid also offers instant "pocket" printers with the classic film style or more modern, borderless prints.
Fujifilm's Instax lineup includes an array of mini cameras for quick, instant-gratification photography. They have various styles, so you can get your partner a vibrant flamingo-pink camera or something a bit more subdued. Fujifilm also offers printers and film with fun patterns.
Another popular photography gift is a drone for aerial footage, like the DJI Mini 2. If you need a Valentine's Day tech gift for him, action cams, like GoPros, are also fun for outdoorsy types.


3. Smart Small Appliances
Smart appliances make excellent gifts. You can make your partner's life a little easier when it comes to cleaning, cooking or making their morning coffee.
Robot vacuums: If vacuuming is the bane of their existence, consider a robot vacuum, like an iRobot Roomba or a Samsung POWERbot. These high-tech vacuums can map the layout and rove around the house to pick up hair and debris on bare and carpeted floors.

Blenders, air fryers, crockpots, etc.: Buying for a foodie? Try a capable cooking gadget, like an Instant Pot, a quality blender or one of many mini appliances from Dash, such as an egg cooker, waffle maker or popcorn popper.

Coffee tools: Up their java game with a fancy new coffee or espresso maker. Other coffee-related Valentine's Day gadgets include coffee grinders, weighing scales and even the smart mug, Ember, that keeps their drink at a steady temperature.
4. Mini Trackers
Is your significant other constantly losing their keys, digging for the remote or wondering where they put their bag? Trackers are a fantastic, low-cost Valentine's Day tech gift. The two heavyweights in this category are Apple and Tile. If you lose an item, these trackers emit a loud signal to help you find it. Plus, if you lose your phone, the trackers can make it ring, even if you have it on silent.
Tile offers a wide range of styles and patterns, with trackers that attach to keychains, adhere to surfaces or slip into a card slot in a wallet. A "hot-or-cold" indicator tells you when you get closer to an item as you're tracking it. You can also set up Smart Alerts and use the power of other Tile users to search for a lost item.
Another option is the AirTag, a lightweight circular tracker you can attach to your items. AirTags don't have a built-in keychain hole, so you may want to include a colorful holder for ease of use and personalized flair. Apple's Precision Finding points you toward your item, and, similar to Tile, the FindMy network leverages the massive number of Apple users to track down AirTags outside your phone's range.
5. Beauty Tools
A beauty tool makes an excellent Valentine's Day tech gift for her. A hairdryer or straightener can be a welcome gift, but you could also go to the next level with gifts like these.
The Dyson Supersonic: While $400 might sound like overkill for a hairdryer, many people rave about the Dyson Supersonic. It has high-tech performance, a range of unique accessories and clever design features like a bottom-handle vent and extensive temperature monitoring. If your partner hates styling their hair because it takes too long or is hard to manage, this gift could be their new favorite addition to their vanity.

The Dyson Airwrap: Here's a similar piece of tech from Dyson. The Airwrap is also pricey but boasts similar performance for various styling goals, like curling, smoothing and drying.

Facial cleansers: If your partner is serious about their skin care routine, a sonic cleanser can give them a satisfying deep clean and clear clogged pores.

6. Headphones and Portable Speakers
Whether your loved one needs to stay motivated during workouts, has frequent videoconferences or loves rocking out to their favorite tunes, everyone needs a reliable pair of headphones. There are many different styles, including over-the-ear, in-ear and wired or wireless styles. You'll find options to fit any budget, but popular brands include Bose, Apple/Beats, Sony, Samsung and Anker.
Some features to consider include:
Noise-canceling and transparency mode

Long-lasting batteries for wireless models

Sweat resistance for active use

Comfort

Compatibility with your partner's phone
Another memorable Valentine's Day tech gift is a portable speaker. Audiophiles and casual listeners alike can enjoy outstanding sound quality from a powerful Bluetooth speaker. These speakers are ideal for on-the-go use, with many offering rugged designs, waterproofing and long batteries. Some well-known portable speaker brands include JBL, Ultimate Ears, Sonos, Anker and Bose.
If you get a speaker, have a romantic playlist on hand to show your partner what their new gift can do.
7. Turntables

Vinyl records have been gaining traction for decades, and they even overtook CD sales in 2021 — the first time they've done so since 1991. For the retro lover or vinyl collector in your life, turntables are a fantastic Valentine's Day gift idea. They're a stylish centerpiece offering more experiential listening and a "warm" tone many people love. You'll get bonus points if you pair the turntable with a romantic record for the holiday.
You can spend a lot on a high-end record player, but for those just entering the world of vinyl, there are plenty of low-cost options, too. Sony, Crosley and Audio-Technica have some quality entry-level models, while brands like Rega and Pro-Ject have higher-end options.
8. Smart Lights
Does your techie like to customize their space? Smart lights can take the form of lightbulbs, rope lights, adhesive light strips and many other unique shapes. Smart lights typically allow you to control the lights from an app and tap into a full rainbow of colors. You might be able to create schedules, control the lights with voice assistants and create presets — ideal for planning a romantic lighting scheme over your Valentine's Day dinner.
You'll find many smart light makers on the market, but some popular ones include Phillips, Wyze, Lifx, Sengled and Nanoleaf.
9. Smart Speakers
If you don't already have smart assistants in your home, they make excellent Valentine's Day tech gifts. The leading voice assistants are Siri, Alexa and Google Assistant. Their creators — Apple, Amazon and Google, respectively — have created speakers so you can interact with the assistants, but you can also find them integrated into other devices. For instance, audio giants like Sonos and Bose have created high-quality speakers with these assistants built in.
You can find entry-level smart speakers, like early-generation Echo Dots and the Nest Mini, for under $50, but upgrades are also available with larger speakers and upgraded tech. Apple's only speaker currently available is the HomePod mini, but many other brands offer support for Siri.


10. Health and Fitness Tech
We've already talked about smartwatches, sporty earbuds and smoothie-ready blenders, but there are many other techy gifts for the fitness enthusiast in your life.
Theragun devices: These percussive devices offer deep muscle treatment — essentially, a smart high-speed massager designed for muscle recovery according to your body's needs.

Smart scale: Smart scales can keep track of weight readings over time to help measure progress. Some can even estimate metrics like muscle mass, body mass index, heart rate and basal metabolic rate. They'll keep everything synced up to an app via Bluetooth or Wi-Fi and can even link with fitness trackers. You can find smart scales from brands like Fitbit, Garmin and Withings.
Smart jump rope: It's easy to lose count while jumping — smart jump ropes can track your jumps and even help you learn new tricks or even go cordless.

11. Tablets and E-Readers
Tablets are practical, multipurpose devices you can use for watching videos, gaming, drawing, reading and taking notes. While many people love a larger tablet screen, students, artists and readers especially seem to like its capabilities. These users can draw directly on the screen via sensitive styluses, take notes digitally and store all of their books in one small device.
You have many options when shopping for tablets, including the following.
iPads: iPads come in a few different styles, including the standard iPad, the compact iPad mini, the lightweight iPad Air and the high-powered iPad Pro. Apple lovers enjoy their high-quality displays, reliable performance and the sensitivity of the Apple Pencil.

Amazon Fires: If you're looking for affordability, Amazon's Fire tablets are some of the lowest-cost tablets available, with several models available for less than $50. They aren't the most powerful gadgets, but they'll still let your partner enjoy all the basics.

Samsung Galaxy Tabs: Samsung Galaxy tablets come in a wide range of styles and configurations. They offer excellent performance, and with so many options, you can find the ideal fit for your Valentine's Day gift.

If you need a Valentine's Day gift for a bookworm who doesn't like the idea of a full-blown tablet, consider an e-reader. Unlike tablets, they generally don't have a full-color display, opting instead for a gentler e-ink display. Since they're solely for reading, they may not support other activities or apps.
Amazon is the top player here, with Kindles taking up 72% of the market share. Variations between models aren't too drastic, with higher-priced options including features like automatic light adjustments, cellular connection, more storage, waterproofing and larger displays. The top tier, the Oasis, notably adds one-handed reading with page-turn buttons.
12. Phones
If your significant other has been using a cracked phone for the last three years, it might be time to help them upgrade. There's a massive range of phones available, so it helps to know what your gift recipient likes before you buy. Still, it's hard to go wrong with a phone from a flagship lineup like iPhone, Galaxy S or Google Pixel. While shopping, consider their tastes, what kind of features they're likely to use and the seller's reliability.


Save on This Year's Valentine's Day Gifts for Tech Lovers
These best tech gifts for Valentine's Day can be a perfect fit for your techie partner. From sound and fitness to phones and small appliances, you can find tech for almost anyone.
If this year's gift ideas include a phone, an iPad or even a MacBook, you can save with a used device from Gazelle. Many are in excellent condition, and you get 30 days for returns if it's not quite what they're looking for. Plus, between Feb. 8 and 21, we're offering 10% off the iPhone 12 Pro, 12 Pro Max, 11 Pro and 11 Pro Max.
Check out our blog for tips on buying a phone, and look through our iPhones to start shopping the Valentine's Day deal today!
Comments
comments