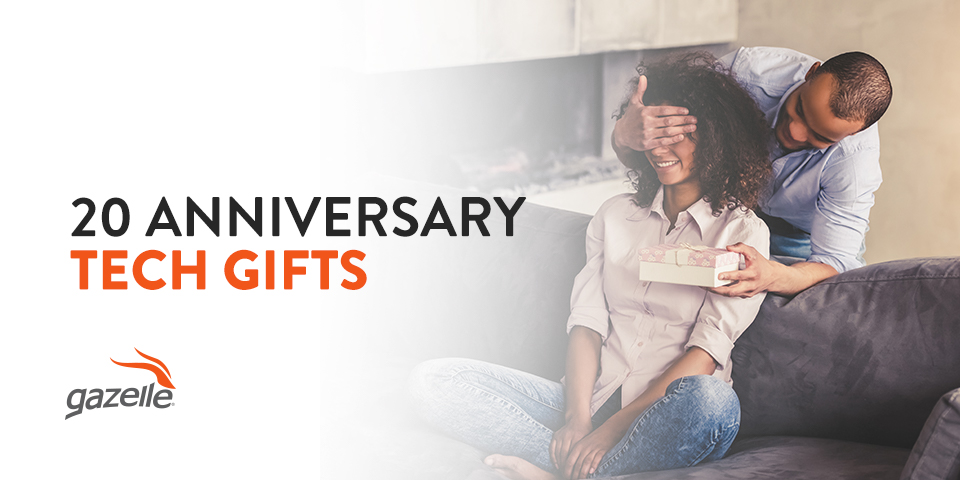 Picking out an anniversary present doesn't have to be challenging. You can opt for a tech gadget that will make your partner's life easier and more fun. From movie projectors to smart kitchen appliances, there is truly a gadget for everyone.
We put together a list of 20 different tech present ideas to make it especially easy for you this year.
Learn more about the best tech gifts for special relationship milestones.
Anniversary Gifts by Year
Wedding anniversaries are so special. They are a time to look back on your relationship and treasure the time spent together.
While there is a list of traditional gifts for every wedding anniversary, like cotton for the first year and crystal for the 15th, some couples are more interested in modern presents. If you are married to a tech lover, consider these tech ideas for your relationship's significant milestones:
1st Anniversary
Smart home devices are a great 1st-anniversary gift. If you are celebrating your first year of marriage, you could still be in the process of making your house a home. Adding a smart speaker can make playing music or podcasts while cooking dinner or cleaning more convenient and cozy.
You can gift your significant other with a Google Nest Mini for under $50. Consider picking up multiple Nests for different areas of the home. Google sometimes runs a discount if you buy two. You can choose from these colors to suit your partner's taste and preferences:
White
Black
Light blue
Coral
5th Anniversary
After five years together, you might want to get your partner a special gift they can use every day. A tablet is a good anniversary present. If you purchase a used device, you might be able to get a newer model with better specs at a discounted price.
At Gazelle, we have a wide selection of used iPads, ranging from the iPad Air 2 to the fifth-generation iPad Pro. With tons of sizes and models to choose from, finding the perfect option for your significant other is easy.
10th Anniversary
A smartphone is an awesome choice for a 10th-anniversary present. If your partner spends a lot of time on their phone for work or entertainment, consider getting them an upgrade.
Brand new phones can be very expensive, but if you purchase a used device, you can get the latest features without breaking the bank. At Gazelle, we offer a wide selection of smartphones from the leading brands, including:
Apple iPhone
Samsung Galaxy
Google Pixel
Buying a refurbished cell phone is an eco-friendly option, and you can rest easy knowing we inspect every device for quality.
15th Anniversary
After 15 years of marriage or partnership, you may be ready to upgrade some of your favorite devices. Consider gifting your significant other with smart appliances for this anniversary.
There are so many interesting and high-tech options on the market today. The Revolution InstaGLO R180 Smart Toaster is unlike any toaster you have had. It features a touch screen that lets users choose the shade and crispiness they want. Smart sensors alter the temperature to suit the bread type it detects. Your partner can say goodbye to burnt toast and enjoy a perfect breakfast every day!
20th Anniversary
A 20th anniversary is a major milestone for any relationship. A laptop could be the perfect tech gift to mark two decades of love. If your significant other enjoys playing computer video games or searching the web for new recipes, a laptop could be a useful gift they'll be able to enjoy for years to come.
At Gazelle, we offer a vast range of used MacBooks. We have various options to choose from, and you can sort through each device using the following filters:
Model type
Storage capacity
Processor type
Screen size
Memory capacity
25th Anniversary
Silver is the traditional gift for a 25th wedding anniversary. To celebrate a quarter century of being together, you can add a modern-day twist to this present by giving your significant other a silver smartwatch. These devices are perfect for people always on the go or those who like tracking their health goals.
An Apple Watch is a great gift idea. You can choose a loop or band that speaks to your loved one's personality and style. They are available in a plethora of colors and designs.
Apple Watches have many helpful features for users, including:
Fall detection
Emergency SOS
Heart rate notifications
Calling
Texting
Location sharing
30th Anniversary
Few dates are more romantic than an at-home movie night with your significant other. For a 30th anniversary, consider gifting your partner a portable projector for watching their favorite movies and television shows. You can enjoy these devices indoors or outdoors, and they enhance every watching experience.
The Fangor Movie Projector has high resolution and brightness for the best picture. Its LED lamp has 60,000 hours of life, so you can enjoy a movie marathon or binge-watch a new series without worry. You can connect a streaming device or laptop to this projector using an HDMI connector.
35th Anniversary
When it is time to celebrate your 35th anniversary, gift your other half with a tech gadget that they'll get a lot of use out of, like a smart soundbar.
The Bose Smart Soundbar 300 is a home music system that transforms the user's listening experience with crystal clear audio. If your partner loves audiobooks or listening to their favorite albums on repeat, a smart soundbar is a perfect gift. They can connect to the bar using Bluetooth or an HDMI connection. To make this tech even more convenient, you can connect to Alexa and Google assistants.
40th Anniversary
Four decades of love and commitment is an amazing accomplishment. For your 40th anniversary, consider gifting the special person in your life with a fitness ring. These devices have made many advancements in recent years, and they are great for health monitoring.
The Oura Ring Generation 3 is a great option. It features a sleek design and is lightweight on your finger. Some of its key features include:
Sleep scores
Workout heart rate and insights
Blood oxygen readings
Around-the-clock heart rate tracking
Wedding Anniversary Gifts for Her
If you want to purchase a tech gadget for the special lady in your life, check out these anniversary presents for women:
Film Camera
Film photography is very popular right now. Having physical pictures is special in an increasingly digital world. Women who love to take pictures and capture their memories will enjoy the gift of a film camera.
An awesome option is the Kodak M35 Film Camera. You can choose from multiple colors, including pink and mint green. Unlike disposable options, these cameras are reusable and work with 35-millimeter film. When picking out the film for this camera, you can get black and white or opt for colored options that give the photos a warm, nostalgic finish.
Custom Phone Case
If you're looking for a special tech gift for your wife or girlfriend, consider a custom phone case. You can incorporate the following to add a personalized touch:
Initials
Prints
Photos
Collages
Custom Envy Custom Phone Cases are easy to create online and the website gives you tons of options for customization. You can choose the case's level of protection and whether you want a glossy or matte finish. The website lets you pick from many templates and colors so you can create a beautiful phone case that your partner will love.
Ultrasonic Jewelry Cleaner
If the woman in your life loves jewelry, consider getting her a gift that can help her keep her favorite pieces clean. An ultrasonic cleaner utilizes ultrasonic waves to cleanse the jewelry's crevices without using any damaging chemicals.
The VCUTETECH Ultrasonic Jewelry Cleaner is a portable machine that is compact and sleek. In addition to cleaning jewelry pieces, it can clean various items such as sunglasses and coins. Your partner will appreciate how easy it is to use and the deep clean it achieves.
Tech Stand
If the woman in your life spends a lot of time on her phone or tablet, a tech stand could be a perfect anniversary gift. She can use it for video calls with her friends and family or while doing an at-home video workout.
Check out the onn. 2-in-1 Tablet Stand. This versatile stand can hold smartphones and tablets. It rotates 360 degrees, and its adjustability makes finding the best angles easy. Users can mount it underneath a cabinet or prop it up on a countertop to enjoy having their screen easily accessible from wherever they want it.
Wedding Anniversary Gifts for Him
Finding the right anniversary present for the man in your life doesn't have to be a challenge this year. Here are some useful tech gadgets for men:
Self-Cleaning Water Bottle
When shopping for your guy, consider getting them a present that can help boost their health and wellness, like a self-cleaning water bottle. If your partner doesn't clean their water bottles as often as they should, gifting them with one of these bottles can help! They use innovative systems to purify the water and eliminate viruses and bacteria.
The LARQ Bottle PureVis is sleek and lightweight, making it perfect for the gym or work. You can choose from a few different color options and add personalized text to make it even more special.
Electric Indoor Grill
An electric indoor grill can be a great wedding anniversary present for someone who likes grilling all year long. Whether your partner is hosting a game day or cooking for family dinner, these devices are easy to use and cook most meals pretty quickly.
The Hamilton Beach Indoor Grill can fit six servings. Its nonstick surface makes the clean-up process extra easy, and it features a dishwasher-safe removable drip tray.
Wireless Earbuds
If the man in your life loves listening to music or podcasts, a new pair of earbuds can be an awesome wedding anniversary gift for him. He can use them at the gym or while walking to work.
Check out the JBS Live 300TWS earbuds. They have hours of battery life and are totally wireless, so they offer more freedom as users move around. A speed charge feature makes it easy to keep the battery adequately charged. These earbuds also work with hands-free functions, including:
Calling
Volume control
Noise control
Wireless Charger
Give your partner the gift of convenience for your anniversary with a wireless charger. Your husband or boyfriend can set their smartphone on the pad at their desk or on their bedside table for effortless charging.
The Upcycle Wireless Charger can charge both iPhone and Android devices. It has a real wood finish that offers a cool and sophisticated look that you don't get with most chargers. To add to its convenience, this device offers fast charging action your partner will appreciate.
Anniversary Gifts for Couples
Maybe you're buying your parents an anniversary present, or you and your spouse want to get a joint gift for your relationship milestone. It is the perfect time to invest in something both partners can enjoy.
Check out our picks for anniversary gifts for couples:
Smart Glasses
Smart glasses are relatively new. They often look like a normal pair of sunglasses but incorporate features like cameras and speakers.
If you're looking for an anniversary gift for couples, Bose Frames Tempo smart sunglasses are an awesome choice because you get a discount when you purchase two pairs. These glasses are water resistant and offer up to eight hours of battery life. Users can benefit from polarized lenses and audio right by the ear. They are perfect for active couples who like doing things like hiking and bicycling.
Smart Locks
Another great anniversary present for couples is a set of smart locks. These gadgets attach to the door and upgrade its deadbolt and locking system.
The August Wifi Smart Lock works with a smartphone app. Users can automatically lock and unlock their doors with their phones. The technology lets you generate guest keys for family members and set up auto-unlock for when you arrive home. This gift will add convenience and safety to any home.
Smart Firepit
While shopping for an anniversary present for a couple that enjoys spending time outdoors, consider a smart firepit. Unlike a traditional fire, these pieces of equipment let users adjust the flames and smoke.
The BioLite FirePit+ features a special airflow system that creates less smoke with more efficient flames. Users can control their fire with a Bluetooth-enabled app. Along with the pit, you get a portable hibachi-style grill.
Find Anniversary Tech Gifts at Gazelle
As you shop for the perfect gift for an upcoming anniversary, turn to the wide selection of used tech devices available at Gazelle. We offer a 30-day return policy, and you don't have to worry about contracts or hidden fees.
You can enjoy an easy checkout process and fast shipping. Whether you're interested in a used smartphone or MacBook, all of our devices are inspected and certified for quality. You can feel good about shopping at Gazelle because you are helping keep e-waste out of landfills.
Are you interested in learning more? Shop tech gifts from Gazelle today!
Comments
comments