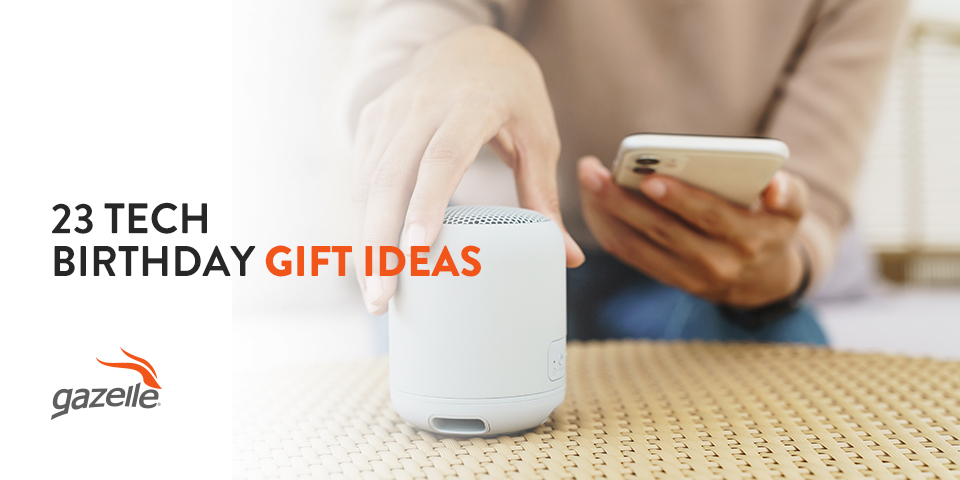 When looking for the right birthday gift for someone in your life, consider checking out different types of tech. From appliances to entertainment, there are items for people with all interests and needs. Tech gifts are also available at all different price points and user-friendliness levels so you can find the right items for your friend or family member. With so many options out there, there is a tech gift for everyone!
Are you interested in learning more about the different gadgets and devices you can choose from? Explore our list of tech birthday gift ideas.
1. Portable Photo Printer
The first tech item on our list is a portable photo printer. You can find these devices at a range of prices. They connect to a smartphone using Bluetooth technology and let users print images from their devices in just minutes.
Fujifilm has two great options for portable printers. The Fujifilm Instax Mini Link Printer and Instax Link Wide Printer work with a special app on your smartphone to easily print physical photos. These devices are small and easy to carry around. Teenagers and college students will especially love receiving this tech gift.
2. Headphones or Earbuds
Headphones are a gift for people of all ages. You can find budget-friendly or luxurious options, depending on how much you'd like to spend. Consider if the person you are shopping for prefers earbuds that fit into their ear or on-ear headphones.
Apple AirPods are a great choice for earbuds. You can add a personalized engraving to enhance your gift, and they are totally wireless for people who like to work out or travel. Beats Solo3 wireless headphones have great sound quality and comfort. They are also available in several colors, including gold and pink.
3. Phone
While a new phone may seem like an expensive birthday gift, consider a used smartphone instead. You can find awesome devices in great shape that won't cost you upwards of $1,000.
Gazelle has a wide selection of used phones available with prices below the manufacturer's suggested retail price (MSRP). We inspect and certify devices to ensure they are ready for use.
With various models from the top smartphone brands to pick from, finding the right option is easy. Be sure to choose one that's unlocked or specifically works with the person's carrier.
4. Laptop
A laptop is one of the best birthday gifts for tech lovers. You can find them at almost any price point, from hundreds of dollars to a couple of thousands.
Buying a used laptop is an awesome idea if you're not ready to make a bigger investment. You can get all the exciting features while saving some money. Gazelle offers a selection of used MacBooks with 0% APR financing available. Each device is inspected and certified, so you can feel good about gifting them.
5. Portable Speaker
A tech birthday gift idea for the music or podcast lovers in your life is a portable speaker. You can find water-resistant models and ones designed specifically for the shower.
The JBL Flip 5 is a compact option available in many colors. You can even customize this speaker with images and text for the birthday person in your life. If you are interested in a shower speaker, SoundBot SB510 is an awesome and budget-friendly choice.
6. Mug Warmer
When shopping for a birthday gift for a coffee or tea lover, consider an electric or battery-operated mug warmer. These devices keep drinks toasty, so your loved one never needs to microwave their cup ever again.
The Salton Coffee Mug and Tea Cup Warmer is an affordable and handy gift people can use daily. If you are looking for something a little more high-tech, consider the Ohom Ui Self Heating Mug that heats beverages to 130 degrees Fahrenheit and has a lid. The pad for this device can also charge a smartphone!
7. Smart Garden
Smart gardens are a fun and useful birthday gift for the people in your life who love plants but live in an apartment or have no yard. These gardens make it possible to grow herbs or greenery entirely indoors with special lights and automatic watering systems.
The Smart Garden 9 Pro works with an app to control the self-growing garden with the ideal settings. AeroGarden's Harvest Elite smart garden has an easy-to-use control panel and 12-inches of space for plants to grow.
8. Television
If you are shopping for a movie lover or binge-watcher, a new TV can be an awesome tech gift for their birthday. Since there are endless sizes to choose from, you can find plenty of options that won't break the bank.
The 3-Series TCL Roku TV lets users access thousands of movies and episodes without a separate streaming device. Choosing a smart television is like giving two presents in one!
For people who want to watch their old DVDs, the Supersonic SC-1312 television has a built-in player.
9. Tablet
Kids and adults alike will love receiving a tablet for their birthday. Users can do everything from reading e-books to watching videos or playing games. Buying a brand-new tablet can be expensive, though.
Instead, consider a used option below the original MSRP and in good condition. Gazelle offers a vast selection of iPads, from early generation iPad Airs to some of the newest iPad Pro models.
10. Smartwatch
Smartwatches are the perfect gift for the people in your life who are always on the go or those who love fitness. They help users stay up-to-date on their smartphone notifications and health goals.
Wearable tech like a smartwatch is an awesome birthday gift if you are looking to spend a little extra on someone. An Apple Watch has many cool features, from location sharing to calling and texting. The Fitbit Versa 2 is a popular health and fitness smartwatch you could also check out. These devices can:
Track sleeping patterns.
Monitor heart rates.
Track blood oxygen levels.
11. Item Trackers
One of the best tech gifts for a jet-setter in your life is an item tracker. These gadgets attach to items like luggage and car keys. They pair with GPS tracking and let users track and follow the location of their belongings from an app.
Apple AirTags are available in a single pack or a pack of four. You can add personalized engraving to make your gift even more special.
12. Espresso Machine
If you're looking for a birthday tech gift for a coffee lover, consider an espresso machine. You can find options under $100. If you spend a little extra, you can get a high-tech device with additional features like a milk frother or bean grinder.
The Gevi Espresso Machine 15 can create multiple specialty drinks, including cappuccinos and flat whites. It has a frothing wand and temperature control. The Mayin Coffee and Espresso Machine is a great option if you want to get a single-serve system.
13. Doorbell Camera
Doorbell cameras are one of the latest trends in home security. You could gift one of these devices to someone who has recently moved into a new home or apartment. Having a camera can make people feel safer, and they come in handy when waiting on packages to arrive.
The Google Nest Doorbell Video Camera works with the Google Home app and lets users monitor their doorsteps and talk to visitors remotely. Ring Video Doorbells are also a good choice. Both options have rechargeable batteries and don't require any wiring, so they are renter-friendly.
14. Electric Toothbrush
You may have overlooked an electric toothbrush when thinking of items from the tech world to choose from as a birthday gift. About 92% of adults ages 20 to 64 deal with tooth decay, so getting a loved one a high-tech toothbrush is not a bad idea!
You can opt for a luxury brand such as the Bruush Electric Toothbrush Kit, which comes with multiple brush heads and a travel case. If you want to spend less, consider the Philips Sonicare 4100.
15. Microphone
Whether you are shopping for someone who wants to start a podcast or loves to get on stage for karaoke night, a microphone is a fun birthday gift.
The Blue Yeti microphone supports professional-grade recording and is perfect for someone who works with audio. A cheaper and more playful option is the Atopdream Wireless Karaoke Microphone. It is available in fun colors like blue and pink and has voice changer settings.
16. Smart Picture Frame
A smart picture frame can be a very meaningful present. You could give this gift to a relative who lives far away or a friend you share a lot of memories with. Users enjoy a rotation of images throughout the day.
The Aura Carver Smart HD Digital Picture Frame is an amazing option. You can store over 10,000 photos, and it also supports videos with a built-in speaker for reliving favorite memories.
17. Streaming Device
Another idea for a birthday tech gift is a streaming device. These are typically under $100 and compatible with most types of TVs. Users download their favorite streaming apps like Netflix and Hulu and have access to thousands of shows and movies.
The new Google Chromecast device is available in pastel blue and pink as well as white. It is easy to use and comes with Google TV.
Apple TV 4K is another option. The device supports HD streaming and includes a Siri Remote for easy searching.
18. Tech Stand
As you look for a birthday gift for a tech lover in your life, a device stand might be the ideal present. You can find these stands for smartphones and tables or a laptop. Some of them are high-tech and charge devices. Others are adjustable for comfort.
A simple option is the AlCase Portable Phone Stand. Users can change the height and angle of this holder, and it works with tablets. The Rain Design mStand is a laptop platform designed to hold devices in a comfortable position for typing.
19. Smart Lighting
Fun-colored lighting is very popular right now. If you're shopping for a teen or college student, consider getting them a light bulb or light strip they can control from their phone.
The GE CYNC Smart Light Bulb is an easy option. It works with most lamps and illuminates a room in exciting colors. Users control its dimness and colors from a smartphone app or by linking it to an Alexa or Google Home.
20. Video Game
Are you looking for birthday gift ideas for someone who likes playing video games? There are tons of options to choose from.
The Mighty Rock Virtual Reality Headset works with a smartphone and lets users play in a 360-degree world. Kids and adults alike can enjoy this gift.
Also, consider a Nintendo Switch Lite. These systems let users play several old-school and brand-new video games.
21. Projector
A projector is a unique birthday tech present. You can find portable options that won't cost hundreds of dollars. They are a fun gift that can work indoors or outside for a cozy at-home movie night.
The PortoProjector is a high-quality, compact option available in a few fun colors, like yellow and pink. It has a built-in speaker and works with nearly any connection, including:
HDMI
USB
AV cord
Micro SD
TF card connector
22. E-Reader
Another tech gift idea is an e-reader. These devices are especially handy for bookworms and students. The NOOK GlowLight 4 lets users carry thousands of books with them. It has a comfortable design and works with the Nook Reading App, where users can buy their favorite titles.
Users can also adjust the brightness for reading outdoors or at night. Buying one of these devices for someone's birthday may encourage them to become an avid reader!
23. Electric Razor
Consider a new electric razor if you're looking for practical birthday gifts for tech guys or a tech-savvy man who has everything. The Philips Norelco Shaver 3500 is a wet and dry razor that contours the face's shape for the most comfortable shave.
Tech-savvy women might like the Phillips SatinShave Advanced. This razor comes with a few different caps to help users get the closest shave without irritating the skin.
Shop Birthday Tech Gifts at Gazelle
Tech is always a good idea when searching for the perfect gift for your loved one's birthday. At Gazelle, you can shop our wide range of pre-owned smartphones, tablets and laptops.
You can enjoy secure transactions and a 30-day money-back guarantee when you shop with us. We offer honest pricing along with free standard shipping. Our shopping and check-out experience is quick and easy, so you can find the gifts you need without the hassle. Plus, you are helping keep e-waste out of landfills when you buy from Gazelle.
Are you interested in learning more? Explore tech gifts from Gazelle or contact us today!
Comments
comments