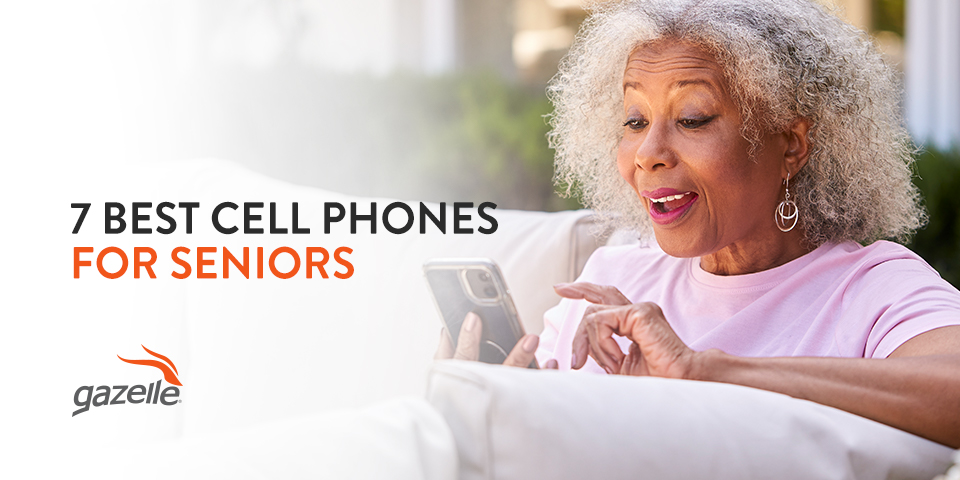 With so many cell phones on the market and a slew of complicated features, finding the right phone for an older adult can be tough. Whether you're shopping for yourself or a loved one, we're here to make finding the best cell phone for seniors as easy as possible.
Let's go over things to keep in mind, features to look for and a list of some of the best cell phones for older adults.
What to Consider When Buying a Phone for an Older Adult
While many mobile phones are packed with high-tech features at a high cost, older adults might have unique needs. Consider the following key features when buying a phone for seniors.
1. Cost
Most older adults don't want to spend a lot on a phone, especially if they have a limited income. Fortunately, smartphone technology has come a long way, and you can get excellent features for a low price, especially if you buy a used phone. If you don't need the latest and greatest, that also helps you save. Rather than spending $1,000+ on a phone, many older adults can have a great experience for just a couple hundred dollars.
2. Accessibility
Older adults might struggle with phones that don't offer solutions for vision, hearing and mobility issues. Below are some of the ways phones can help, and you can learn more about setting them up at AARP:
Live Transcribe and Live Caption: Many phones offer these features either built-in or as an app to download. They transcribe the sounds around you and those playing through your phone into on-screen text descriptions to help overcome hearing issues.
Text size and contrast: Most phones let you change many different aspects of how the text looks, like using big buttons and making text easier to read. You can even adjust the contrast between the text and its background.
Sound recognition: Some cell phones can listen for certain sounds, like a barking dog, a fire alarm, running water or a crying baby. If it hears one, it'll provide an on-screen notification or a flashing light to help you respond.
Adaptive accessories and gesture control: Many phones support adaptive switches and accessories to help you control the phone with external switches that may be easier to use for some people. You can also find gesture controls that let you control the phone with actions like opening your mouth, looking to the left or raising your eyebrows.
Screen reading: With tools like Select to Speak and TalkBack on Android and VoiceOver on iPhones, your phone can describe what's on the screen to help you navigate the menus.
Flash alerts: Flash alerts will send a few bright flashes through the phone's camera system as a visual signal when you get phone calls or texts.
If you or your loved one uses hearing aids, consider whether they'll connect to the phone. Many hearing aids connect via Bluetooth and have special apps to control them.
3. Ease of Use
A cell phone for a senior should be easy to use. Look for simple menus, a large display and other features that will help make the phone easy to navigate and use. Many older adults are wary of smartphones because they can seem complicated. iPhones, however, are known for being intuitive and easy to figure out, while Androids offer something called Easy Mode that greatly simplifies the menus.
If you're worried about learning to use a phone, you can find plenty of guides online geared toward helping older people use specific devices.
4. Safety Features
Most modern smartphones have handy features like SOS buttons, medical alerts and GPS tracking that are perfect for older adults. These features can be especially helpful for adults living on their own, who might need an easy way to get help during a fall or a medical incident. Most phones will have the following adjustable features:
Emergency SOS: With a simple combination, you can automatically call emergency services with the large buttons on the side of your phone. You can usually set this up to trigger by either holding down the phone's side button or pressing it quickly five times. Any friends and family you've designated as emergency contacts will receive a text about the call with your current location, which will update if you go somewhere else. Many smartwatches have this feature, too. You can trigger SOS from an Apple Watch, for example.
Medical IDs: iPhones have a Medical ID feature built-in, and you can download similar apps on Android. Digital Medical IDs offer more information than a medical ID bracelet and, on iPhone, are accessible from the same screen that you use to trigger an SOS. They'll display your basic information, any medical conditions you have, allergies, medications, blood type, emergency contacts and more. If you allow it, your lock screen can show your Medical ID, so emergency responders can see it if you can't unlock your device.
GPS tracking: Most modern phones have location tracking built-in, so you can share your location with friends and family. If there's an emergency, they know where to find you.
Crash Detection and Fall Detection: Some phones offer these helpful tools that will keep an eye out for falls or car crashes. If they detect one, they'll ask if you're OK. If there's no response, they'll automatically call emergency services. Smart watches can help here, too, and many smart watches have these features.
Voice assistants: Say you have a fall and can't reach your phone. Voice assistants like Siri or Google Assistant can help you control your phone from a distance.
5. No Contracts
Contracts lock you in with a specific cell service provider for a certain amount of time, usually two years. They can be frustrating and limiting. Look for a phone that you can buy outright and isn't attached to a long-term contract. The process is simple if the phone doesn't work out or you want to switch your service carrier.
Consider finding a service provider that offers cell phone plans for older adults, with discounted rates and reduced data. Data allowances refer to how much you can access the internet from your phone, and older people often don't use much.
7 Best Cell Phones for Older People
Phones for older adults can range from simple flip phones to powerful smartphones with easy-to-use bells and whistles. Before we dive in, let's define a few terms to know when choosing between these devices:
Smartphones vs. basic phones: A smartphone is considered a phone with some extra capabilities, like browsing the web, downloading apps or accessing emails. They often have flat, large screens. Basic phones usually come in the form of flip phones. While they might have larger, physical buttons, they're much more limited. Remember, you can usually turn any smartphone into a big-button cell phone through the settings.
Bluetooth: Bluetooth is a type of wireless connection that lets your phone communicate with other devices. You might use it to control hearing aids or your TV from your phone, for example.
Wi-Fi: Wi-Fi is your wireless internet connection. A phone with Wi-Fi compatibility — which is most smartphones — can connect to Wi-Fi networks. You probably have one at home you connect with to get online. You can also join Wi-Fi networks in many public places, like libraries and restaurants. Using Wi-Fi lets you access the internet without using your phone's data plan.
Voice assistants: Voice assistants can respond to your spoken requests and do things like play music, tell you about the weather, turn off the lights or call your friend. These handy little helpers include Amazon's Alexa, Apple's Siri and Google Assistant, and many phones have them. They can be particularly helpful for older adults who struggle with navigating menus or have mobility issues.
M4/T4 ratings: Phones that work with hearing aids receive ratings based on how well they reduce interference, like background noise, and connect with telecoil systems. M4 and T4 are the highest ratings possible.
With those definitions out of the way, here are some of the best phones for seniors.
1. Apple® iPhone SE
If you or your loved one want a basic smartphone, the Apple® iPhone SE is an excellent pick. It wasn't designed for older adults, but it offers a very intuitive interface that's easy to use, along with some advanced features and fantastic accessibility options. It has a great camera for sharing photos with the family, and it offers Apple's voice assistant, Siri. It has a bright screen and a wide design that's easy to hold.
iPhones are also very popular, so there are many options for accessories, like cases and mounts, and you can pick from a massive app store. Many devices, like hearing aids, even have apps available. If you want a phone that can do things like browse the web or play games, the iPhone SE is the ideal choice. It offers full smartphone functionality, but it isn't overly complicated or expensive.
This affordable phone usually starts at $429, but used Apple phones hold up well. You can get a used iPhone SE for under $200.
2. Samsung Galaxy S22
Here's another one that's a little more advanced but not too overwhelming. Like the iPhone SE, the Galaxy S22 is a full-fledged smartphone with plenty of bells and whistles. It has a long-lasting battery, a fantastic camera and a big screen, along with Bluetooth and Wi0Fi capabilities. You'll find plenty of apps for Galaxy phones, too.
While the Galaxy S22 can be a little intimidating at first, turning on Easy Mode simplifies things. Easy Mode makes the buttons and text larger and easier to read. It has a special home screen that simplifies your favorite apps and functions, like calling friends and family, with big icons. Easy Mode also increases the amount of time it takes for the phone to recognize a long press, which helps to reduce accidental clicks.
This model is a little pricier than the basic flip phones, but you can still get a used Galaxy S22 for under $300. If you want a larger screen or fancy features like a better camera, consider the S22+ or the S22 Ultra.
3. Google Pixel 6
The Google Pixel 6 is an excellent senior-friendly phone with a large, bright screen, a durable design and an easy-to-use interface. It has extensive customization options to make things easier for people with hearing or visual impairments, and the camera quality is good, too.
A used Pixel 6 starts in the mid-$200s and comes in several slick colors.
4. Samsung Galaxy S20 FE 5G
The Samsung Galaxy S20 comes in a budget-friendly Fan Edition. It offers great performance, a long-lasting battery, water resistance and a gorgeous screen. The S20 FE has features you expect from a full smartphone, like a stellar camera, Bluetooth and Wi-Fi connections and a fingerprint sensor. It also has the option to use Easy Mode for a simpler experience.
You can snag a used Galaxy S20 FE 5G for around $160.
5. iPhone 13 Pro Max
The iPhone 13 Pro Max has a lot to offer with top-of-the-line Apple features. It also has the powerful accessibility options Apple is known for and a massive screen for easy readability. This phone is the most expensive on our list, but if you're looking for good features in an easy-to-use interface, the 13 Pro Max is a superb choice. Like the iPhone SE, the 13 Pro Max lets you choose from tons of apps and accessories and use Siri as your voice assistant.
Our used iPhone 13 Pro Max devices start at a little under $600.
6. Apple® iPhone 12
A more affordable middle-of-the-road iPhone is the iPhone 12. This standard model has plenty of modern Apple features and a great camera. It uses Apple's superfast hardware and a big, bright screen. We offer used iPhone 12 devices starting at about $300.
7. Samsung Galaxy Z Flip3
If you're partial to the old flip-phone style, Samsung has a phone for you. The Galaxy Z Flip3 folds in half, just like the old compact design, but when you open it up, you get a full-sized screen and standard smartphone capabilities. There's a small screen on the front, so you can see the time and notifications at-a-glance. It offers a solid camera and snappy speed, starting in the mid-$200 range for a used phone.
Buy Senior-Friendly Phones at Gazelle
Staying safe and connected doesn't need to cost a fortune. Whether you're looking for something simple or more high-tech, buying used can help you save. Here at Gazelle, we make it easy to grab a used cell phone for an older adult. We offer a wide range of Apple, Samsung and Google phones, and we get rid of the guesswork, so you can buy with confidence thanks to our honest pricing, no-contract devices and 30-day returns.
Explore our used cell phones online to see how much you can save!
Comments
comments