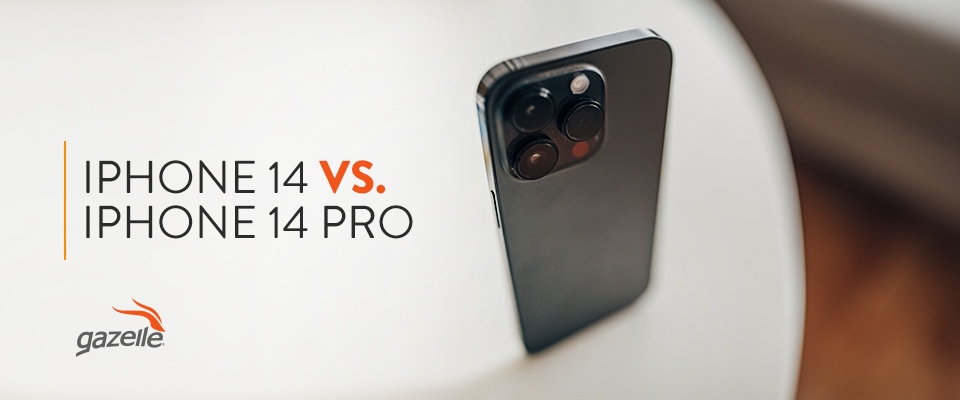 You can't go wrong with any of the Apple® iPhone 14 models, but if you want a premier experience, the Pro versions pulled out all the stops. Apple upgraded almost everything on the Pros and widened the gap between Pro and standard models. Still, the regular iPhone 14 offers the full Apple experience in a simpler, cheaper package. From the simple iPhone 14 to the iPhone 14 Pro Max and its decked-out features, there's something for everyone with this lineup.
If you're deciding which one to get, you'll probably want to know all the details of those differences. We're here to help, so let's dive into our iPhone 14 vs. iPhone 14 Pro review.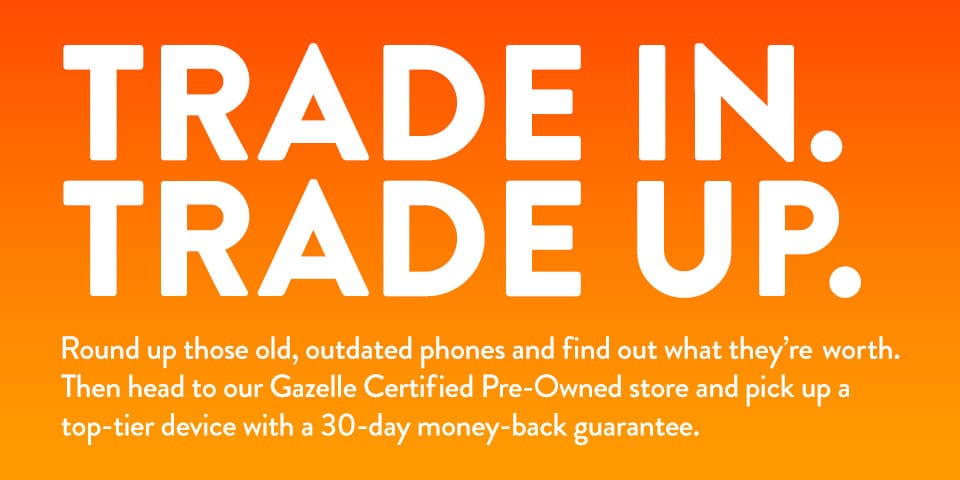 Design and Display
When you pick up an iPhone 14 and an iPhone 14 Pro, you'll probably notice the latter is much more robust. They might look similar, but the Pro has a hefty build, with some nicer materials and a bigger camera. They share the same gorgeous Super Retina XDR Display that measures 6.1 inches across. If you're looking at the iPhone 14 Plus vs. iPhone 14 Pro Max, the Plus and Pro Max offer larger 6.7-inch screens, but otherwise, they work the same as their respective smaller siblings.
Other features the iPhone 14 and iPhone 14 Pro models share include:
Organic light-emitting diode (OLED) panels
Ceramic Shield front covers to help prevent scratches and chips
IP68 dust and water protection that withstands up to 30 minutes in under 6 meters of water
Squared-off corners
Bright, punchy colors and deep blacks
iPhone 14 Display
The iPhone 14 has the same body design as the iPhone 13, making it similar to many of the phones from previous years. You'll still find the controversial notch, a small black bar that dips in from the top of the screen to house the front-facing camera. The 14 has the same resolution, contrast ratio and brightness levels as its predecessor.
Its maximum high dynamic range (HDR) brightness is 1,200 nits, which is good, but much lower than in the iPhone 14 Pro. It should still be enough to let you see your screen in relatively bright sunlight.
The standard models have a frame made of aerospace aluminum, so you'll see that shiny metal sandwiched between the screen and a shiny glass back. These materials can be fingerprint magnets, so if you're going caseless, that could affect your decision. Most of the colors are pretty bright, which don't show smudges quite as easily as dark ones. You can choose from blue, purple, yellow, Midnight, Starlight and (PRODUCT) RED.
The iPhone 14 is 5.78 inches tall, 2.82 inches wide and .31 inches deep. It weighs a relatively light 6.07 ounces.
iPhone 14 Pro Display
The iPhone 14 Pro got one of the biggest display updates Apple's had in the last several years. For starters, it killed the notch. Instead of what some consider an unsightly notch, Apple moved the front camera into a pill-shaped cutout. Other phone makers have used similar approaches, but Apple did something pretty unique by turning it into the new Dynamic Island.
This little island changes shape and adjusts to whatever it is you're doing. If you play some music, for instance, it will show you the album art, and a long press will offer quick controls. If you turn on a timer, it can show the countdown at the top of the screen. The island also expands to show animations during tasks like unlocking your phone or using Face ID.
Other screen upgrades you'll get with the iPhone 14 Pro include:
A brighter display: The 14 Pro sports a whopping 2,000 nits of brightness, the highest of any cell phone at the time of release. Your screen should be easily visible, even on the sunniest of days. For comparison, Samsung's flagship, the Galaxy S23 Ultra, only offers 1,750 nits.
ProMotion refresh rates: As expected, Apple kept the ProMotion refresh rate from the iPhone 13 Pro. A high refresh rate means your phone reloads images more times per second and offers a buttery smooth experience. The 14 Pro has refresh rates from 1-120 Hertz (Hz). The phone adjusts its refresh rate based on what you're doing. An action-packed game might call for all 120Hz, but you can get by with less when scrolling through Facebook.
Always-On screen: The ProMotion refresh rate is crucial for Apple's new Always-On screen tech. When you set the phone down, it will continue to display some basic information like the time, notifications and widgets. The rest of the screen dims. If this sounds like it would kill your battery, you'd be right — if it was using a normal refresh rate. Thanks to ProMotion, the screen barely refreshes to preserve battery life.
Physically, the iPhone 14 Pro has a noticeably larger camera bump to accommodate all of the photography upgrades. It uses a stronger stainless steel frame and has a matte glass back, which helps to hide fingerprints. You can opt for the new Deep Purple, gold, silver or Space Black.
The 14 Pro is roughly the same size as the standard 14, coming in at 5.81 inches tall, 2.81 inches wide and .31 inches deep. It feels a bit heavier in your hands than the 14, with a weight of 7.27 ounces.
Camera
Apple sent most of its camera updates to the iPhone 14 Pro, which already stands tall with robust photography features. Some things you'll see in both models include:
The new autofocus feature in the front-facing cameras
The new Photonic Engine for better low-light photos
Action mode for ultra-stabilized video footage
Portrait mode, Night mode and Photographic Styles
Slo-mo and time-lapse video and Cinematic mode
4K, 1080p and HDR video recording with Dolby Vision up to 60 frames per second (fps)
iPhone 14 Camera
The differences between the iPhone 13 and iPhone 14 are minimal. Like other standard models, the 14 has a dual camera system with 12-megapixel (MP) Main and Ultra Wide lenses. Apple did upgrade the sensor for better photos in low-light environments. Otherwise, the experience is much the same as the last model. You'll get .5x and 1x optical zoom options.
iPhone 14 Pro Camera
The Pro got quite a few upgrades to its main sensor. While it isn't a huge change from the 13 Pro, the experience is much more advanced than it is on the standard 14. The Pro is ideal for more skilled photographers and videographers, but casual users love the high-powered features, too.
We'll start with the main sensor, which got several important changes. The sensor itself went from 12MP to 48MP and is 65% larger than the one on the 13 Pro. It also implemented a smart pixel-binning technology that makes it function more like a 12MP sensor in the right situations. Advanced photographers can use Apple's ProRAW format to use all 48 MPs for higher-resolution images they can use in printing and heavy editing or cropping.
The Pro also upgraded its True Tone flash and sensor-shift optical image stabilization technology. With a new optical zoom option, you can choose from .5x, 1x, 2x and 3x
Like the 13 Pro, the 14 Pro has Apple ProRes video recording and Macro photography features. It also has a light detection and ranging (LiDAR) scanner, which helps the phone assess depth. It helps with augmented reality apps and scanning environments, like when taking measurements.
Performance and Battery Life
Most people won't notice a big difference in speed between the iPhone 14 and iPhone 14 Pro, as they both use Apple's nimble processors. Either phone is miles ahead of the competition in benchmark scores. The Pro has an advantage on the 14, however, and heavy users might appreciate the power it offers. For comparison, the iPhone 14 scored 2,219 on Geekbench tests, while the Pro scored 2,504. The fastest Samsung phone only reached 1,869.
Similarly, both options offer good battery life, but the Pro will give you a little bit more. The 14 and the 14 Pro can fast charge up to 50% in 30 minutes with an adapter that supports 20 watts (W) or more. These phones also support wireless charging through MagSafe and Qi technology.
iPhone 14 Performance
The chip on the iPhone 14 is the A15 Bionic, the same one used in the iPhone 13 models. The 14 uses the slightly upgraded version of the 13 Pros, which has an extra graphics processing unit (GPU) core. For everyday users, the A15 Bionic is plenty and can keep you going with multiple apps and demanding graphics.
When it comes to battery life, the iPhone 14 has the least of the bunch. It should still last you all day. Apple says you can get up to 20 hours of downloaded video playback and 80 hours of audio playback. If we compare the iPhone 14 vs. iPhone 14 Plus, the Plus puts out an extra 6 hours of video and 20 hours of audio.
iPhone 14 Pro Performance
Of course, Apple gave its best chip to the Pro models. The A16 Bionic chip has a 6-core central processing unit (CPU), a 5-core GPU and a 16-core Neural Engine that supports a wide range of machine learning and artificial intelligence tasks. This engine helps the phone be incredibly efficient, so features like the Always-On display and power-hungry apps won't kill your battery.
It's also the backdrop for many different features, like photography tools, Siri's language processing and face detection in apps like Photos.
Battery-wise, the iPhone 14 Pro should provide up to 23 hours of downloaded video playback and 75 hours of audio playback. The Pro Max offers a whopping 29 hours of download video and 95 hours of audio.
Other Features
Both the iPhone 14 and 14 Pro offer many of the features that comprise the Apple experience. They run on the same operating system, which was iOS 16 when they hit shelves. It added a wealth of fun new features, like new lock screen customization options and widgets.
Other features you can expect in the iPhone 14 and 14 Pro include:
Satellite SOS: Many phones have SOS options, so you can hold down or click certain buttons and quickly call emergency services. With the 14 lineup, Apple added a satellite option. If you're off the grid — like hiking or on a road trip — you can still send your SOS with the help of a satellite network.
Crash Detection: Apple added another safety feature called Crash Detection to the 14 models. If it detects a car crash, it should automatically call for emergency services.
Dual eSIMs: One notable change under the hood is the switch to eSIMs. Instead of a physical SIM card to connect you with your cell carrier, iPhones now use embedded versions. You can quickly change networks and even store multiple eSIMs. Many people like to switch networks when traveling or when using one phone for work and personal calls. A few service providers don't support eSIMs, however, so you'll need to check.
MagSafe compatibility: Like many of the phones that came before, all of the iPhone 14 models support MagSafe. MagSafe is the strong magnetic ring on the back of the phone that can attach to accessories like chargers and wallets.
Face ID: Apple's flagship phones have edge-to-edge screens and no fingerprint scanners. Face ID uses highly secure facial recognition technology to unlock the device. It can even adapt to sunglasses, masks and similar accessories.
High storage options: You can get either phone in 128-gigabyte (GB), 256GB and 512GB versions. The Pro also comes in a 1TB model, perfect for storing high-quality photos and videos.
Apple Pay: Apple's contactless wallet is built into both devices. You can use it to pay for purchases online, in-store and in apps. Apple Pay also lets you send and receive money in the messages app and pay for public transit.
Superfast 5G cellular: If you're after the fastest network speed you can get, the 14 models can get you there. They support millimeter-wave (mmWave) networks, which are fast but mostly limited to cities, and sub-6GHz networks, which are more widespread. If your service provider offers 5G speeds, the iPhone 14 and 14 Pro can switch to the best network in a given location.
Snag the iPhone 14 and Save With Gazelle
The iPhone 14 and 14 Pro are both stellar cell phones. The Pro has more advanced features, like the Pro camera system, ProMotion refresh rates, the Dynamic Island and longer battery life. Still, the 14 offers a great Apple experience with features like Face ID, MagSafe accessories and its own impressive camera. If you want the latest and greatest, the Pro is an excellent choice, but if you don't need all the bells and whistles, you can save with the iPhone 14.
Whichever iPhone you choose, you can save off retail prices by shopping used. Gazelle offers a large selection of used iPhones, all of which have gone through our 30-point inspection. Our used iPhone 14 listings start at under $500, so you can find the right one for your budget. We also have a simple 30-day return policy if it doesn't work out. Explore used iPhones today and buy online with our hassle-free platform!
Comments
comments