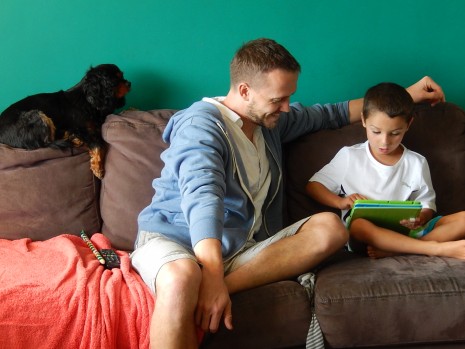 One of the coolest things about your new iPad is the ability of the device to bring your family together. Here are five ways to make it do just that:
Bring your family game night into the 21st century. Looking for some family game night ideas? Rather than sitting around a stodgy board game rolling dice, download a few family game apps that guarantee a great time. Two to try: Heads Up or Pictureka.
Create the soundtrack of your life. For some families, having the right tunes—whether you're having a dance party or making dinner—is an essential way to connect with each other. Set up a playlist on Spotify, hook up some speakers, and it's never been easier to have exactly the right song on all the time.
Be face-to-face when you're apart. If you've got family members who travel often or don't live nearby, using your iPad's FaceTime feature (or downloading the Skype app) makes it easy to visually connect at any time.
Make family road trips more bearable. While vacations are the stuff that memories are made of, cramming too many people into one car for an extended period of time can lead to some stressful moments. Download a few movies to keep the kids (or restless adults) distracted for the drive, or try an app like RoadTrip Bingo, which will have everyone looking out the windows, rather than at the clock.
Discover your roots. Part of being a family is enjoying a shared sense of history, but many Americans have lost track of exactly what their personal history looks like. Geneology apps like Ancestry or Family Search can help you learn about your family's past and build a family tree to share with future generations.
Image courtesy of Michael Coghlan on Flickr
Comments
comments