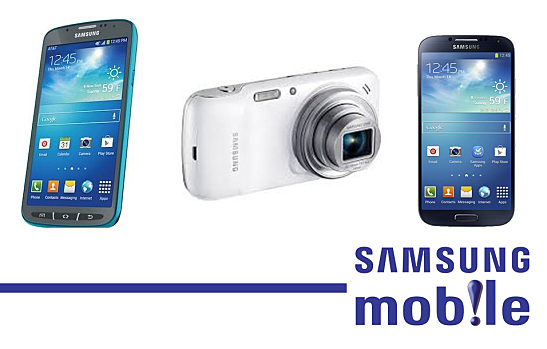 Say hello to the new Samsung Galaxy S4 Active, S4 Zoom and S4 Mini smartphones. Samsung have unveiled more versions of their elite flagship phone the Galaxy S4 at an event held in London yesterday. If the Galaxy S4 line-up was'nt confusing enough with different processor versions (Qualcomm & Exynos) for different regions, it is not going to have completely different models. The new Samsung Galaxy S4 Active, S4 Zoom and S4 Mini allow Samsung reach every type of personality with these new S4 variants. From a waterproof and dustproof version, to an aspiring photographer, the new S4 lineup has something for everybody. Along with the new models Samsung has also released the original S4 in 5 new colors (Pink Twilight, Brown Autumn, Red Aurora, Purple Mirage and Blue Arctic.). I don't know about you, but this entire Samsung Galaxy S4 lineup is getting very confusing. Lets breakdown all the variants (new and old) of Samsung's current flagship device, the Galaxy S4.
Samsung Galaxy S4 Exynos – This is the European/Asian version of the Galaxy S4 that uses an in house Samsung Exynos 8-core processor. This is considered the main version of the Galaxy S4 or the "International version".
Samsung Galaxy S4 Qualcomm – This variant of the S4 is made for USA and North America. It ships in both CDMA (Verizon & Sprint) and GSM variants and features a quad-core Snapdragon chip from Qualcomm which is optimized for 4G LTE.
Samsung Galaxy S4 Active – The Active is the new IP67 certified dustproof/waterproof version of the Galaxy S4. Samsung is clearly targeting the success of the Sony Xperia Z with the new S4 Active. Like the Xperia Z it can also be submerged in 1 meter of water up to 30 minutes. In terms of specs it does vary a bit from the original S4. It sports a 5-inch full-HD display, 2GB of RAM, 8 megapixel rear camera, Quad-Core Snapdragon processor, and an TFT LCD display over the Super AMOLED used in the S4. The Active is available from AT&T now here in the U.S. and will cost $199 with a 2 year deal.

Samsung Galaxy S4 Zoom – This Android 4.2 powered device includes a 10x optical zoom, 16-megapixel CMOS sensor and Xenon flash. The S4 Zoom features a 4.3-inch display with a 960 x 540-pixel display. In terms of power it sports a 1.5-GHz dual core chip, 8GB of memory, 1.5GB of RAM as well as 4G LTE and NFC connectivity. The S4 Zoom is a big phone and is geared specifically for photography enthusiasts.

Samsung Galaxy S4 Mini – The new S4 Mini is probably the model that makes the most sense to me out of the lineup. Plain and simple it is a smaller and more affordable version of the Galaxy S4. The device features a 4.3″ qHD Super AMOLED display and 1.7 GHz dual-core processor under the hood. It will sport an 8MP camera in the back and a 1.9MP camera on the front. Samsung has also included the IR blaster remote feature from the standard S4 on the Mini as well.

So there you have it, all your models explained straight and center. It feels like Samsung is really trying to make the perfect phone for each unique user while delivering a "Galaxy" type experience. The Samsung Galaxy S4 Active, S4 Zoom and S4 Mini look to reach every new and current Galaxy user out there. This approach can be confusing for some customers, while others may enjoy a tailored S4 rendition in their pocket. Can you imagine Apple releasing and iPhone Active, iPhone Zoom, and iPhone Mini? If rumors are true we should see an iPhone Mini come this fall. As for an Active and a Zoom variant of an iPhone, I would'nt hold my breathe.
[cf]skyword_tracking_tag[/cf]
Comments
comments