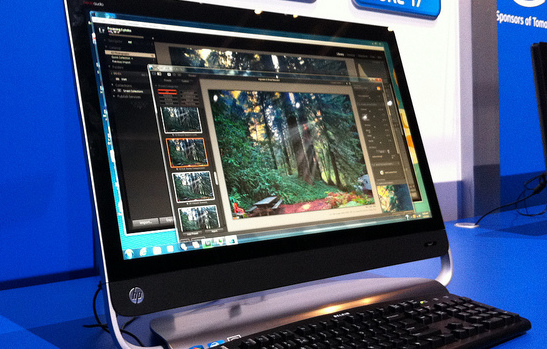 Android is not just for hold-in-the-hand devices any more. HP is launching Android desktops with a model offering a 21.5-inch screen, while Intel is exploring Android for its Core line of PC processors.
But aren't PCs, especially desktops, supposed to be dead? Reports of the desktop's demise are, in fact, premature. Yes, fewer of them will sell because now there are other ways to get online. But the desktop, with its big screen and roomy tower, still offers maximum horsepower and economy for the serious user.
And the debut of Android desktops could provide a shot in the arm for both the desktop segment and Android itself. Developers and power users could have access to an integrated environment extending from the smartphone all the way to high-end desktops.
A Challenge to Windows …
As Michael Kan reports at InfoWorld, HP showed off the public debut of an "all-in-one" desktop PC running Android. The HP Slate 21 has a 21.5-inch screen, offering roughly four times the screen acreage of any tablet device. Acer also recently displayed an Android desktop with a 21-inch screen.
Meanwhile, as Agam Shah notes, also at InfoWorld, Intel is looking at supporting Android with its high-end Core PC processors, including the upcoming Broadwell processor.
These moves toward Android for desktops have not emerged in a vacuum. Sales of Microsoft's Windows 8 operating system have been sluggish. In response, say analysts, PC vendors and chipmakers are broadening their options by providing support for Android. Says analyst Jack Gold, "it's very smart of them to make sure Android runs on all of Intel's architectures."
As Gold also cautions, Windows is not going away any time soon. It has a large user base, dominates basic business computing, and is supported by an enormous range of popular applications.
… Opens a Door to Android
Android for desktops will have a long ways to go to match the applications available for Windows. While Android apps have become competitive with Apple App Store apps for iOS, the current generation of Android apps is naturally optimized for smartphones and tablets.
New apps, and new kinds of apps (such as powerful software packages for 3D graphics) will be needed to make Android for desktops fully competitive. But Android has a large "installed base" of developers and offers them the appeal of an open-source environment.
In turn, a growing desktop community for Android could strengthen Android in the mobility world as well. Power users who want both mobile devices and high-end desktop machines may want a shared native environment, boosting Android among a key user group that has so far continued to lean toward Apple.
And instead of being two separate worlds, mobile devices and PCs may become part of a single computing spectrum.
[cf]skyword_tracking_tag[/cf]
Comments
comments