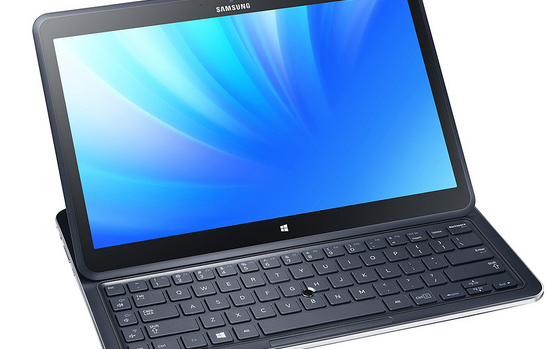 Choice is good. But sometimes you don't want to choose–you want to have your cake and eat it too. And for users who fall into that group, Samsung is offering a new tablet, the Ativ Q, that answers the question, "Android or Windows 8?" It supports both and also converts into a laptop. But it may face a challenge or two along the way.
Analysts worry that users may be confused by the toggling interface that provides both Android and Windows 8 options. For the power users who would be most interested in the Ativ Q, this might not be such a problem. But business IT shops remain hesitant about Android because of its perceived malware problem. And this could be a problem for the bring-your-own-device (BYOD) users to whom having the choice of either Android or Windows 8 on their tablet might be most appealing.
The Challenges of Duality
As Matt Hamblen reports at InfoWorld, the idea of two-for-one tablets is not new. Lenovo tried out the dual-OS IdeaPad U1 more than three years ago. It offered both Android and Windows 7. But as one analyst put it, the transition between operating systems "was ugly," and the U1 was withdrawn from the market.
The Samsung Ativ Q aims to transcend these limitations. It offers instant toggling between its two operating systems. And it uses Samsung's Knox security technology–named for Fort Knox–to enhance security by keeping personal and business uses separate.
But the Ativ Q still has some hurtles to overcome. The first, for US users, is that it is currently on sale only abroad. A US debut has not yet been specifically announced. The more serious challenge facing the option of Android or Windows 8 on one machine is that the enterprise IT world remains antsy about Android.
"A Huge Malware Problem"
At the heart of the challenge, says analyst Rob Enderle, is that "enterprises are really nervous about Android because it has become such a huge malware problem." Enderle adds, however, that these worries could fade "if you can assure that the Android side of the Ativ Q is disabled while inside of the company's firewall."
Another analyst, Jack Gold, argues that the Ativ Q could find a place in the US market by offering "the best of both worlds." IT departments have a comfort level with Windows, while users want the wide range of apps available with Android. With a dual OS, the choice between Android or Windows 8 would no longer have to be made.
[cf]skyword_tracking_tag[/cf]
Comments
comments