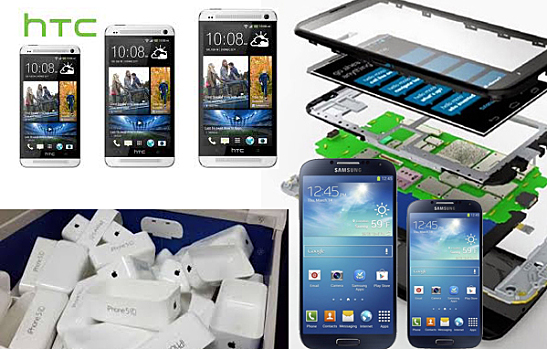 The best mid-range smartphone could very well be the next big thing in tech heading into 2014. As the smartphone adoption rate continues to rise on a global scale, many high-end devices are mostly on the same playing field when it comes to specs. The ultra high-end landscape from every smartphone manufacturer almost looks exactly the same across the board. All the major manufacturers typically have a Quad-core processer, 2GB of RAM and 16GB, 32GB or 64GB of internal storage. Some add expandable memory options via a card slot as well. Each phone touts an ever-so-marketable camera and it's megapixel count, lens and internal optics. HTC, Nokia, Samsung, Sony, and Apple all put out great cameras on their flagship devices today. Some may be better at one type of shot, while others excel in various aspects of editing and zoom. And finally there is the screen; the trend is pointing to a 5″ 1080p 330ppi (pixel-per-inch) display and above, assuming you take the iPhone out of the picture. Essentially the power and features are almost on par with each other across all major brands.
So what are Smartphone manufactures going to do to win that hard earned dollar of yours? The answer: lower their prices, and attack on a global scale. Apple has seen amazing success in emerging markets thanks to the blistering sales of the 3 year old iPhone 4. Android OEM's simply just pump $200 models in these markets with similar results, and have put serious pressure on Apple to compete at this price point. So what's next? I say it is the battle for the best mid-range smartphone. With top end phones selling at an average price of $650 and above, and low-end devices selling for sub $200, the new frontier for OEM's is that sweet $400 price point.
History has proven that this type of pricing and variety across a lineup can be successful, but takes work. Let's go back to the car analogy I so frequently use here at Gazelle. BMW, Audi, and Mercedes have recently adopted this type of strategy over the past few years and it seems to be working. The addition of the 1-Series to BMW attracted a younger audience thanks to the more affordable price tag and sporty features. Mercedes is set to launch the CLA which starts at just under $30k and has killer good looks. Audi also followed the same pattern by offering a more affordable model with the A3 over 7 years ago. Much like the big expensive auto brands these phone companies are going to have to penetrate into these second tier market segments in order to not only stay competitive, but to also stay profitable. Once the top markets have been fully saturated, getting those users to upgrade is a lot harder than putting more affordable units in the hands of first time smartphone owners. That being said, let's take a look at the 5 best mid-range phones that are expected to blow up the scene later this year. Enjoy!
Moto X: This highly anticipated device from Google and Motorola will be their first partnered device since the buyout nearly two years ago. Motorola is pushing this device hard with a big marketing budget to overtake all the Samsung and Apple hype. Good luck to them. Let's take a look at the proposed Moto X specs below. We shall see on August first what actually is fact or fiction.
Made in USA
to be unveiled by Motorola and Google on 8/1/2013
Build to order (custom colors, materials, wallpapers…like Nike ID)
pure Google device (faster updates, clean UI)
all major carriers
dual core 1.7GHz Snapdragon S4 Pro processor
2GB of RAM and 16GB of built in storage
4.5″ 720p HD display.
10.5mp camera
wifi, nfc, 4g, bt
wrap around magic glass (specially coated polymer covers front and sides, zero gap build)
laminated aluminum structure
2200mah battery
$299 contract free
iPhone 5c: Will Apple have a lower cost iPhone? The answer is most likely yes, but we don't really know for sure. According to leaked specs and images the device looks to be a plastic and colorful version of the current iPhone 5. Many say this will replace the iPhone 5 and pave the way for the upcoming iPhone 5S. This would essentially make the iPhone lineup similar to the iPad lineup with just two models (high & mid).
Quad-band GSM and quad-band 3G support with 14.4 Mbps HSDPA and 5.76 Mbps HSUPA
LTE support where carriers support it and CDMA support when sold by CDMA carriers
4″ 16M-color LED-backlit IPS TFT capacitive touchscreen of 640 x 1136px resolution
Scratch-resistant screen glass, fingerprint-resistant coating
Polycarbonate back available in multiple colors
1.2GHz dual-core custom-designed CPU, PowerVR SGX543MP3 GPU, 1GB of RAM, Apple A6 SoC
iOS 6 and iCloud integration
8 MP autofocus camera with LED flash and touch focus
1080p video recording at 30fps
1.2MP secondary front-facing camera
Wi-Fi 802.11b/g/n, Wi-Fi hotspot
GPS with A-GPS connectivity; digital compass
16/32/64GB storage options
Rumored $300-$500 MSRP
Samsung Galaxy S4 Mini: Samsung seems to corner every possible market with their flagship device by release 10 different confusing versions of it. The GS4 comes in an Active version, Zoom Version, LTE-A version, and now a Mini version. The GS4 Mini will ultimately just be a smaller and more affordable version the current Galaxy S4. The device just went on sale in most of Europe and in Asia and carries a $479 price tag. If you ask me this device needs to come down in price to really separate it always from all its brothers.
GSM 850/900/1800/1900 MHz; UMTS 850/900/1900/2100 MHz, HSDPA 21 Mbps, HSUPA 5.76 Mbps; LTE, Cat3, 50 Mbps UL, 100 Mbps DL (I9195 model only)
Touchscreen bar phone
124.6 x 61.3 x 8.9 mm, 107 g
4.25″ 16M-color qHD (540 x 960 pixels) Super AMOLED capacitive touchscreen
Dual-core Krait 1.7 GHz processor
Adreno 305
1.5 GB
Android 4.2.2 (Jelly Bean)
8 GB (5 GB user available) of inbuilt storage, microSD card slot
8 megapixel auto-focus camera with face detection, touch focus and image stabilization; LED flash, front facing camera, video-calls
Full HD (1080p) video recording at 30fps
$479 MSRP
HTC One Mini: The success of the HTC One has brought new life back to HTC, unfortunately profits continue to sink. Rumors of HTC going into emerging markets stronger than every could be a saving grace for the once popular brand. HTC is taking the popularity of the One and shrinking it down to a more affordable model. The One mIni will hit here in AT&T but is primarily targeted at emerging markets and first time smartphone buyers. Expect the new HTC One Mini to hit store shelves later this month. Good luck HTC, your going to need it.
Quad-band GSM/GPRS/EDGE, quad-band UMTS/HSPA, LTE
Touchscreen bar phone
132x 63.2 x 9.3 mm, 122 g
4.3″ 16M-color 720p (720 x 1280 pixels) Super LCD 2 capacitive touchscreen, 341ppi pixel density; Corning Gorilla Glass 3
Qualcomm Snapdragon 400, Dual-core 1.4 GHz Krait 300, 1GB RAM, Adreno 305
Android 4.2.2 Jelly Bean with Sense 5
16GB storage
4 megapixel auto-focus camera with ultra-pixels; LED flash
Full HD (1080p) video recording at 30fps with HDR
1.6MP front-facing camera; 720p@30fps video
Wi-Fi a/b/g/n, Wi-Fi hotspot, Bluetooth 4.0, standard microUSB port with MHL and USB host, GPS receiver with A-GPS and GLONASS, 3.5mm audio jack
1,800mAh Li-Po
So there you have it, the best mid-range samrtphone's in the world are coming to a store near you. Is the trade off in savings really worth not having the very best in your pocket? Will you be satisfied with a second tier device? Although these phones may not be the best each brand has to offer, the specs and style that are at these price points make devices like this very attractive. OEM's already know this and will be fighting hard to push these models out in emerging markets and to various consumers here in the US. I think as component (chips, screens, ram, memory) costs continue to fall, these mid-range devices may soon be the true price points of their respected flagship devices in the not so distant future. What do you think? Feel free to leave your comments below.
(specs courtesy of gsmarena)
[cf]skyword_tracking_tag[/cf]
Comments
comments