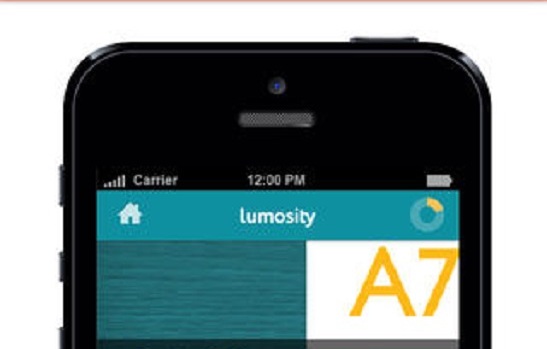 Whether you're getting ready to head back to school in the fall or just looking for some ways to keep your mind fresh, there a number of brain training apps for your smartphone or tablet that can help keep you sharp. From simple memory games to more complex tests, here are five top apps to tune up your brain.
Lumosity
Lumosity is considered the premier brain training website and application on the market today, and with good reason. The games and program were designed by neuroscientists to keep your brain healthy and improve your cognitive abilities. Available for the iPhone and iPad, with an Android app in the works, Lumosity gives you a personalized training program of a few games each day focusing on areas including speed, memory, attention, flexibility and problem solving. The app then tracks your progress so you can see your improvement over time. The first few games are free, but then the app requires a one-year access pass costing $79.99.
Clockwork Brain
Even when training your brain, sometimes it takes a little more than just simple games to hold your attention. That's where Clockwork Brain shines. The mini-games included in the app are designed to enhance your cognitive abilities with visual, spatial and language challenges, but the design of the game is what really stands out. The artwork is beautiful, with influences from Victorian steampunk and Mayan art, so it almost feels more like an adventure than just another classroom test. The app is available for the iPhone and iPad and includes a few free mini-games, although a wider variety of games can be had by purchasing one of their game packs.
Coach Memory!
Sometimes you want to get away from the charts and graphs, and just work out your brain for a few minutes each day. In that case, Coach Memory! may be the perfect game for you. This free brain training app for Android devices is composed of 13 small apps that each give your brain a bit of a workout. The app does track your progress over time, and does allow you to compare scores through Facebook, but it's really just about some quick, fun games to keep you thinking. The app is available for free, although there is also a $0.99 version that removes the ads.
Fit Brains Trainer
Fit Brains Trainer comes from the same mold as Lumosity, as it uses neuroscience to tailor its activities to specifically help brain function. Fit Brain Trainer has more than 360 different training sessions, and is designed to just be used for a few minutes each day. The application uses a points system to keep you playing as you strive to achieve a better overall high score, and comes complete with some advanced metrics so you can track your progression. The application is available for the iPhone and iPad, and a year's worth of training will run you $10 from inside the app.
ExQuizIt
While the best brain training apps may involve complex neuroscience and in-depth statistics, sometimes you just want to flex your brain a little bit without all the structure and repetition. Nothing does that better than a little trivia, and ExQuizIt certainly fits the bill. The app is loaded with over 12,000 questions spread out over seven categories, so there's little chance of running into the same questions over and over, as is often the case with lesser trivia apps. The questions have a good range of difficulty and the app itself is fairly polished, which combine into an addictive trivia game that's sure to have you coming back to the app for more. It's available for both iOS and Android devices, and costs $0.99.
Image credit: ITunes
[cf]skyword_tracking_tag[/cf]
Comments
comments