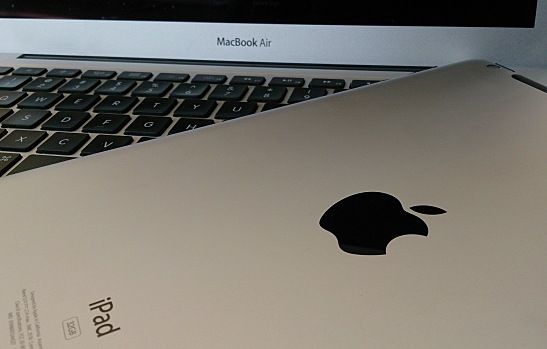 The laptop vs. tablet battle rages on as consumers are often stuck choosing between both. With the tablet market growing rapidly year over year, consumers have been starting to reconsider if they actually need a laptop in their gadget arsenal. A recent analyst report from NPD DisplaySearch "shipments of tablet PCs are expected to reach nearly 364 million worldwide in 2014, more than doubling the projected 177 million shipments of standard notebook PC and ultra-slim PCs".
Worldwide Shipment Forecast by Size Category 2012 – 2017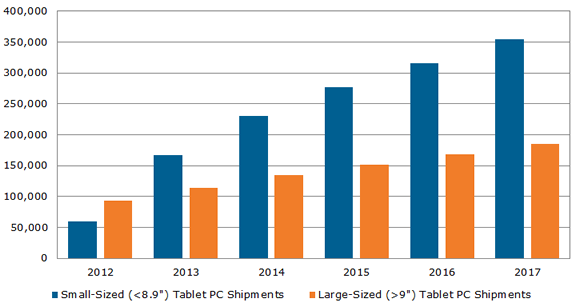 (image courtesy of NPD DisplaySearch)
Now that back to school time is in full effect, many students are heading out to make that new tech purchase for either a shiny new laptop or sleek portable tablet. When trying to choose which is right for you, you may want to take these factors below into consideration –
Question's to consider before buying:
Price – How much can I afford?
Size/weight/portability – Do I need to lug this around, or will it just sit in my room?
Battery life – How often will I get to plus my device in to power up?
Features – What features are essential to me so I can get my work done?
Durability/lifespan – How long am I going to keep this device for?
Operating System/Software/Apps – What are my software requirements for school? How will this integrate with my other devices?
Price:
You're a student, so you obviously have a budget you need to stay within when purchasing your tech for college. Generally, the laptop will be more on the pricier side. MacBooks start at $999 and comparable Windows machines start at $600 meaning the laptop is going to cost you more upfront. That being said the laptop will also supply more computing power, more versatility, and possibly more value over its lifespan. Tablets range from $200-$800 so there is something for everybody. If price and budget are no issue to you, buying both a tablet and laptop would be your best bet… but thats not why you are here!
Size:
Both laptops and tablets range in various screen sizes, dimensions, and weight, and you will want to find something that suits your lifestyle. If your book bag already feels like its heavy enough to be a reason to skip the gym, a lightweight tablet or super-thin (UltraBook) laptop is something to consider. As with everything tech, the sleeker, lighter, and sexier it is, the more expensive the device usually becomes. The tablet will always have an advantage when it comes to portability over the laptop as average screen sizes are under 10-inches. If space is a big issue for you, the tablet could be your safest bet.
Battery Life:
Tablets should prove to be more efficient when it comes to power management over the laptop thanks to the smaller screen size (screens are the biggest source of battery consumption!); although many newer laptops offer 11-inch screens and use Solid State Hard drives (SSD), which optimize their battery life. If you always have access to a power source everywhere on campus, battery may not be a concern for you. You really need to ask yourself how much spare time do you have to charge your device before you purchase.
Features:
Now we come to the most important question of them all: will a tablet allow me to do my work? This answer will vary from individual to individual. I personally could not see myself working completely off a tablet, especially an iPad. Different classes could require unique pieces of software and applications that may not yet be available for the tablet market. Before making your decision, you should know what software you will need for each class and also how comfortable you are working solely off a tablet. Having a silent type pad on the touch screen is great for taking notes in the classroom [read: stalking your new crush on Facebook], but the thought of writing a 10+ page paper on the same keyboard gives me a headache just thinking about it.
Lifespan:
It seems like both tablets and laptops are coming out with upgraded models each and every year. Typically a laptop should hold its value longer than a tablet, and provide more use (3-4 years). With tablets trending more towards cell phones than PC's, the upgrade cycle accelerates (partially thanks to Apple who release a new iPad every year). If you are thinking more towards the long term, you should really shoot for a high end laptop that will get you through 4 years a school. If you're one to always have the latest and greatest, a new tablet (along with trading your old model into Gazelle) every year is probably best tailored for you.
Operating System:
I spoke to this a bit in the features section but now let's dive into the compatibility aspect. Depending on which operating system you have on your other devices, this is really going to be different for everybody. For those living in the Apple eco-system (iPhone, iPad, MacBook, iPod), iCloud does a great job of syncing all your gear together so you have everything just waiting for you across multiple gadgets. Windows Phone users most likely would be more inclined to purchase a Windows laptop or tablet, as many of the apps and features are similar. If you're and Android user, such as myself, you will most likely be looking for the best hardware, and then sync data on your own, through hard drives or 3rd party apps. What it all comes down to is what do you actually need to get your work down, and how can you get it to best interact with your existing gear. A tablet will generally sync up easier with your existing smartphone platform than a full blown laptop will. However the laptop may have key pieces of software for your classes that are not available on mobile.
Conclusion:
I hope this break down of laptop vs. tablet as helped you narrow down your upcoming hardware purchase. Two big tips that I recommend before making that final purchasing decision are:
1. Go to your local store and test it out: If you don't like the way your new tech feels or looks in your hand, most likely you will not be happy with the purchase. Make sure to test out the basic features and also the key features you see yourself using on a daily basis.
2. Hit up YouTube: Almost every device out there will have some sort of full review, unboxing, or comparison video breaking down all the specs and features. YouTube is also great when you are stuck between two models. You can often find head-to-head comparisons on many similar high end models. Our channel over on YouTube is GoGazelle, and it is indeed a great place to start.
3. Check the trade in value on your current gadgets: often, the value of your older gadgets can help offset the cost of the new purchase. You may even be able to afford both if you trade in your older models with the cash you'll receive from a trade in company like Gazelle.
[cf]skyword_tracking_tag[/cf]
Comments
comments