The Sony Xperia Z and the Samsung Galaxy S4 are two of the best Android phones on the market, in my opinion.
Sony unveiled the Xperia Z back at CES in 2013 along with the Xperia ZL. It made its way to the U.S. last month thanks to T-Mobile, who holds the exclusive rights to the Xperia Z here in the United States. The Xperia Z can also be purchased unlocked online.
Samsung's Galaxy S4 is the follow up to the most successful Android phone: the Galaxy S3. The Galaxy S4 was released in May and landed on most carriers by June, except for Verizon who got it later. The Galaxy S4 is considered the benchmark when it comes to Android devices, mostly because of its impressive spec sheet and a powerful marketing campaign by Samsung. If you've ever watched TV, been outdoors, or to any tech-related site online, you'd seen the "The Next Big Thing is Already Here" ads well, everywhere.
Video Review:
Sony Xperia Z vs. Samsung Galaxy S4 Video Review
Performance: In terms of performance, the Galaxy S4 is the winner. The Galaxy phone's Snapdragon 600 chip is a full generation ahead of the older Quad-core Krait chip on the Xperia Z. That being said, the Xperia Z is above industry standards for a flagship device, so you'll still get more speed on this phone than any other phone currently on the market. When measuring overall device speed, us techies look at the Quadrant Benchmark Score. This is an app that can be downloaded on Google Play Store that shows you how fast your device is compared to other devices in the same category. The higher the score, the faster the device is, which translates to overall better performance. Check out the Quadrant benchmark scores below. The Galaxy S4 clearly beats out the Xperia in this test.
Quadrant scores below:
(Xperia Z is on the left with a score of 7206, the GS4 comes in at 10597)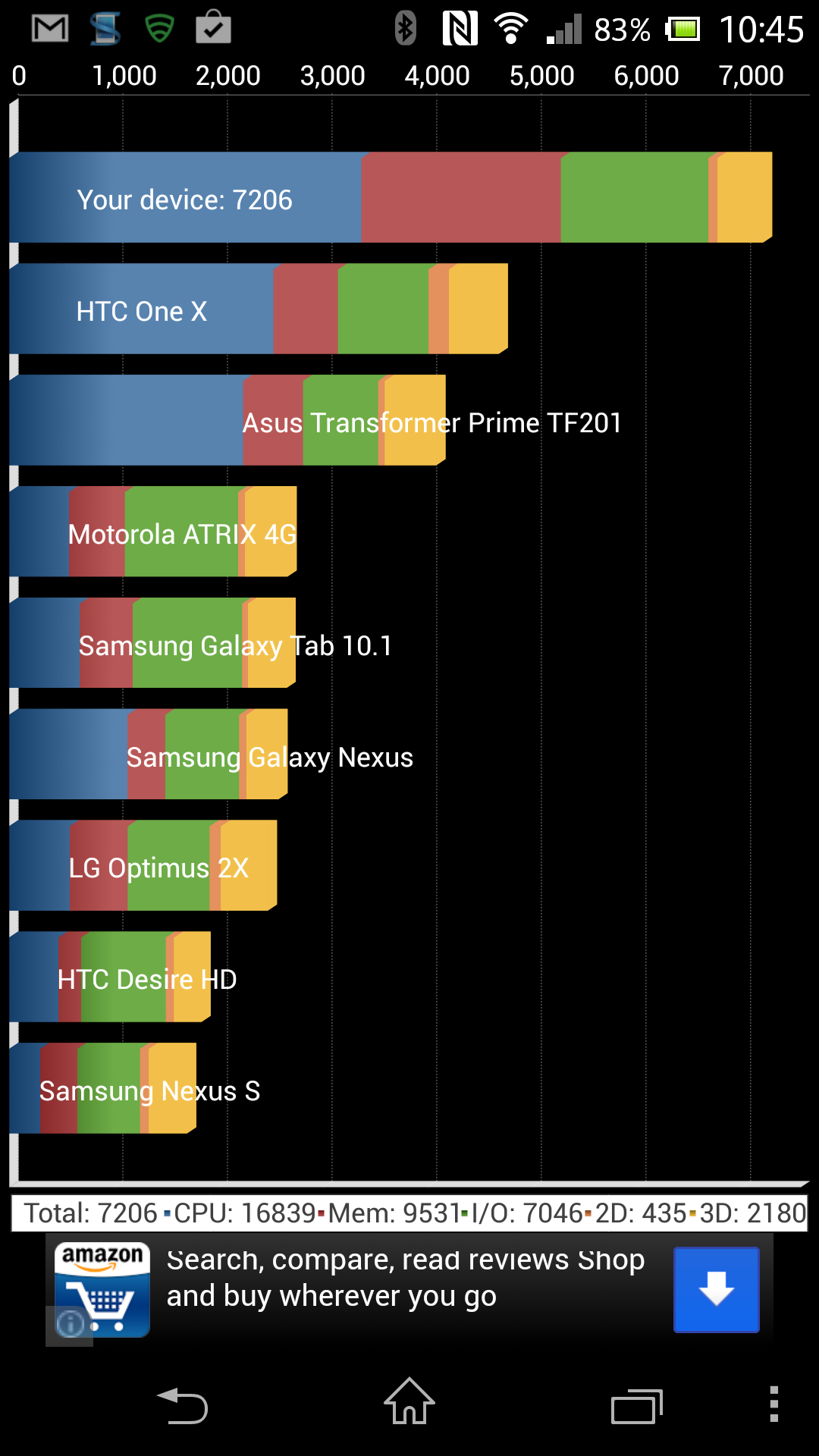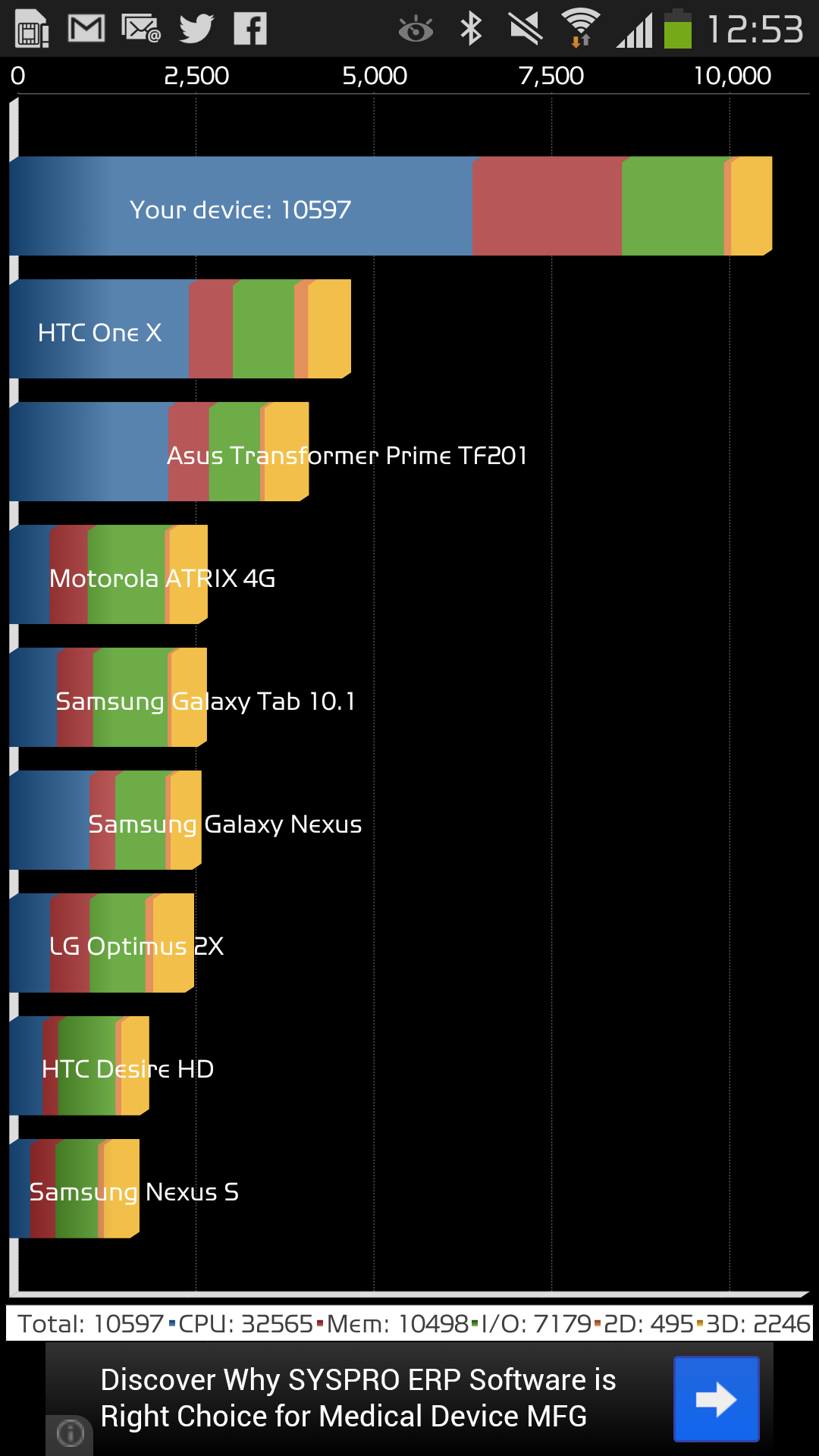 Winner – Galaxy S4
Hardware & Design: This is one category in which Sony dominates with the Xperia Z. The plastic on the S4 is less pretty when compared to the looks of the all-glass Xperia Z. The Xperia Z represents one of best looking phones on the market, in my opinion. Samsung tends to deprioritize design, but makes up for it in specs (most of the time). Many manufacturers look to glass and aluminum for materials; while Samsung cuts costs by sticking with plastic.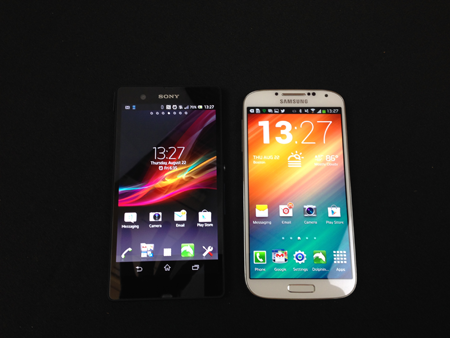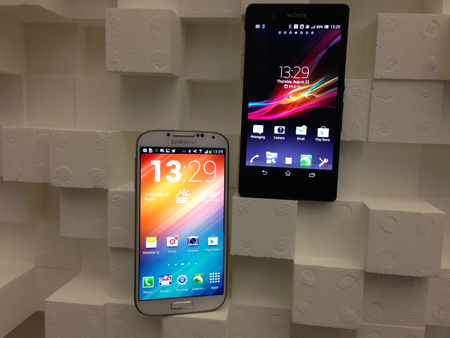 Winner – Xperia Z
Screen: Both phones have fantastic screens with 1080p quality and 441ppi (pixels per inch). The Samsung GS4 takes a slight edge in this category as the Xperia Z does suffer from some poor viewing angles. If you are planning on sharing your screen while watching movies, for example, the image quality tends to suffer when you're not looking straight at the device. The Super AMOLED display panel on the S4 produces a very bright picture, which is far superior in terms of contrast level over any LCD on the market. The fact is Samsung does produce some of the best screens in the industry and they can be found in iPads, TV's, tablets, phones, monitors, and even in refrigerators from many of the other brands you may use in your household.
Winner – Galaxy S4
Camera: Both of these phones have some of the best 13 Mega Pixel cameras in the industry. I am going to have to call a draw on this one. The Xperia Z has a feature called "Superior Auto Mode" and ensures you capture the perfect image every time. HDR Mode and Face Detection make the camera feel like a true Sony Cyber-shot point and shoot camera.
The GS4 brings so many settings and options to the table it can get a bit overwhelming and gimmicky. These features include a Dual-Shot Mode, which uses the front camera to impose your face in the image captured by the rear camera. Other modes like Best Face and Best Shot allow for some cool edits on the fly.
(Xperia Z on left)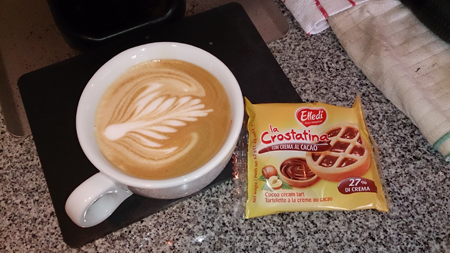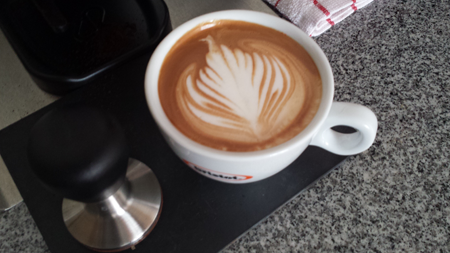 Winner – Draw
Battery & Memory: The S4 offers a bigger 2600 mAh battery, compared to the 2330 found in the Xperia Z. This roughly translates to 17 hours of talk on the GS4 vs. 14 hours on the Xperia Z. When it comes to memory capabilities, both phones are pretty equal. They both offer microSD support, 16GB internal storage, and 2GB of RAM. Samsung does have the option to purchase models with bigger internal memory, but at an increased cost. With microSD expansion on board, I really don't find the need for the extra internal capacity. I wouldn't recommend you allow a sales person in a store try to sell you up on that either.
Winner – Draw
UI & Extras: Samsung delivers a lot of extras with things like Smart Stay, Smart Pause, Smart Scroll, and multi-window. Smart Stay and Smart Pause allow you to look away from the screen when video is playing and the video will automatically pause. Smart scroll uses the front camera to track your face so the page auto-scrolls both up and down for you (very creepy, but super cool, and definitely a "Wow!" factor with your friends). The Xperia Z does have one very important extra…it is waterproof and dustproof. The Xperia Z features an IP 57 certification – dust resistant and water resistant build, which is truly spectacular for such a slim device. I have taken calls both in the pool and shower with my Xperia Z with no problem at all (yes its weird, I know. I was on the phone in the shower ONLY for the purpose of this review… I swear).
Sony also wins when it comes to UI (user interface). Sony uses its own interface called Timescape, while Samsung uses TouchWiz. I personally can't stand TouchWiz on Samsung devices. I will admit that it has improved over the years, but it still looks like a giant cartoon to me. The Xperia on the other hand offers the best UI outside of stock vanilla Android. I find Timescape very easy to use with an elegant and minimalist design.
Winner – Xperia Z
Price & Availability: With the Xperia Z only being available on T-Mobile here in the US, Samsung takes the edge in terms of availability. The GS4 can be found on all the big four carriers, as well as smaller regional carriers.
The Xperia Z on T-Mobile can be picked up for $0 down with $25 per month installment payments. The phone can also be purchased fully for $599 or unlocked from Sony for $570. With the Galaxy S4, you should be able to find it for $199 with a 2-year deal on every carrier or around $600 contract free. Either way, both phones are going to cost you almost the same amount at the end of the day.
Winner – Draw
Specs:
Sony Xperia Z
Quad-band GSM/GPRS/EDGE support; 3G with HSPA; LTE
5″ 16M-color 1080p capacitive touchscreen with 441ppi pixel density; Bravia Mobile Engine 2
Android OS v4.1.1 Jelly Bean with custom UI
Quad-core 1.5 GHz Krait CPU, 2 GB RAM, Adreno 320 GPU; Qualcomm Snapdragon S4 Pro chipset
13 MP autofocus camera with LED flash and geo-tagging, HDR
1080p video recording @ 30fps with HDR mode, continuous autofocus and stereo sound
2.2 MP front-facing camera, 1080p video recording
IP 57 certification – dust resistant and water resistant
Wi-Fi a/b/g/n, Wi-Fi Direct and DLNA; Wireless TV out
GPS with A-GPS, GLONASS
16GB of built-in storage; microSD card slot
Bluetooth v4.0
NFC
Samsung Galaxy S4
Quad-band GSM/GPRS/EDGE; quad-band 3G with HSPA; LTE
5″ 16M-color 1080p Super AMOLED capacitive touchscreen with Gorilla Glass 3
Android OS v4.2.2 Jelly Bean with TouchWiz UI
Quad-core 1.9 GHz Krait 300 CPU, Adreno 320 GPU; Qualcomm Snapdragon 600 chipset/ Quad-core 1.6 GHz Cortex-A15 & quad-core 1.2 GHz Cortex-A7, PowerVR SGX 544MP3 GPU; Exynos 5410 chipset
2GB of RAM
13 MP autofocus camera with LED flash, 1080p video recording @ 30fps, continuous autofocus and stereo sound
2 MP front-facing camera, 1080p video recording
Wi-Fi a/b/g/n/ac, Wi-Fi Direct and DLNA
GPS with A-GPS, GLONASS
16GB/32/64GB of built-in storage, microSD slot
Bluetooth v4.0
NFC
IR port for remote control functionality
Smart gestures: Smart stay, Smart pause, Smart scroll
Conclusion: These Android devices are currently two of the best phones on the market. If performance and battery life are the most important, then the GS4 is for you. If you value the sleek glass design and build quality, along with waterproof functionality, then the Xperia Z is the clear winner. As always try them out hands-on at your local retailer or carrier so you can get an actual feel for them before you make your purchase.
So which would I choose in this Sony Xperia Z vs. Samsung Galaxy S4 battle? The Xperia Z, hands down (if it wasn't already clear from my somewhat snarky comments above). The unique style, good looks, and build quality just do it for me.
Winner – Xperia Z
[cf]skyword_tracking_tag[/cf]
Comments
comments