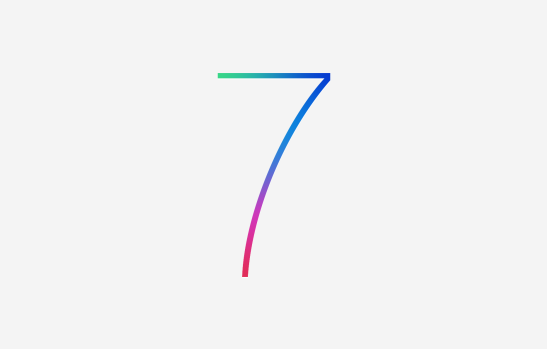 Rumors have Apple's new iOS 7 arriving for compatible devices—the iPhone 4, 4S, iPhone 5, iPad 2, iPad generations three and four, iPad Mini and fifth-generation iPod touch, in case you were wondering—somewhere around September 10, according to developer emails obtained by the International Business Times. While the release date itself remains shrouded in Apple's typical mystery, many of 7's new features have already been uncovered. Here are four of the best.
Control Center
Users have been clear with Apple: The current Settings menu is a pain. The company's response is the iOS 7 control center, accessed by swiping "up" on the screen from just about anywhere, including your lock screen or when using an app. The center lets you adjust brightness and volume, control media playback, and has shortcuts for the clock, calculator, and camera. In addition, you'll be able to toggle WiFi, Bluetooth, Do Not Disturb, Airplane Mode, and your Orientation Lock. While it's not a massive change, the control center focuses on what Apple does best: improving the user experience.
AirDrop
You'll also find another new feature in the accessible from the Control Center, called AirDrop. This OS upgrade lets you share files wirelessly with another iOS 7 compatible device, but without having to cram them into an iMessage. To use AirDrop, you need Bluetooth and Wireless settings enabled, although both users don't have to be on the same WiFi network—or even connected to WiFi. The feature uses WiFi technology, but relies heavily on Bluetooth for transmission. And unlike a similar Android feature, there's no need to physically "bump" devices; files are sent with the press of a finger.
Photo App
The photo application is getting a redesign, collecting photos by date and location rather than in a massive chronological stream. So long as you have location services turned on, you'll see events like parties or vacations grouped together, and the app lets you share the entire event instead of having to send photos one at a time. And in iCloud photo news, your Photo Stream there will support videos with iOS 7, bypassing the need for Facebook or YouTube.
In-car iOS
This feature doesn't apply to devices themselves, but is noteworthy nonetheless. In 2014, twelve car manufacturers, including Nissan, Honda, and Volvo, will roll out vehicles that have iOS-7-enabled touchscreens built in to the dashboard. While you'll be able to connect a compatible iPhone or iPad, it won't be required—the car will act as its own, standalone iDevice. These cars might also include haptic interfaces, allowing users to "feel" controls without having to look down at the touchscreen.
You can expect the announcement of a new iPhone to follow on the heels of iOS 7; there are rumors that Apple will take old devices as a credit toward new versions, but you might also want to consider trading in your iPhone for cash before getting in line for a new 5S or 6. Whether you choose to upgrade or stick with your current phone, however, you're getting an iOS upgrade with some great features for free—and you don't have long to wait.
Photo credit: Wikimedia Commons
[cf]skyword_tracking_tag[/cf]
Comments
comments