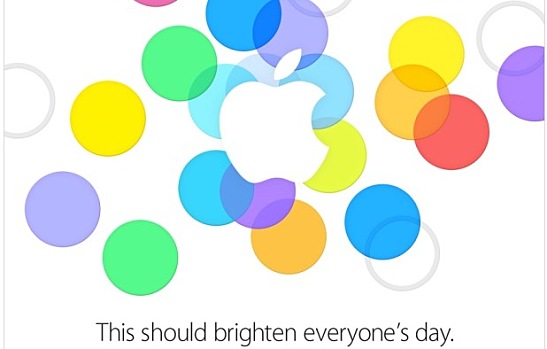 Apple has just sent out invites for the highly anticipated media event on September 10 to unveil the new iPhone. The event is set to take place at 10 AM PT on the Wednesday the 10th at the Apple Campus in Cupertino.The wording on the invitation reads "This should brighten everyone's day", which leads me to except some new colorful iPhones heading our way. AllThingsD initially leaked the September 10th launch date over 3 weeks ago stating Apple will show off new iPhones on the 10th.
According to the WSJ, Apple is said to be unveiling 2 new iPhone models on that day with a followup to the iPhone 5 and a new low-cost model. The iPhone 5S will be the new upgrade to the iPhone 5 and will feature improved internals (31% faster) and a better camera. The new lower cost iPhone 5C is said to be similar in features to the current iPhone 5 but will feature a plastic design (to lower cost).
The Apple invite and tag line show that the next version of the iPhone will indeed bring new colors to the mix. Past rumors of a gold iPhone and graphite iPhone look to be all but true thanks to a confirmation from iMore a few weeks ago. The new low-cost iPhone should also be available in a variety of colors.
So when can I buy the new iPhone? With the event set for the 10th, we typically see a launch date 10 days after. This would make the new iPhone hitting shelves on September 20th. Carriers such as T-Mobile, Verizon and AT&T have already blocked out vacation days for the 15th-25th of September.
When it comes to price we actually won't know the exact details until Tim Cook gets up on stage next week. Historically new models jump into the price slots of the older model making the cost the same. This would translate to the new iPhone 5S starting at $199 with a 2-year contract. When it comes to the iPhone 5C I am thinking around the $450 price mark (unlocked), and free with a 2-year contract.
Make sure to follow me on Twitter as I will be following all the news from the big event live on September 10th.
(image courtesy of MacRumors)
[cf]skyword_tracking_tag[/cf]
Comments
comments