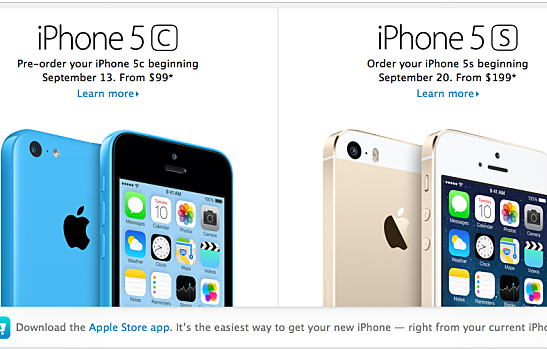 Apple has officially unveiled its newest smartphones at an iPhone event earlier today in Cupertino. CEO Tim Cook took the stage to introduce two new iPhones into the iPhone lineup – the iPhone 5S and iPhone 5C. Along with the new iPhones, Cook shared some new details on iOS 7, which will be available on the 5S and 5C phones. The new version of iOS 7 will be released September 18th to consumers who want to upgrade their phones, and later for the iPads and iPod touch devices.
iPhone 5C
The new iPhone 5C will replace the iPhone 5, and the iPhone 5 will no longer be available. The 5C will feature an A6 processor, 8-megapixel iSight rear camera with f/2.4 aperture, LED flash, backside illumination sensor, five-element lens, panorama, autofocus and the ability to shoot 1080p videos at 30fps. The device will be made of plastic and come in a variety of bright colors such as white, pink, yellow, blue and green.
The 5C will sell for $99 for the 16GB model, and $199 for the 32GB model, with a 2-year contract. The contract free price, which was not revealed by Apple at the event, looks like it will be $549 and $649, respectively.
iPhone 5C specs:
4-inch retina display
A6 processor
Widescreen video
8MP iSight camera
New FaceTime HD camera
Larger 1.9 pixels
100 Mbps download
iPhone 5S
Many industry experts, myself included, expected a boring "S" type upgrade for the iPhone 5S this time around. The iPhones 5S is a much more than a boring upgrade this time around, in my opinion. It's actually pretty impressive. The 5S will come with a new fingerprint sensor (Touch ID), improved camera, and 56% faster A7 processor.
The new iSight camera brings a 5-element lens, f/2.2 aperture, 15% larger sensor, DSLR-level autofocus, true tone flash, and dual LED. All of new camera features are said to produce brilliant photographs, and the photographs displayed in the demonstration clearly supported that.
The iPhone 5S will also get a color change. The black and white colors will be retired, and new gold, silver, and slate gray color will be available for purchase.
When it comes to pricing, the 5S will be available for $199 for the 16GB version, $299 for 32GB and $399 for 64GB on a two year contract. Contact free prices start at $649, which is what we typically see for new iPhone models.
iPhone 5S specs:
4-inch retina display

A7 processor, 56% faster, 64-bit chip

improved battery life of 10 hours talk time
120fps slow-mo video

OpenGL ES 3.0 (better 3D graphics)

Touch ID fingerprint scanner

Gold, Slate, White

Availability
The iPhone 5C can be pre-orderd starting September 13th or purchased in store on September 20th. It will be available in the US, Australia, Canada, China, France, Germany, Japan, Singapore, and the United Kingdom. The iPhone 5S will not have a pre-order option and can be purchased on September 20th in the same countries as the 5C both in store or online. With the launch of the iPhone 5S and 5C, Apple have decided to make a new iPhone 4S 8GB model free with a 2-year contract.
(image courtesy of Apple)
[cf]skyword_tracking_tag[/cf]
Comments
comments