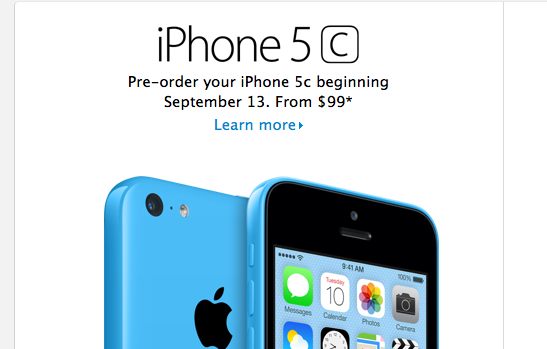 For the past few months we have seen a plethora of rumors surrounding the upcoming low-cost iPhone. With analysts around the world weighing in on expected price target, many expected a $400 price tag for a low-cost iPhone. Earlier today, Tim Cook unveiled the iPhone 5S and 5C and it looks like the analysts were a bit off the mark. With a starting price of $549 at Apple in the US (contract free), and $733 in China, the new 5C is anything but cheap.
Let's start by saying that the iPhone 5C is one good looking phone considering it is made from colorful polycarbonate (plastic). Apple's design guru Jony Ive said "the iPhone 5C is beautifully and unapologetically plastic and multiple parts have been reduced to a single polycarbonate component, whose surface is continuous and seamless." The device comes in 5 color options of pink, white, yellow, green and blue.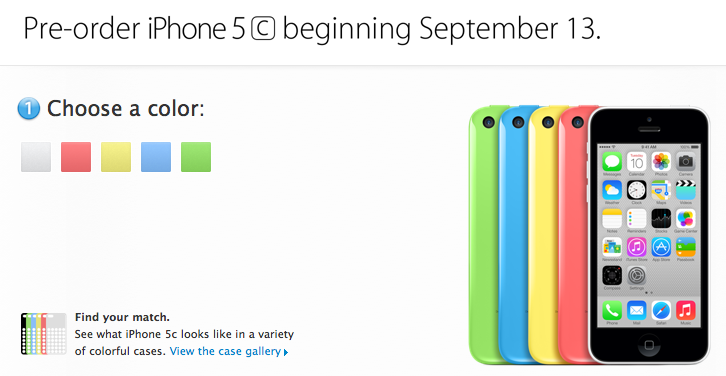 (image courtesy of Apple)
When it comes to features the iPhone 5C sports an A6 chip, 8-megapixel iSight rear camera with f/2.4 aperture, LED flash, backside illumination sensor, five-element lens, panorama, autofocus and the ability to shoot 1080p videos at 30fps. Starting at only $99 on a 2-year contract the device seams like an amazing deal. But in many countries around the globe, smartphones are sold without subsidies (no contract). This means you will have to pay the full price in order to bring home the device.
The main question for consumers is whether the iPhone 5C is worth the money. Devices like the LG Nexus 4, Samsung Galaxy S4 Mini, HTC One Mini and Xiaomi Mi2 should give you similar features for less money. Even a used or refurbished iPhone 5 could also be a better deal to some compared to an iPhone 5C. I know I would much prefer an all metal, just as powerful iPhone 5 over a plastic 5C if I had to choose.
So why buy an iPhone 5C? There will always be a market for low-cost alternatives. Different products are geared toward different audiences; there is always going to be a buyer for new and used high-end products and new and used low-end products. A great analogy is when someone is in the market for a BMW. Some consumers may choose to buy a lower-end new model, like the 3 series, while others would prefer a slightly used 7 series with all the bells and whistles. If you think of the iPhone 5C in this BMW analogy, it's the same concept; you're still getting a premium product but it's not top of the line.
The reality is that the Apple brand is still seen as a coveted item, especially in emerging markets. And even though the iPhone 5C still costs less than the latest and greatest iPhone entering the market, it is still priced at the higher-end of the smartphone market. For some consumers it may be just what they were looking for in a low-cost iPhone. Either way Apple is attempting to offer something for everyone and lure you into their beloved ecosystem.
Pre-orders for the iPhone 5C begin later this week, September 13th, and will go on sale alongside the iPhone 5S on September 20th in select countries. Stay tuned to The Horn for a complete hands-on review of the iPhone 5C later this month.
[cf]skyword_tracking_tag[/cf]
Comments
comments