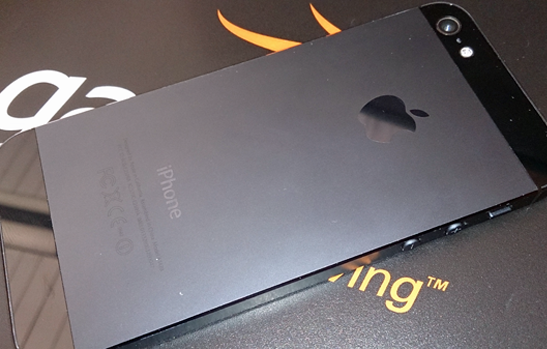 This week's Apple rumors report is jammed packed with all the latest news and rumors surrounding Apple. The iPhone 5S and 5C unveiled at the iPhone event on Tuesday, so we can now start to focus on the upcoming iPads, iWatch, iMac and potentially a new Apple TV.
Top Apple Rumors and News This Week
Meet the new iPhone 5S and iPhone 5C
iPods now come in "Space Gray" color
iPad 5 and iPad Mini 2 leak again
New Apple TV set for an October launch
iPhone holds 40% of US market share

Meet the new iPhone 5S and iPhone 5C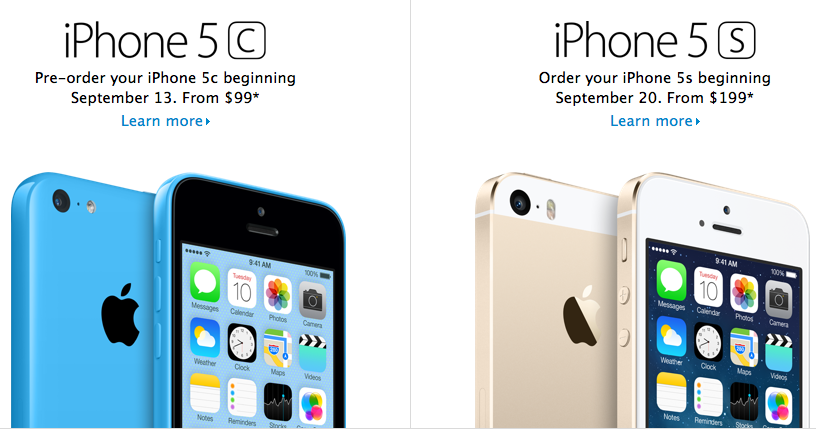 (image courtesy of Apple)

News: Apple CEO Tim Cook took the stage on Tuesday to introduce two new iPhones to the iPhone lineup – the iPhone 5S and iPhone 5C. The iPhone 5C will be an all plastic replacement for the current iPhone 5. It will feature an A6 processor, 8-megapixel iSight rear camera with f/2.4 aperture, LED flash, backside illumination sensor, five-element lens, panorama, autofocus and the ability to shoot 1080p videos at 30fps. The device will be constructed of plastic and come in a variety of bright colors such as white, pink, yellow, blue and green. The new iPhone 5C will sell for only $99 on a 2 year contract, and a hefty $549 SIM free (no contract).

The new flagship iPhone 5S will bring 50% more speed over last years iPhone 5. Along with speed enhancements the iPhone 5 will feature an improved iSight camera, fingerprint reader (Touch ID), and a separate M7 processor to handle the accelerometer and gyroscope. This translates to improved performance for motion and fitness apps like Nike Fuel. The 5S will start at $199 on a 2 year contract at all four major US carriers on September 20th
iPods Will Now Rock New Space Gray Color Option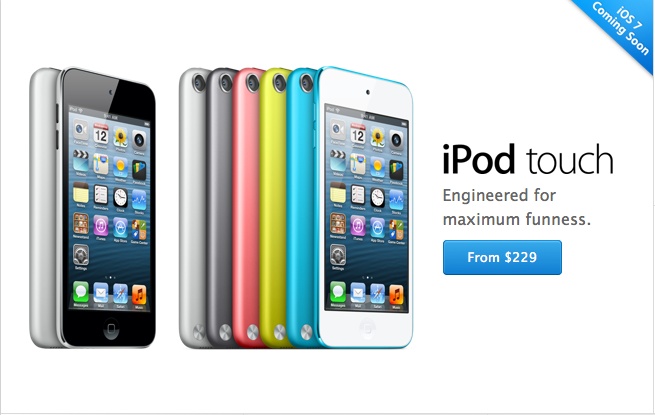 News: Surprise! Apple is now offering the same space gray color option found on the new iPhone 5S for its current iPod lineup. The new color option will be available on the iPod touch, iPod nano, and iPod shuffle starting this week. Unlike last years iPhone event in which Apple released all new iPod models, this years update comes only via a new color option. Due to the fact we are only seeing a new color option and no new models, analyst believe the iPod will not get a hardware update until 2014.

New iPad 5 and iPad Mini 2 leak out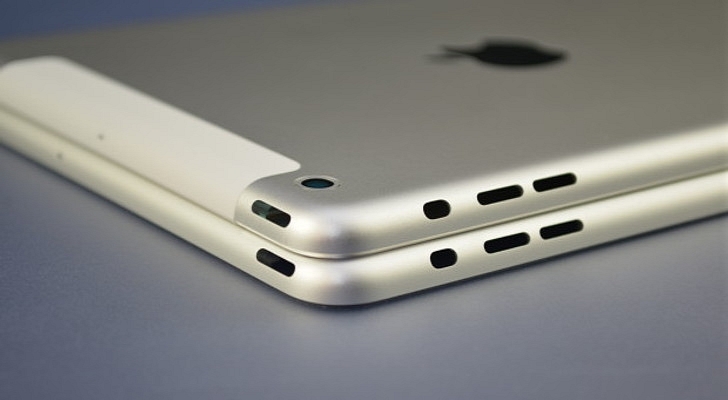 (image courtesy of Sonny Dickson)

Rumor: New images from Apple blogger Sonny Dickson show the rumored iPad 5 and iPad Mini 2 models side by side. The picture supposedly depicts the two new and finished models side by side.

Fact: Dickson has been correct on almost 99% of his leaks when it came to the iPhone over the past few months. All the previous iPad rumors look to align well with the new leaked images from Dickson. I expect an updated iPad 5 and iPad Mini 2 to both feature at a special event sometime in October.
New Apple TV Coming This October
Rumor: Apple insider MG Siegler of TechCrunch claims Apple is prepping a new Apple TV hardware product for release sometime in the coming weeks. The tweet from Siegler reads like this:
I guess those excited about a software refresh in a week are gonna be *really* excited when new Apple TV hardware is unveiled next month.

— MG Siegler (@parislemon) September 11, 2013
Apple insiders predicted we would see an updated Apple TV at the Apple event on Tuesday, but it was an iPhone event only.
Fact: Siegler is yet another very reliable source when it comes to everything Apple. Apple has not released an actual hardware update to the Apple TV since March of 2012, so its certainly due. The fact that the current Apple TV is set to see a software update on September 18th and has not been updated over a year, could pave the way for completely new hardware box come this October.
iPhone snags 40% share of US smartphone market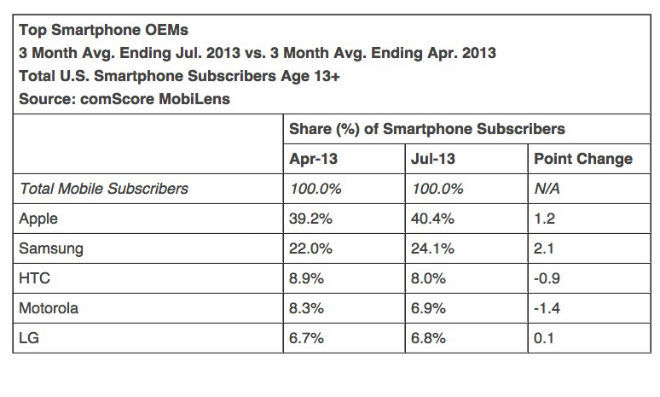 (image courtesy of comScore)

News: In a recent report from comScore MobiLens and Mobile Matrix show Apple with a 40.4 percent share of U.S. smartphone subscribers for the three months ending July 2013. This figure is up 1.2 percent from Apple's share in the three months ending April 2013. With the launch of 2 new iPhones this week, Apple will look to gain even more ground on Samsung and other Android competing vendors heading into the next quarter.
[cf]skyword_tracking_tag[/cf]
Comments
comments