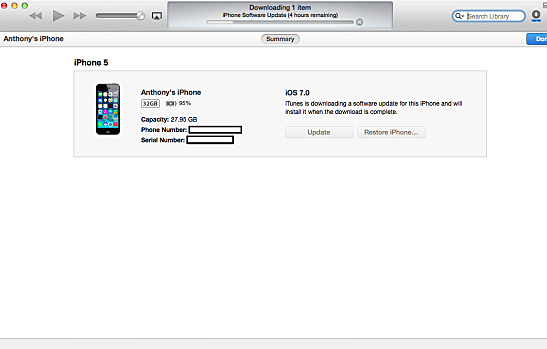 Apple has officially released their all new redesigned mobile operating system iOS 7 today. Apple iOS 7 is available for iTunes download for the iPhone 5, iPhone 4S, iPhone 4, iPad (third and fourth generations), iPad 2, iPad mini and iPod touch 5th generation. This is the seventh major iteration of the mobile operating system, which includes more than 200 new features and a completely revamped colorful user interface. Before upgrading, I highly recommend preparing your iOS device for iOS 7 first.
AirDrop
AirDrop is a built-in app that allows you to easily share contact data, photos, and videos with a quick click of the "Share" button. The application sends data over Wi-Fi and Bluetooth and encrypts transfers to protect content. By stopping the need to share content via email or a third-party cloud service, AirDrop could very well play a role in revolutionizing how users share content across mobile devices.
Activation Lock
Activation Lock is a new security feature found in iOS7 that makes it difficult for someone else to use your phone if it is lost or stolen. This new security feature improves on "Find My iPhone" as it requires your Apple ID and password in order to restore or erase your device. Activation lock is turned on by default as long as you log in with iCloud when activating iOS 7. Check out this complete tutorial on how to use Activation lock if you need help turning it on or off.
Control Center
The new Control Center from Apple takes a page from the Android playbook by adding a full control menu. Apple iOS 7 Control Center can be accessed by swiping up on the screen from just about anywhere, including your lock screen or when using an app. The center lets you adjust brightness and volume, control media playback, and has shortcuts for the clock, calculator, and camera. In addition, you'll be able to toggle Wi-Fi, Bluetooth, Do Not Disturb, Airplane Mode, and your Orientation Lock. As a current Android user, this makes iOS much more enjoyable and easier to navigate.
iTunes Radio
The evolution of iTunes has been remarkable, and iTunes Radio may offer the most personalized experience yet. In addition to Featured Stations and genre-based options, listeners can also build their own stations based on the music they currently listen to and the tracks they download from iTunes. Custom stations can be set up on demand, and listeners can tweak them to play whatever appeals to their tastes; from artists to songs to genres, users are in control of the listening experience. As a bonus, iTunes Radio is plugged into Siri, so users can command the handy personal assistant to play, pause, or browse through their music.
Notification Center Improvements
Notification Center has been a part of the operating system since iOS 5 and serves as a central hub for all your notifications and alerts. From its inception, it was primarily focused on keeping up with missed calls, new email messages, appointments, and other important information. Support for notifications is noticeably beefed up in iOS 7, and a new feature by the name of Today takes center stage. From birthdays to traffic delays, Today serves up an at-a-glance summary of everything the user has on the agenda for the current day. It even offers the outlook for tomorrow as well. The Notification Center itself provides convenient access from any screen, even the Lock screen, with a quick swipe down the display. This can be found in Settings > Notification Center.
[cf]skyword_tracking_tag[/cf]
Comments
comments