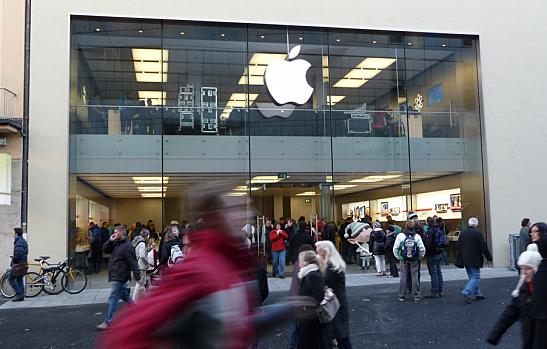 For the second year running, Apple has been crowned "World's Coolest Brand" in the annual CoolBrands survey, which aims to identify the coolest brands in the UK and is carried out by The Centre for Brand Analysis, as reported by the Huffington Post on September 23, 2013. The Cupertino, CA, company topped the charts ahead of 19 other brands voted worthy of inclusion and was the only technology brand to make the top five ahead of the likes of Aston Martin, Rolex, and Nike. The news comes just days after Apple released its latest smartphones, the iPhone 5s and iPhone 5c, which, according to The Next Web, sold over 9 million units during their first weekend on sale.
The chart, which has now been running annually for twelve years, is produced as a result of a vote from 3,000 consumers along with an "Expert Council," a panel of industry experts and celebrities including pop-duo Rizzle Kicks and actress/designer Sadie Frost. The experts were asked to rate each brand on a scale of one to ten, while the 3,000 consumers placed their votes online. According to the official notes, the opinions of the expert panel accounted for 80% of the results, which, as the Huffington Post explains, suggests that each panelist had an influence equaling that of 300 consumer votes. Apple retained their number one spot after beating regular top-three rival Aston Martin, who came second in this years poll.
This year's list illustrated a shift towards luxury brands, with familiar consumer names such as last year's inclusions Haagen-Dazs and Ben & Jerry's dropping out of the top twenty altogether. Speaking to The Independent, CoolBrands Council Chairmain Stephen Cheliotis said, "Whether it's due to strong heritage, product quality, or quite simply a correlation with the reviving British economy, this year's CoolBrands list shows an increasing number of luxury brands are back at the top of the cool list, reversing last year's trend of affordable everyday luxuries dominating."
Despite not making the top five, a number of popular tech companies continued to dominate the top ten, highlighting the continued popularity of consumer technology and social media platforms. YouTube, Google (last year's number two), and Twitter took sixth, seventh, and eighth places respectively. Skype, who placed eighteenth in last year's chart, failed to make this year's top twenty at all, while popular music-streaming service Spotify was the newest tech entry at number 20. Fashion brands such as Ray-Ban (10), Chanel (13), and Prada (14) made up the majority of the remaining names, with iconic British music festival Glastonbury gaining two places to number five.
Image courtesy of Flickr
[cf]skyword_tracking_tag[/cf]
Comments
comments