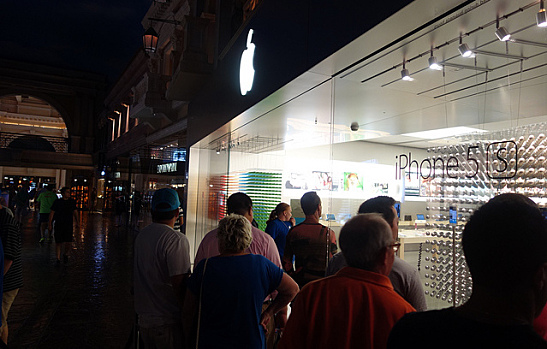 Apple announced that it sold over 9 million iPhones during its launch weekend and has reportedly sold out of its initial supply of the iPhone 5s.
The iPhone 5s and iPhone 5c, which just launched Friday, September 20, have seen a record-breaking number of sales. Apple also said that iOS 7, also released last week, is running on more than 200 million devices.
Apparently, there haven't been enough iPhones to meet the incredible demand of the public. Tim Cook, Apple's CEO, said in the release, "While we've sold out of our initial supply of iPhone 5s, stores continue to receive new iPhone shipments regularly." He added that Apple is attempting to work hard and "build enough new iPhones for everyone."
Apple has blown the projections out of the water. According to MarketWatch, analysts estimated Apple would receive around 6 million in sales as just 5 million units of the iPhone 5 were sold during its opening weekend last year. Apple far surpassed this number and has reported that its results for the September quarter will come in higher than its pre-issued forecast.
This was the first time Apple launched two iPhone models at the same time, but the company did not state how many units of each version sold. It appears that more units of the iPhone 5s sold (in comparison to the iPhone 5c) because it sold out, but that is only speculation. Furthermore, Apple also did not specify sales by geography. This was the first time iPhones launched in China, which may have given a large boost to the numbers. The launch weekend also included the US, France, Germany, Australia, Hong Kong, Japan, and more.
According to MarketWatch, Apple has announced that its revenue for the fourth quarter will come at the high end of its estimated $34 billion to $37 billion. Additionally, Apple stock was up 3.8% at $485.43 a share by midday Monday.
Though critics had been harsh on the iPhone 5s and iPhone 5c before the release, it seems that Apple has proven them wrong. Reviewers (such as this review from PocketNow) criticized the specs of the iPhone 5s and the color scheme of the lower-end iPhone 5c, but the number of sales speaks for itself. As the phones flew off the shelves opening weekend, it seemed that Apple returned to the company it used to be and is back on track as one of the most innovative tech companies in the world.
Image courtesy of Flickr
[cf]skyword_tracking_tag[/cf]
Comments
comments