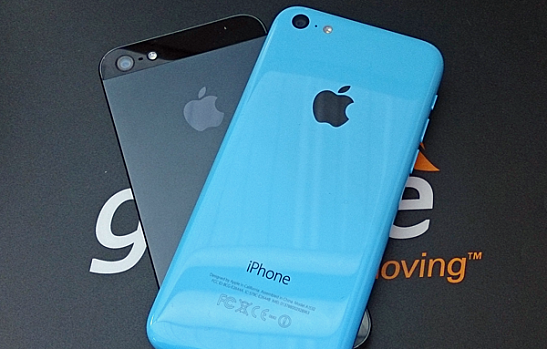 In this edition of the report, we will cover all the big tech news from Apple, Blackberry, and Google. Plus Sprint has made an annoucement that will benefit its customers.
Apple News:
iPhone 5S and iPhone 5C Sales Top Nine Million Units Sold

Apple released its opening weekend sales for the new iPhone 5s and iPhone 5c, and the numbers look staggering. Apple sold a record-breaking nine million units in the first weekend. Apple CEO Tim Cook states, "This is our best iPhone launch yet―more than nine million new iPhones sold―a record for first weekend sales." To put this in to context, last year's iPhone 5 had just over 5 million units sold on its opening weekend. Along with the impressive sales figures, Apple has also said it has seen over nine million unique listeners use its iTunes Radio service. Apple will look to pump up the production of iPhone 5S units (especially the gold iPhone) as they head into the holiday quarter.

iOS 7 Arrives: The Top feature You Need To Know
Apple released their all-new, redesigned mobile operating system iOS 7 last Wednesday. Apple iOS 7 is available for iTunes download for the iPhone 5, iPhone 4S, iPhone 4, iPad (third and fourth generations), iPad 2, iPad Mini and iPod Touch 5th generation. This is the seventh major iteration of the mobile operating system, which includes more than 200 new features and a completely revamped colorful user interface. New features such as AirDrop, Activation Lock, and Control Center make your iOS device not only faster, but safer. Check out our iOS 7 first look for a complete list of all the essential features available. Looking to upgrade? Check out my "How To Prepare For iOS 7 Tutorial" first, so you don't lose any precious data.
For a complete roundup of the Apple tech news from last week check out my weekly Apple rumors post.
BlackBerry News:
BlackBerry 'Agrees' To $4.7B Sale To Fairfax
BlackBerry has just announced that it has signed a letter of intent agreement for a sale of the company valued at $4.7 billion to a consortium led by Fairfax Financial. The firm who is already the leading shareholder in the company is set to close the deal by November 4th of this year. At the endo of the day this deal would see BlackBerry go private, with shareholders each receiving $9 per share in cash. The once former mobile giant holds just 2.9% of the market, according to research firm IDC, compared with 20% in Autumn 2009 when it was the dominant smartphone for business users around the globe.
BlackBerry Launch 5-inch Z30 Smartphone
Blackberry is still trying to rebound and has introduced phablet to market – the all new Z30 smartphone. The struggling Canadian phone maker will try to capture fans of the "phablet" (half phone / half tablet) with their first extra-large touchscreen device. The Z30 will sport a 1.7 GHz processor dual-core Qualcomm Snapdragon S4 with quad-core graphics, 2GB of RAM, 16GB of internal storage and stereo speakers. The Z30 will feature an 8MP rear-facing camera, 2MP front-facing camera, microHDMI output, dual-band 802.11n Wi-Fi, Bluetooth 4.0LE, 4G LTE radio, NFC support, and a 2880 mAh battery which claims 25 hours of use. Look for the device to launch at retailers beginning next week in the U.K. and Middle East. The rest of the world should expect a "pre-holiday season" release date. No word on release dates here in the US and Canada.

BlackBerry to lay off 40% of its staff
The one time pioneer of the mobile phone industry will lay off 4,500 employees, or 40 percent of its global workforce. Blackberry reported a $1 billion second-quarter loss in a surprise early release of earnings results. BlackBerry lost $64 million in its fiscal first quarter this year, and earlier said that it was exploring "strategic" alternatives for the business, including selling itself. This big tech news came days after the announcement of their all new Z30 smartphone. Who do you think should buy the Ottawa based smartphone maker?
Android News:
Google Nexus 5 leaked, Specs Confirmed
Nexus lovers will soon have a new phone coming as confirmed specs and images of the new Nexus 5 hit the web. The next version of the Nexus will indeed be made by LG as a follow up to the successful LG Nexus 4 from last year. This years version of the phone will sport a Snapdragon 800 chipset with four 2.3GHz Krait 400 cores, making it one of the fastest phone on the market. The screen will have a 1794 x 1080 (read: big) display and the device will run Android 4.4 KitKat. The new Nexus 5 is rumored to launch sometime in late October via the Google Play Store.
Carrier News:
Sprint Launch Upgrade Program
Sprint has finally joined in the race of carrier upgrade programs with their new "One Up" plan. The Sprint One Up program will go head-to-head against T-Mobile Jump, AT&T Next and Verizon's Edge early upgrade programs that launched in July. Sprint's upgrade program will give customers the ability to purchase new devices every 12 months by choosing to enter a financing agreement for a phone over 24 months. The program will be available to existing customers who have been on contract for at least a year. Current customers still on contract must trade in their existing phones, unless they are already up for a discounted upgrade. The program conveniently launched on Septmeber 20th last week, which just happened to be the same day as the iPhone 5S & 5C launch.
[cf]skyword_tracking_tag[/cf]
Comments
comments