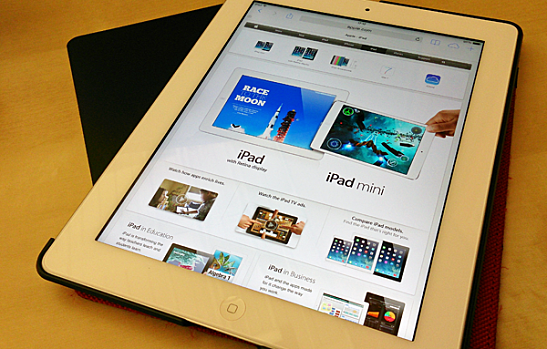 Since Apple launched the new iPhones last week, we can shift our focus to the iPad. Apple is expected to release an update for both the full sized iPad and iPad mini. Both tablets were last updated back in October of 2012, which makes next month prime tablet time for Apple. So what can we expect on the next iPad. Check out our latest iPad rumors roundup below.
iPad to sport sapphire home button
Apple is expected to bring over its new sapphire glass home key found on the iPhone 5S to the new iPad. Apple originally adopted sapphire to make covers for the iPhone 5 camera, but could soon move that over to the entire screen. Sapphire crystal glass is often found on high-end luxury watches as it is extremely scratch resistant. According to Digitimes, Apple in March 2013 filed with the US Patent and Trademark Office an application concerning high-temperature lamination of sapphire layers. I expect Apple to implement Touch ID on the next iPad 5, but not on the iPad mini 2.

New iPads set for October 15th event?
The mystery surrounding the arrival of Apple products has always been one of the biggest rumors for analyst and consumers alike. Recent iPad rumors out of France have pinpointed the launch date for the upcoming Apple tablets. French website MacGeneration claims that Apple will hold a "special event" on October 15. The report stated that new iPad will be unveiled on the said date along with other Apple products like iMacs and MacOS Mavericks. The French site does have a mix track record when it comes to Apple events, so take this rumor with a grain of salt. I think we will see new iPad one week later than the 15th, with the new models either coming on Tuesday or Wednesday (22nd or 23rd).

iPad 5 & iPad Mini 2 features & price
If you want to now what features will be on the new iPad, look no further than the new iPhones. The iPhone event usually signifies a precursor of things to come for the iPad event. Just like the iPhone 5S and 5C, we should see both a high end model and lower end model (iPhone 5 and iPad Mini 2). I expect the iPad 5 to utilize all the new hardware specs found on the flagship iPhone 5S. This would make the iPad 5 one powerful device. When it comes to the iPad mini, Apple will most likely use the processor from the current iPhone 5C (A6 chip) and possibly a retina display. When it comes to price I don't think we will see any surprises from Apple. The iPad 5 will replace the iPad 4, and the Mini 2 will replace the current mini. Check out my expected spec and price comparison chart below.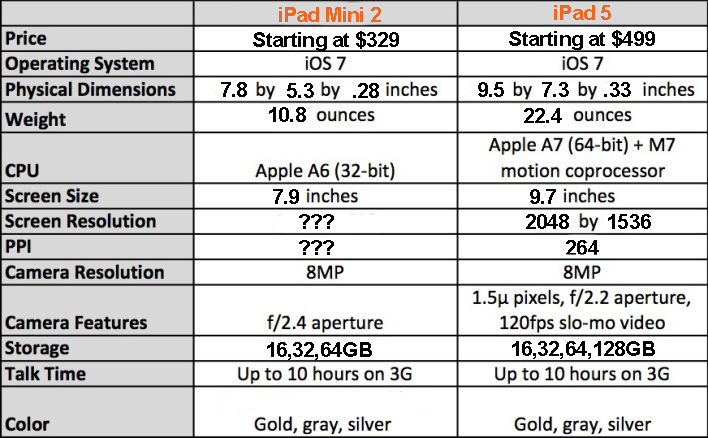 [cf]skyword_tracking_tag[/cf]
Comments
comments