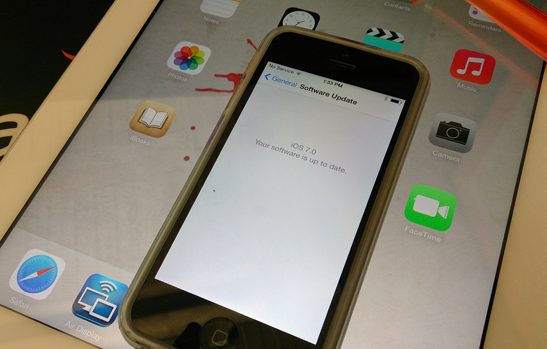 In this week's Apple rumors report we shed more details on the expected arrival date of the upcoming iPad 5 and iPad Mini 2. This week also the official release of iOS 7 which is now available for most iPhones, iPads, and 5th generation iPod touch. Are you looking to grab the iPhone 5S Tomorrow? Well you better get in line! Recent reports point to a very low inventory quantity across many US carrier locations.
Top Apple Rumors and News This Week
iOS 7 is here, top features detailed
New iPads Coming October 15th?
Google Wallet lands on the iPhone
US prosecutors praise Activation Lock


iPhone 5s and iPhone 5c sales hit 9 million
Apple iOS 7 Update Now Available
Apple iOS 7 is available for iTunes download for the iPhone 5, iPhone 4S, iPhone 4, iPad (third and fourth generations), iPad 2, iPad mini and iPod touch 5th generation. This is the seventh major iteration of the mobile operating system, which includes more than 200 new features and a completely revamped colorful user interface. Before upgrading, I highly recommend preparing your iOS device for iOS 7 first. Adopters of the new operating system will enjoy new iOS 7 features such as AirDrop, Control Center, iTunes radio and Notification Center enhancements.
New iPads Arriving on October 15th
Rumor: French-based publication MacGeneration claims that Apple is holding a media event on 15 October to talk new products. If we go by the same pattern as last year, this would translate to new iPad coming during the event. In 2012 Apple released 2 new iPad models just one month after unveiling the iPhone 5.

Fiction:MacGeneration has a spotty track record when it comes to Apple rumors, and has been completely off in the past. I think we could see the launch of 2 new iPads one week later either on October 22nd or 23rd. This would have the new tablets hitting the street on Friday November 1st.

NFC Free Google Wallet Come to the iPhone
Google have officially launched an NFC (Near Field Communication) free version of their Wallet application for iOS devices. Google Wallet will allow users to send money via email, store credit and debit cards, keep track of loyalty programs, and more. Apple has never released an iPhone or any mobile device with NFC technology, and is the main reason why the app never landed on iPhones in the past. Google Wallet comes complete with a PIN for personal security and 24/7 fraud monitoring. Wallet will look take on Apple's Passbook as the leading app for mobile payments on iOS devices.
US prosecutors Praise iOS 7 Activation Lock

One of the newest and most talked about features of iOS 7 is getting praise from many US prosecutors. Apple's new Activation Lock security feature was implemented to prevent smartphone theft and the sale of stolen phones. Activation Lock works with an Apple ID and Find My iPhone to ensure that a device cannot be erased or reactivated without an Apple ID password. San Francisco DA George Gascón and New York Attorney General Eric T. Schneiderman issued a joint statement yesterday praising Apple for taking "an important first step towards ending the global epidemic of smartphone theft."

iPhone 5S and iPhone 5C Sales Top Nine Million Units Sold

Apple has unveiled its opening weekend sales for the new iPhone 5s and iPhone 5c. The numbers look staggering as Apple have topped a record breaking nine million units. Apple CEO Tim Cook states, "This is our best iPhone launch yet―more than nine million new iPhones sold―a record for first weekend sales." To put this in to context, last years iPhone 5 had just over 5 million units sold on its opening weekend. Along with the impressive sales figures Apple has also said that they have seen over nine million unique listeners for its iTunes Radio service. Apple will look to pump up the production of iPhone 5S units (especially the gold model) as they head into the holiday quarter.

[cf]skyword_tracking_tag[/cf]
Comments
comments