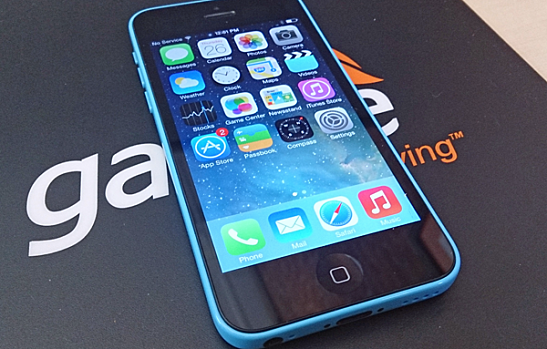 The long awaited low-cost iPhone has finally arrived as the Cupertino giant released two iPhones together for the first time. With a hefty $549 contract-free price tag, analysts and investors were discouraged as Apple would have difficulty penetrating emerging markets with the iPhone 5C. As I was reviewing the iPhone 5C I realized it's not about market share for Apple, it's all about quality. At the end of the day, the iPhone 5C (which comes in blue, green, pink, yellow, or white) will have first-time smartphone owners and young adopters, alike, hooked into the wonderful world of Apple for only $99 on a 2-year contract.
Specs:
4-inch Retina Display (1136×640) @326ppi
3G/4G LTE
WiFi, Bluetooth, GPS
8MP camera, f/2.4 aperture, LED flash
1080p Video recording, 30fps
1.2MP front facing FaceTime camera
iOS 7 Operating System
10 HRS Talk Time, 250 HRS Standby
5 Colors – Blue, Pink, Green, Yellow, White
16GB, 32GB
Hardware and Design:
Build – Although the iPhone 5C is made from polycarbonate plastic, it honestly feels better than any other plastic phone on the market. Apple has built an extremely solid device with the iPhone 5C, and the sturdy plastic is a warm welcome if you are coming from an older glass iPhone 4 or 4S. It has absolutely zero bends or creeks in the plastic, and feels extremely durable in the hand. The one and only downside of the plastic is that it does tend to get slippery if your hands are greasy or sweaty.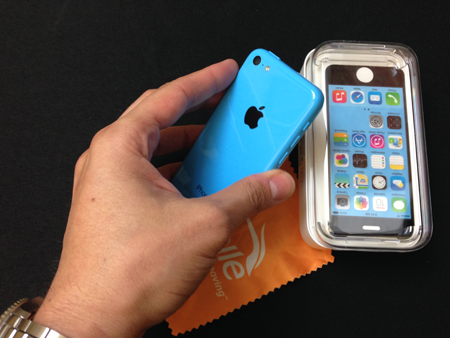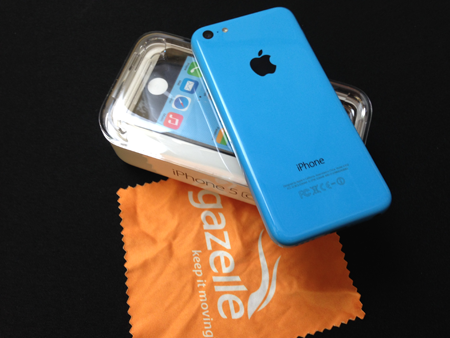 Screen – If it's not broken, then why fix it? When it comes to the screen, Apple decided not change a thing from last year's iPhone 5. The beautiful 4-inch Retina display along with iOS 7 bring images and menus to life. Apps, movies and games still look great on the display, while remaining both user and pocket friendly at 4-inches.
Camera – The 8MP iSight camera on the iPhone 5C will produce similar shots as last year's iPhone 5, which is a nice improvement for iPhone 4 & 4S upgraders. The camera takes 3264×2448 pixel resolution photos, HDR shots, plus square pictures and high-res panoramas. Using the camera throughout my iPhone 5C review was an absolute breeze. Images were captured quickly, and colors were very accurate almost every time I used it. The truth is that iOS 7 brings a majority of the improvements over to the new hardware, and is a great improvement on every iOS 7 device across the board.
Battery – The charger was one thing I was never really searching for throughout my iPhone 5C review. Battery life was fantastic on the device and I got a full day of moderate use (Facebook, email, twitter, YouTube) without needing to recharge until I went to bed. The non-removable Li-Po 1510 mAh battery is said to offer over 250 hours of standby time, with 10 hours of talk time. A simple nightly charge should take the average user through most of the day without having to power up every few hours (like on some Android devices…cough cough HTC One).
Software & Features:
iOS 7 –The new iOS 7 operating system from Apple brings a much needed complete overhaul to the table for Apple in terms of looks. With a stunning and eye catching flat design, the color palette matches up perfectly with the new plastic housings on the iPhone 5C. Not only does it look good but it also makes each and every iOS device perform much faster and efficient in almost every aspect of use. iOS 7 brings all new critical features such as Control Center, Activation Lock, Air Drop and an improved Notification Center.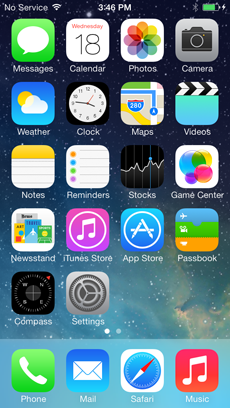 Buttons and Controls – iPhones have always been about simplicity and ease-of-use when it comes to controls and buttons. The volume buttons on the iPhone 5C get a slight change from the iPhone 5 while most other controls stay unchanged. The circular volume controls on the iPhone 5 are now longer and are actually easier to use. One thing to note is the change in buttons means that iPhone 5/5S cases will not work with the 5C.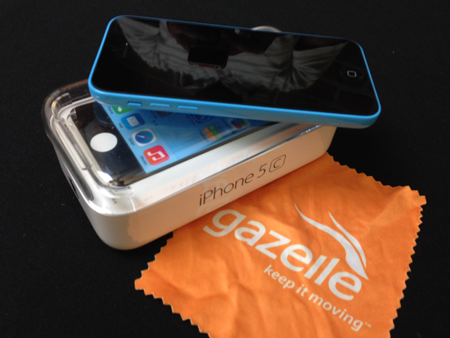 Price and Availability:
The iPhone 5C starts as $99 on a 2-year contract for the 16GB model. The 32GB model will cost you $199 with a 2-year contract. If you just want to grab the phone contract free, it will run you $549 and $649 respectively. This high price tag makes the new "low-cost" iPhone 5C expensive.
The iPhone 5C is available at all four major US carriers (AT&T, Sprint, Verizon and T-Mobile), as well as number of online retailers. The easiest way to order is directly through Apple's website, or through their Apple Store App.
Conclusion:
The iPhone 5C is a refreshing welcome to the Apple lineup of phones, despite being made of "cheap" plastic. Apple essentially has taken last year's iPhone 5, and wrapped in bright colorful plastic, while marketing it to the masses. Between the iPhone 5S and iPhone 5C Apple has already claimed to have sold 9 million units on opening weekend, with analysts claiming nearly a 50/50 split of 5S and 5C units. The iPhone 5C at $99 on a 2-year contract represent Apple's attempt to lure in new first-time smartphone owners, but also kids who may already be in the Apple ecosystem via the iPad or iPod Touch. Many joked the "C" stands for cheap, but for me it simply stands for clever. Well done Apple.
Apple iPhone 5C Review Video:
[cf]skyword_tracking_tag[/cf]
Comments
comments