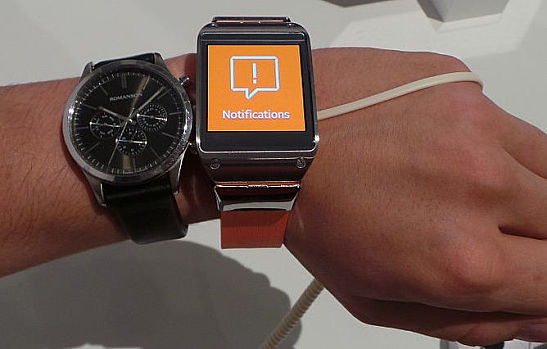 Samsung released the Samsung Galaxy Gear smartwatch in over 140 countries last week, but the U.S. won't see it until early this month. Samsung is sending a clear signal to Apple that the competition between the companies will continue. Samsung and Apple have a history of heated competition in the smartphone space, the tablet space, and even the courthouse. Now add smartwatches to the list. But what really remains to be seen is whether there is a smartwatch market at all.
Samsung Galaxy Gear
According to The Verge, the Samsung Galaxy Gear will use a Bluetooth connection through a Samsung smartphone to drive its connectivity. The device will initially be compatible with the Galaxy Note 3 and the Galaxy Note 10.1 2014 edition, with later updates to make it compatible with the Galaxy S4, S3, and Note 2. The expectation is that, eventually, any device capable of running Android 4.3 will be compatible.
The smartwatch itself includes a host of impressive hardware: a 1.9-megapixel camera, a 1.63-inch Super AMOLED screen, 4GB of storage, an 800-MHz Exynos processor, a speaker, and two microphones. Above and beyond keeping time, the smartwatch can let you make and receive phone calls, shoot 720p video, manage some aspects of your smartphone, and run its own applications. Samsung has more than 70 apps to choose from, and that number is expected to grow significantly.
The Smartwatch Market
The idea of a watch that's Internet connected is not a new one. Microsoft, Casio and Samsung have previously released these devices, though they weren't as sophisticated as the new generation. With the long-rumored Apple smartwatch (or iWatch, as the industry has dubbed it) still not announced, other companies are wise to get the jump on Apple to avoid a repeat of the iPad situation, in which Apple took a hold of the tablet market before other companies even realized there was one.
Just how wide open the smartwatch market is remains to be seen. The crowdfunded Pebble smartwatch is performing well and recently made a deal with AT&T to be available in stores for $150. Production costs are lower on watches than smartphones, so the lower price could see a niche form.
As International Business Times points out, smartwatch makers will be in competition not only with each other but also with the manufacturers of traditional watches, who have centuries of gear history behind them. If these devices are going to take off, they'll have to be a lot more than just an extension of a smartphone or tablet sitting a few feet away.
The Samsung Galaxy Gear will go on sale in October, just in time for the busy Christmas shopping season. The price will be set at $299, which seems high, but will surely drop when other devices hit the market. It remains to be seen if smartwatches will just be a fad or if tech lovers will make it a must-have addition to their daily lives.
Image courtesy of Wikipedia.
[cf]skyword_tracking_tag[/cf]
Comments
comments