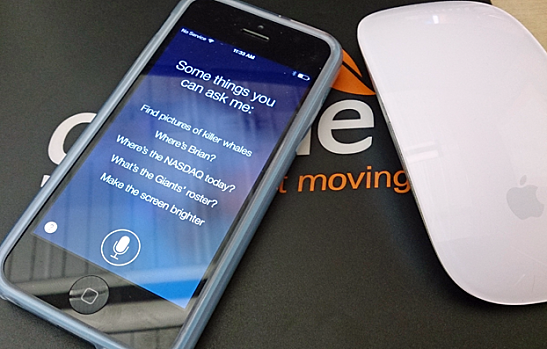 Apple News & Rumors:
Siri Has A Face
The voice of Siri has been an iconic part of the iPhone experience since the digital assistant feature was introduced in 2011. Atlanta-based actress Susan Bennett recently came forward and revealed in an interview with CNN that she is the voice of Siri, but didn't know she was the voice of the personal assistant until a friend pointed out the similarities between Bennett's voice and that of the personal assistant two years ago. Apple has not confirmed that Bennett's voice provides the basis for the voice of Siri that we know today, but CNN reports that an audio-forensics expert with 30 years of experience can confirm Bennett's voice is indeed the basis of Siri.
iPad Mini 2 With Retina Display Delayed

iPad rumors are getting seemingly more accurate as we near suspected launch date of the new iPads. The latest rumor, according to Rhoda Alexander, director of Tablet and Monitor Research at IHS iSuppli, is the next iPad mini will not have a Retina display. Speaking with CNET, Rhoda explained that "The Retina Mini looks less certain for that time. Manufacturing volumes on that would match better with a Q114 [first quarter 2014] launch". This contradicts KGI Securities analyst Ming-Chi Kuo who said we will see a Retina iPad mini 2 in 2013. My best guess is we'll see an iPad mini 2 with Retina display in October. However, I do think the supply will be limited, especially if they release a gold model.
For all the latest news in the world of Apple, check out our Apple rumors roundup.

Android News:
Rumor: Nexus 5 to launch on October 30
Recent rumors have been floating around that Google's latest Nexus the Nexus 5 (made by LG) will go on sale on October 30th. According to AndroidSaS, the Nexus 5 will match the iPhone 5s in terms of performance enhancements, similar to the new iPhone's 64-bit A7 processor. The new Nexus will also have 4GB of RAM, not 3GB as rumored previously. What makes this even more exciting, is that the device could cost only half as much as an iPhone 5S. This would have the device selling for around $325 with no contract.

Dell Unveils New Venue Tablets
Dell strikes back in the tablet wars with their new Venue tablets. The Venue 8 Pro features an 8-inch, 1280×800 IPS display, a 5MP rear camera, a 1.2MP front camera, 2GB of DDR3/1600 memory, and either 32GB or 64GB of flash storage, depending on the model, with the option to add another 64GB of storage though a MicroSD slot. The Venue 11 Pro turns out to be much more than just the 8-inch tablet with a slightly larger screen. This tablet is likely targeting the high-end and business markets with features enterprise users will love, such as wireless display technology for remote HD viewing and presentations and three docking options, one of which turns the tablet into an ultrabook. The Venue 8 Pro will go on sale in mid-October 2013, starting at $299. The Venue 11 Pro will go on sale in early November in the UK, with US. The 11-inch model will start at $499, but pricing information for the high-end models and the docking accessories has not yet been announced.

Market Share:
Apple Gains on Android in the US
Apple was the top smartphone manufacturer in the United States, with a whopping 40.7 percent of smartphone market share, according to data in the latest ComScore report, which measures smartphone usage during the quarter and runs from June-August, 2013. This is a 1.5 point increase from the 39.2 percent of market share that Apple held in May, when the last comScore report was released. As for operating systems, Android still ranks as the top smartphone platform with 51.6 percent of smartphone market share, down 0.8 percentage points from the quarter that ended in May. Apple's iOS made gains of 1.5 percentage points and still wound up in second place, with 40.7 percent market share. Both of these operating systems together represent a 92.3 percent market share, a new high for their combined metrics.
Carrier News:
T-Mobile offers $0 down on Note 3, LG G2 and Galaxy S4
T-Mobile announced their new zero-dollar-down offers for a variety of high-end Android devices like the Samsung Galaxy Note 3, Galaxy S4, Galaxy Note II, and the LG G2. With T-Mobile's 'Uncarrier' plans, customers will pay for the devices in an installment plan that's added to the bill every month. This does ultimately translate to your monthly bill being higher than if you were to pay a chunk of the down payment. An option like this however could be more attractive to a large majority of prospective new customers looking to grab an ultra high-end Android device for nothing upfront. For all those looking to make the jump head over to T-Mobile, as these deals won't last forever.
(image courtesy of Geek)
[cf]skyword_tracking_tag[/cf]
Comments
comments