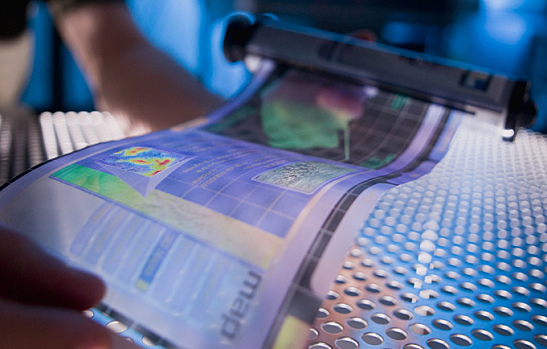 Just hours after extensive rumors began to circulate, Samsung officially announced its new Galaxy Round smartphone. Sporting similar dimensions to the Galaxy Note 3, the Round presents a unique distinguishing featured: a curved, 1080p AMOLED display. Samsung issued a press release announcing the new product on Wednesday, October 9, 2013. The handset will launch exclusively on SK Telecom in South Korea for 1,089,000 won (currently around $1,013).  
In terms of specifications, the handset sits alongside the Galaxy S4 and aforementioned Note 3 at the top of the performance ladder, with an impressive array of features. At 7.99 mm thick and weighing in at 154 grams, it is marginally thicker than the S4 and slightly heavier, but packs a larger 2800mAh battery, reports The Verge.  Power is provided by a 2.3Ghz quad-core processor and 3GB of RAM, and the device will launch running Android 4.3 Jelly Bean. Around back is a 13MP camera, with a 2MP front-facing camera for video chat. The rear of the device is also finished in a leather look fabric, most likely in an effort to protect the handset (and the table top) from scratches. 
Perhaps most interesting, though, is the addition of a curved display, which is the first of its kind to appear as part of a smartphone assembly. Flexible AMOLED displays are not a new concept. Samsung first demonstrated their own experiments with curved screens a number of years ago, as reported by Engadget in November 2010. Rival Korean manufacturer LG also recently announced plans to bring flexible display technology to smartphones in 2014, states the BBC. However, the Galaxy Round now offers consumers a chance to try such technology first hand. Interestingly, details on the functionality and exact purpose of the curved display remain somewhat scant, with TechCrunch suggesting it is to aid single-hand operation for handsets with larger displays, which are typically too large to operate comfortably with one hand. The same article also notes the option to "roll" the phone to display information such as battery life and missed calls, presumably by using an accelerometer in conjunction with the curved display. 
The Samsung Galaxy Round will launch in South Korea on October 10, 2013. Plans for an international release are as yet unknown.
What do you think about the Galaxy Round and its curved display — is it a groundbreaking innovation in handset design, or questionable gimmick?
Image courtesy of Flickr
[cf]skyword_tracking_tag[/cf]
Comments
comments