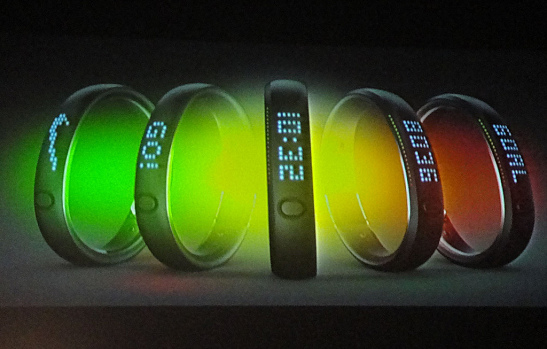 Sportswear giant Nike has just announced a new Nike Fuelband, called the SE, which adds a number of new features along with a minor aesthetic update to the popular lifestyle-tracking band. As reported by The Verge on October 15, 2013, the new Fuelband was unveiled at an event held by the sportswear giant in New York City.
New Look, New Features
The Fuelband SE is the next generation of Nike's popular Fuelband lifestyle-tracking wristband. Designed to help users monitor their daily activity level, the wristband monitors movement and converts detected motion into "Fuel," a proprietary unit of measurement that correlates to the amount of physical exertion during daily use. The band also sports a progressive meter which fills up as exercise takes place. 
For the first time since its launch in early 2012, the updated Fuelband also adds some additional functionality, refined operation, and a minor cosmetic refresh. The new Nike Fuelband SE, which TechCrunch notes is "sealed and waterproofed, making it usable in the shower," will ship with a choice of three accent colors: pink, yellow, and red. Internally, the SE is packing the efficient Bluetooth 4.0 standard to improve wireless connectivity and increase battery life. According to the article on TechCrunch, the revised Fuelband will offer better distinction of different types of activity, making it more difficult to "cheat" or inadvertently add inaccurate movement tracking data. There is also quick access to the clock function provided by double tapping the main button.
Sleep Tracking 
Another notable addition to the Fuelband SE is the ability to monitor sleep. Missing from previous versions, this functionality brings the Fuelband in line with rival products from the likes of Jawbone and their "Up" wristband, and FitBit, which recently announced the "Force" lifestyle tracking band. Sleep monitoring forms an important part of the lifestyle tracking ecosystem and allows users to examine sleep patterns measured by the amount of movement or activity while sleeping. 
Nike has also updated the companion app for the Fuelband SE, which now offers a more detailed insight into performance metrics allowing more accurate monitoring of individual activities. Unfortunately there is still no sign of an Android or Windows Phone app, although iOS users can access the Fuelband web app.  
The Fuelband SE and updated companion app will be available on November 6, priced at $149. Do you own a lifestyle tracking band? Will you be picking up the Fuelband SE when it launches?
Image courtesy of Flickr
[cf]skyword_tracking_tag[/cf]
Comments
comments