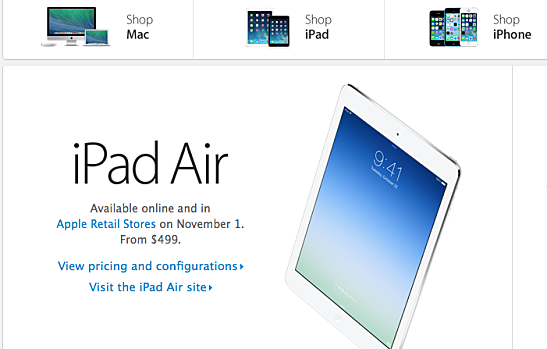 Apple has just unveiled a plethora of new shiny gadgets at their iPad media event today in San Francisco. From new iPad to MacBooks, Apple pulled out all the stops today, well almost all the stops. Just in case you missed this stunning iPad event, I have compiled a complete round-up for all you Apple followers here on The Horn. So sit back and enjoy all the details from today's iPad event below.
iOS 7, iTunes Radio & Sales
Apple CEO Tim Cook noted Apple launched the iPhone 5C and iPhone 5S last month and sold 9 million units in its launch weekend. Cook went on to state that more than 200 million devices were running iOS 7 five days after launch. As of today, Cook says 64% of Apple devices are running iOS 7. "It blows away the other guys," he says.  Cook added that 20 million listeners used iTunes Radio, listening to more than 1 billion songs in the U.S. in the last month. Finally  the Apple CEO said the App store now has more than 1 million apps with more than 60 billion downloads to date.
OS X Mavericks
Apple's latest operating system, which was sneaked at WWDC, is now official. Along with new features such as improved battery life, compressed memory and enhanced integrated graphics, Maverick will be a FREE upgrade starting today to all owners of 2007 devices and newer. Mavericks also get some new software, totally free of charge.
iWork
iLife
iMovie
iPhoto
iBooks
Maps
New 13- and 15-inch Retina MacBook Pro
The MacBook Pro 13-inch will sport a Haswell dual-core Intel processor with Iris graphics, 90% faster than last gen and an all new 9hr battery life. The new MacBook Pro weighs only 3.46lb and measures only .71 in thin. The previous generation 13-inch MacBook Pro started at $1,499, but Apple's knocking the price down $200 to $1,299.
The MacBook Pro Retina 15-inch has Thunderbolt 2 along with a 2Ghz quad-core i7, 8GB RAM, 256GB SSD. Both the 13″ and 15″ models get Intel Haswell chips, which give you up to 9 hours of battery life. The 15-inch model now costs only $1999, down from $2,199.
Mac Pro
Apple's new power packed desktop the Mac Pro, represents the most powerful computer that Apple has ever built. According to Apple SVP Phil Schiller, it can power three 4K displays: "There's never been a system that can do what the Mac Pro can do." How very Apple of the Pro: If you move the device, it can sense that and it illuminates the ports in the back so you can easily figure out where to plug things. Inside the slick black housing, Apple is offering storage options of up to 1TB of flash storage, four USB 3.0 ports, six Thunderbolt 2 ports, Bluetooth 4.0 and one HDMI v 1.4 port. The new Mac Pro will start at $2999 and arrive later in December.
iPad Air (5th-generation model)
The iPad 5 officially gets a name change as Apple unveil the all new iPad Air. The new tablet is 20% thinner than the iPad 4 and weighs just 1 pound. The iPad Air will sport  a 9.7-inch Retina display and will come in two color options of space-gray/black or silver/white. It also has an A7 chip, 5-megapixel iSight camera and a 10-hour battery life. The iPad Air starts at the same $499 for 16GB and 4G LTE version starts at $629. Cook then threw a curveball as he announced that the iPad 2 will stay on the market and for only $399. The new iPad Air ships Nov. 1, in almost every country including China.
iPad Mini 2
It looks like we will indeed get a Retina Display for the next generation iPad mini. The new tablet keeps the same form factor with a 7.9-inch display and 2048×1536 pixels. The new iPad mini is also getting the A7 chip and 10-hour battery. Apple also announced that the original iPad Mini stays in the line at $299 ($30 off the original price). The new iPad mini will ship later in November and starts at $399, while the cellular LTE version will cost $529.
image courtesy of Apple
[cf]skyword_tracking_tag[/cf]
Comments
comments