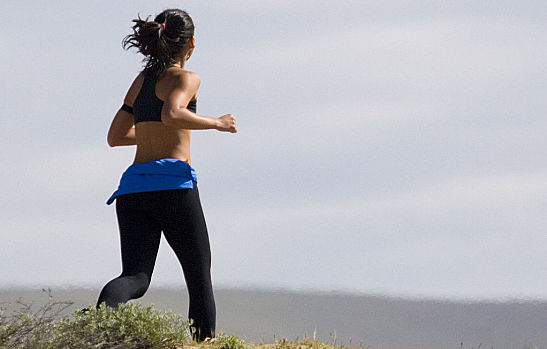 Worried about packing on the pounds during Thanksgiving dinner or at Christmas parties? Here are the four best fitness tracker bracelets currently (or soon to be) available on the market that can help you. Don't let yourself fall into the holiday haze trap between Thanksgiving and Christmas. Get one of these fitness tracker bracelets to help you keep track of your activity and motivate you to stay in shape! At the very least, these high-tech fitness trackers will track your activity to show you how sedentary you are during the colder, winter months (which is a very scary thought). Below is a round-up of the best gadgets out there.
FitBit Force
Price: $130
Features: Tracks sleep, steps, and calories; watch capability; compatibility with newer iPhone and select Android phones; mini OLED screen; water-resistant; iOS and Android apps; Bluetooth capability; coming soon "smart call notifications"
Look: Lightweight and comfortable
Cons: only select Android devices are compatible
Jawbone Up
Price: $130
Features: great mobile app on iPhone and some Android devices; measures overall movement; tracks sleep patterns; motivational tools on the app; measures mood; social component that links you to other Up users
Look: Comfortable rubber bracelet minimalist look;
Cons: no screen; no Bluetooth capability
Withings Plus
Price:$100
Features: pedometer, heart rate monitor, and sleep tracker; long battery life; small and lightweight; Bluetooth capability; and Android and iOS compatibility
Look: It is basically just a little piece of black plastic that you can put into a watch-like case.
Cons: not water-resistant; hard to see in the direct sunlight
Nike FuelBand SE
Price:$149
Features: Bluetooth capability; resistance to water (you can shower with it on!); measures sleep; Fuel activity point system; new and improved app for iOS
Look: colorful interior in Pink, Volt, Black, and Crimson; black plastic lightweight exterior; comes in 3 sizes
Cons: only iOS compatibility
After looking at the features and cons of each high-tech fitness tracker bracelet, you need to decide which features you can't live without. Some important features are compatibility with iOS or Andoird devices as well as Bluetooth capability. Make sure you check these out before you fall in love with a high-tech bracelet. Personally, the new FitBit Force looks like a great option for someone like me that needs as much motivation as I can get. Good luck on your path to staying healthy and fit as the weather gets colder! And just remember, if you buy a fitness tracker bracelet, that is the first step to your healthy new life.
Image courtesy of Wikimedia Commons
[cf]skyword_tracking_tag[/cf]
Comments
comments