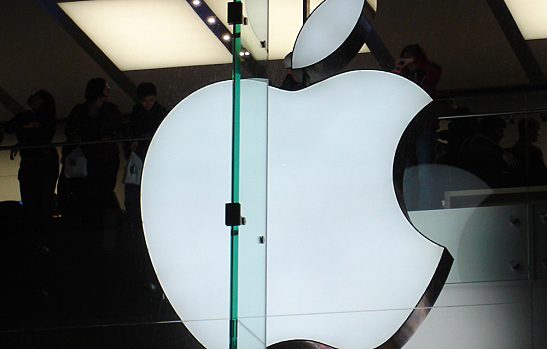 The next iPhone may feature a curved display with enhanced touch sensors. According to Bloomberg, an unnamed person "familiar with the plans" suggests a launch window of Q3 2014. The phone will come in two versions, not unlike the recent launch of the 5S and 5C.
Curved Glass
According to the source, the new iPhones will feature a 4.7-inch and/or a 5.5-inch display which curves downwards at the edges. Recent generations of iPhone have been criticized for maintaining a 4-inch display instead of a larger offering, as seen on devices such as the HTC One and Samsung Galaxy. Apple has historically been reluctant to increase the size of the iPhone's display in an effort to aid single-handed usage. However, if these rumors are true, the aforementioned speculative dimensions would bring the Apple smartphone in line with the larger Android devices and other "phablet" handsets, such as the Samsung Galaxy Note with its 5.7-inch display.
The report states that the glass display will be curved at the edges. This may be similar in implementation to the LG Nexus 4, which has a slight bevel on each edge of the display designed for greater tactile comfort and ease of use.
This isn't the first time suggestions have been made that Apple is working on an iPhone with a larger screen. In September, The Wall Street Journal suggested that the Cupertino company was working on devices with display sizes of 4.8 to 6 inches, which correlates with today's rumor.
Enhanced Touch Sensitivity
In addition to curved glass, the new iPhone may also include enhanced touch sensors. The new sensors may be pressure sensitive, which would be welcomed by creative users. According to TechCrunch, pressure sensitivity would allow for more complex drawing, painting, and handwriting apps, using the enhanced sensors in a way similar to Wacom's graphics tablets. For example, a digital paintbrush stroke would become larger and more opaque the harder the screen is pressed, just as with a real brush.
Current Examples
While curved displays are still a relatively new development in consumer electronics, a number of devices have already implemented them to some degree. One such device is the Samsung Galaxy Round, which was announced in early October. However, the functional benefits of curved screens to the end user are yet to be fully realized. Although somewhat unique in aesthetic, the display on the Galaxy Round is designed primarily to aid single-handed operation, with very limited additional functionality offered by the implementation of the curved screen. However with the rumored release of these new iPhones almost a year away, there is plenty of time for device manufacturers to experiment with flexible displays and curved screens.
What are your thoughts on the usefulness of curved displays?
Image courtesy of Flickr user Marco Paköeningrat.
[cf]skyword_tracking_tag[/cf]
Comments
comments