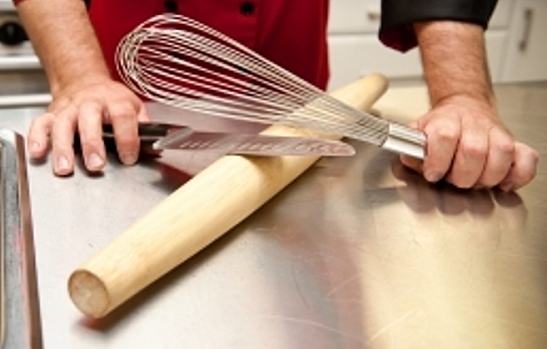 If you're more comfortable in front of a gas range than you are in front of a computer, your tablet may be a handy cooking companion. And why not? With access to recipes, cooking apps, and nutritional information, it makes sense to keep your tablet next to the flour. But you'll need the best tablet stand for the kitchen if you plan on using your iPad as a cookbook. Check out some great options, along with some amazing kitchen technology that may change the way you think about cooking.
Kitchen Mounts
Ultra Impact Bamboo iPad Stand: If you're planning on cooking up your famous baked chicken, you'll need a stand that can be easily sanitized. A bamboo-based stand can be plunged into hot water to erase any traces of germs and bacteria. What's more, the Ultra Impact offers three separate slots for your tablet, which gives you a variety of viewing angles while you cook.
Belkin Chef Tablet Stand and Stylus: Greasy fingers can leave prints all over your pristine tablet, so accessories leader Belkin has a solution: ditch the fingers and the fumbling for a sleek stand and stylus instead. That way, your buttery digits only make a mess on the stylus (which can be easily wiped down), while the metal frame keeps your tablet at an optimal viewing angle.
Monoprice Universal Tablet Mount: If you're worried about spills and splashes affecting your tablet, look for an under-cabinet mount that keeps your gadget away from the action. The Monoprice Universal fits any type and size of tablet and affixes easily underneath your cabinets or directly to the wall. It also offers a swiveling head and extendable arm to make it easier to read your recipes.
Other Gadgets
If you're a serious cook, you may want to go beyond a simple mount to get your kitchen on. Tablets made specifically for cooking, and other handy gadgets, can help your recipes go from traditional to high-tech.
The iGrill: If you're tired of overcooking your meat, you can sync your Apple phone or tablet to the iGrill. When your meat has reached the desired temperature for rare, medium, or well done, you'll get an alert on your phone from up to 200 feet away, so there's no need to baby-sit your steak.
Archos ChefPad: If you use your tablet for cooking most of the time, a kitchen-centric gadget may be in order. The Archos ChefPad runs like a regular tablet, but it comes encased in silicone, is splash-resistant, and comes pre-loaded with a selection of cooking apps for the ultimate recipe machine.
While there are some other gadgets in the works, such as a kitchen scale and cutting board that also functions as a tablet, they aren't ready for market yet. Still, armed with an arsenal of the best tablet stand for the kitchen and high-tech kitchen gadgets, you can show off your cooking skills in style.
What are your must-have kitchen gadgets?
Image courtesy of Stock.xchng
[cf]skyword_tracking_tag[/cf]
Comments
comments